Aligarh toddler's murder: What happened, and what didn't
A sea of (mis)information and sensationalism surrounds the brutal murder of a toddler in Aligarh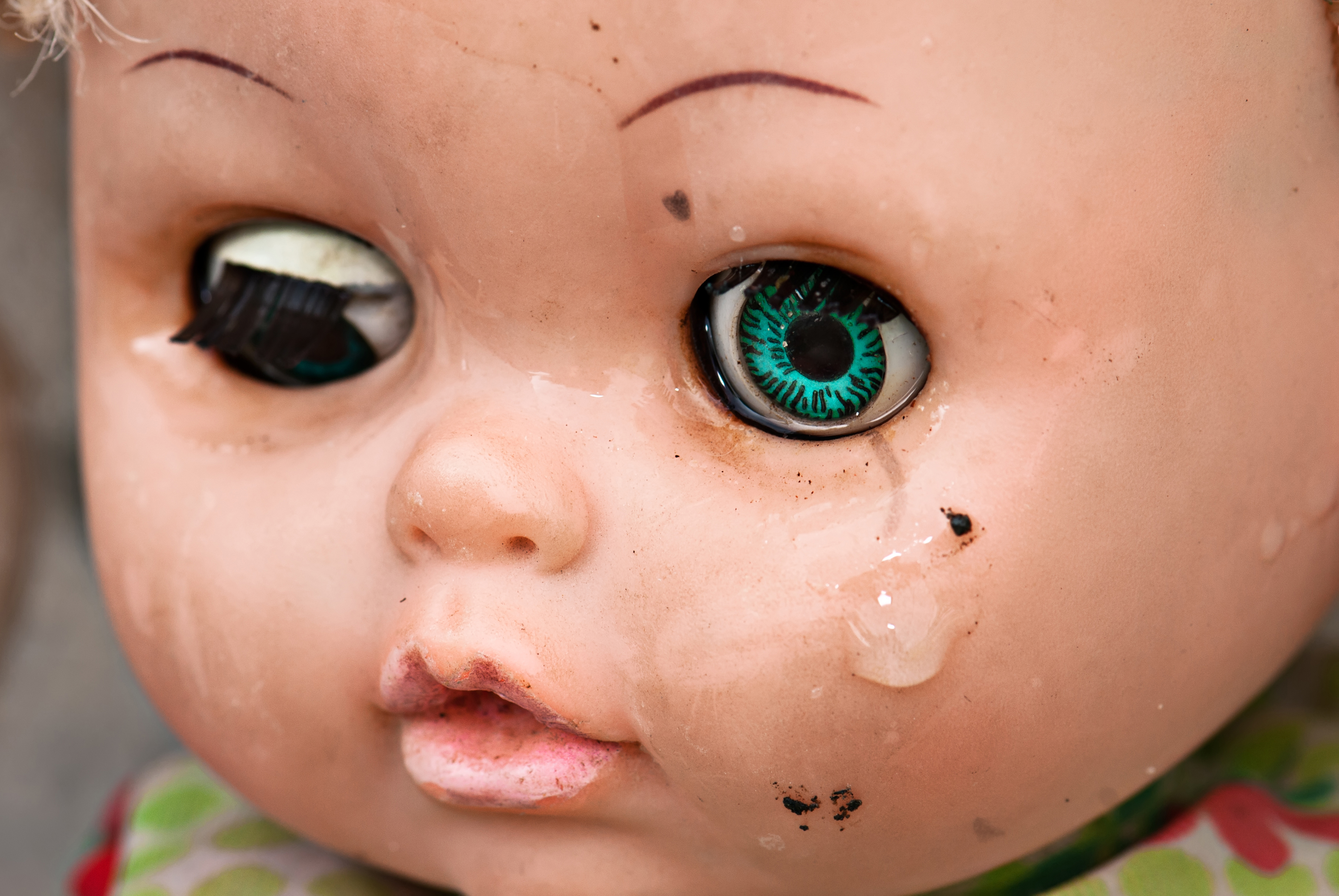 A hashtag using the victim's name is trending on social media with an ensuing deluge of over 17,000 tweets expressing horror and outrage in the last 24 hours
(Shutterstock)
---
Kolkata
|
Published 07.06.19, 10:01 AM
---
Three days after a two-and-a-half year old girl was abducted, her mutilated body was carried by stray dogs out of a dumping ground on Sunday in Aligarh, Uttar Pradesh. Widespread condemnation and outrage sparked on social media via hashtags and tweets that included misinformation.
A 3-yr-old girl Twinkle Sharma raped by a Zahid. He raped her, cut her up, gouged out her eyes, killed her & dumped her body.#JusticeForTwinkle #Aligarh

@AdityaRajKaul @Akhilkumarboxer pic.twitter.com/mqyyeRqY9Q

— Rahul Pandit (@IMRahul_Pandit) June 6, 2019
The horrible, barbaric rape,murder of a 3 year old In Aligarh,the criminals,who gouged her eyes, mutilated her body,depraved evil,inhuman & barbaric. Must Hang. The law must act fast! #justicefortwinkle @smritiirani #twinklesharma

— Raveena Tandon (@TandonRaveena) June 6, 2019
The child's body was found close to her house in Tappal town on the outskirts of Aligarh. The police have arrested two of the accused, Zahid and Aslam, who have confessed to the crime. They were her neighbours and lived about half a kilometre away. Initial investigations suggest that the motive was revenge, as the girl's parents allegedly failed to repay a loan of Rs. 10,000.
The Aligarh Police said that they will probe the murder under the National Security Act (NSA) and transfer the case to a fast track court.
Akash Kulhary, SSP Aligarh on 2.5-year-old girl death case: We are proceeding with it as an NSA case, we'll try to get it to a fast track court. There is no mention of rape or acid in postmortem report. 2 accused have been arrested, 5 police officials have been suspended. (6.6) pic.twitter.com/2Z1vbSZ4nB

— ANI UP (@ANINewsUP) June 6, 2019
The brutality of the incident is shocking. However, social media and popular media reports are abuzz with reactions from celebrities and netizens alike who claim that the minor was raped, had her eyes gouged out, and was poured acid on- all of which are untrue.
Alt News, a popular fact-checking site, confirmed through their sources that the post-mortem made no mention of rape. Aligarh police clarified this via a tweet, after a social media user claimed that the victim was raped.
Murder of child in Aligarh: Fact-checking social media claimshttps://t.co/SJyJZiac6q

— Alt News (@AltNews) June 6, 2019
So @aligarhpolice has clarified on my tweet that little #twinklesharma wasn't raped . In any case she was murdered & this does not make it any less of an in-human act and we demand #JusticeForTwinkle #JusticeForTwinkleSharma https://t.co/QKCO2UsCAq

— Tehseen Poonawalla (@tehseenp) June 6, 2019
Contrary to the morbid details in popular media, Akash Kulhary, SSP Aligarh confirmed that the victim was not raped. He added that the post-mortem report mentions death by strangulation as the cause, and that claims about the victim's eyes being gouged out, and acid being poured are false.
उक्त प्रकरण मे @sspaligarh @ips06akash महोदय द्वारा दी गयी बाईट । pic.twitter.com/DgnmIHtIwe

— ALIGARH POLICE (@aligarhpolice) June 6, 2019
A communal air to this shocking event is billowing, as enraged social media users compare the minor's violent death to the horrific abduction, rape and murder of 8-year-old Asifa Bano in Kathua. There is a growing demand for stringent justice for the accused. The incident has sparked rage, but misinformation is being spread like wildfire on social media, with the potential to further exacerbate tension and mistrust during troubled times.
Where were all the people who are suddenly discovering that 'rape has no religion' when memes like these were being circulated demonising Hindus during the #kathua case? Where were they when placards using the words 'DEVISTHAN' in quotes were being publicised? #Mandsaur pic.twitter.com/QpsanqFyvi

— Shefali Vaidya ஷெஃபாலி வைத்யா शेफाली वैद्य (@ShefVaidya) June 30, 2018
Sickulars RIP !
Twinkle Sharma,3 Yr old girl abducted,raped & brutally murdered by Zahid in Aligarh.
No placards/candle light/condemnation from Tukde Gang, paid celebrities,& dalal Patrakars ?
Hw Twinkle's rape & murder is different from Asifa of Kathua ?
Rapist MUST be Hanged ! pic.twitter.com/eqOz1mYg2P

— Major Surendra Poonia (@MajorPoonia) June 6, 2019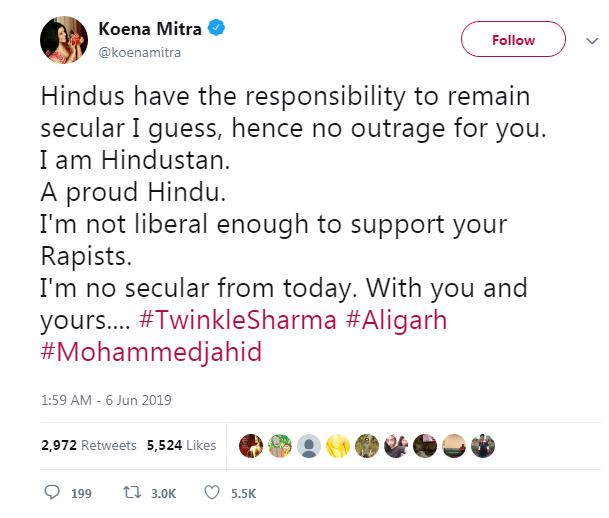 However, there are many who have not allowed communalism to overshadow the seriousness and brazen nature of the child's murder, and demand justice for the accused.
Angry, horrified, ashamed and deeply saddened beyond words at the barbaric rape of the three year old #TwinkleSharma. The rapist should be hanged in public. No other punishment is enough for this heinous crime. I demand #JusticeForTwinkleSharma . pic.twitter.com/7EwCTQxsUh

— Anupam Kher (@AnupamPKher) June 6, 2019
Horrified, upset and angry to know about baby #TwinkleSharma! This is definitely not the kind of world we want for our children. We need immediate and strictest punishment for such a heinous crime. #JusticeForTwinkle

— Akshay Kumar (@akshaykumar) June 7, 2019
I cannot even begin to imagine the plight of her family, her parents. If #twinklesharma doesn't get speedy justice, then it's a collective failure of the society we live in.

— Gul Panag (@GulPanag) June 6, 2019