120 volunteers for India safety study shots
Trial nod for homegrown RNA vaccine
The human safety test run in India will offer the candidate to 120 volunteers — 60 in the 18-55 years age group, and 60 in the 56-75 years age group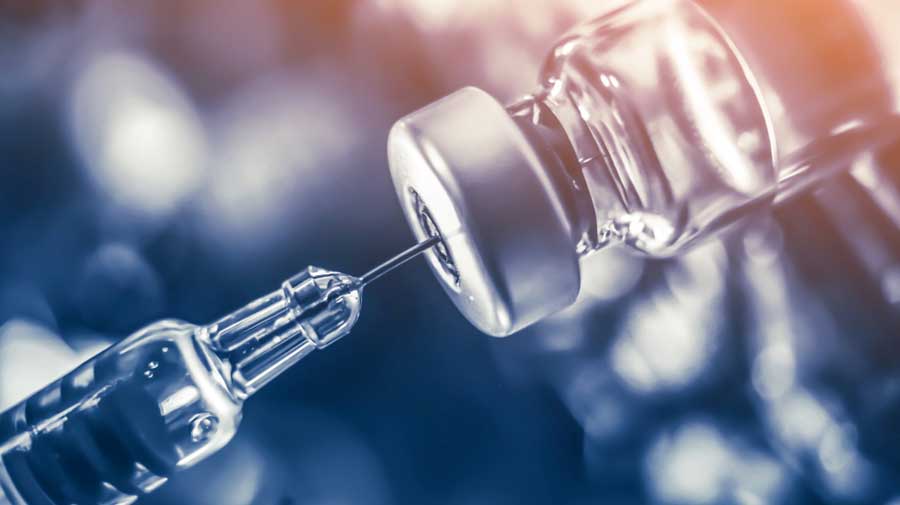 ---
New Delhi
|
Published 11.12.20, 12:36 AM
|
---
Two years ago, Sanjay Singh, a biochemist and chief executive officer of a Pune-based biotechnology company producing drugs for cancers and strokes, turned his attention to a new "platform" to design personalised vaccines against breast cancer.
Singh, working with his long-term research collaborator in the US, Steve Reed, set out to design vaccines based on the genetic material called mRNA and tailored to stimulate patients' immune systems into attacking their own breast tumour cells.
But when the novel coronavirus emerged earlier this year, Singh at the Pune-based Gennova Biopharmaceuticals and Reed, CEO at the Seattle (Washington)-based HDT Bio, redirected their research to design an mRNA vaccine against the infection.
Their candidate vaccine is now set to undergo human safety studies in India and the US.
India's drug regulatory panel on Wednesday approved human safety studies on the Gennova-HDT construct, the country's first homegrown candidate Covid-19 vaccine that uses a similar mRNA platform as the Moderna and Pfizer-BioNTech vaccines but promises to remain stable between 2 and 8 degrees Celsius.
The panel under the Central Drugs Standard Control Organisation gave the approval after examining encouraging results from studies on mice, rabbits and pigtail macaques, suggesting the candidate vaccine is able to generate an immune response against the coronavirus.
The human safety trial in India will offer the candidate vaccine to 120 volunteers — 60 in the 18-55 years age group, and 60 in the 56-75 years age group — at two sites: the King Edward Memorial College and Hospital in Pune and the Government Medical College, Aurangabad.
If the candidate vaccine is found to be safe in human volunteers, Gennova hopes to conduct an immunogenicity study on 500 volunteers to determine if it is able to generate an immune response against SARS-CoV-2, the virus that causes Covid-19.
The US National Institutes of Health had in September this year approved $8.2 million to support pre-clinical and clinical studies of the candidate vaccine.
"This looks like a promising mRNA candidate from India," said Govindrajan Padmanabhan, a senior biochemist formerly at the Indian Institute of Science, Bangalore, and co-chair of a panel under India's biotechnology department overseeing funds for research on Covid-19 vaccine efforts.
The biotechnology department, a unit of the Union science and technology ministry, had provided Rs 20 crore to Gennova for laboratory and pre-clinical studies on the candidate vaccine.
"They've stabilised their mRNA vaccine between 2 and 8 degrees Celsius — these are standard temperatures for most current vaccines. This would help in easy distribution," Padmanabhan said.
The mRNA vaccine from the US-based Pfizer collaborating with the Germany-based BioNTech has shown 95 per cent efficacy while the mRNA vaccine from the US-based Moderna has shown over 94 per cent efficacy in protecting people from Covid-19.
The Pfizer vaccine requires long-term storage temperatures of around minus 70 degrees Celsius while Moderna's vaccine requires temperatures of minus 20 degrees.
The Gennova-HDT candidate vaccine can remain stable for up to two months between 2 and 8 degrees Celsius, the temperatures in standard refrigerators used in homes and hospitals.
"mRNA vaccines have advantages over traditional vaccines," Singh said. "They can redesigned rapidly — if a virus mutates, we can redesign and get a new vaccine within 45 days."
Scientists say mRNA vaccines can be designed and produced relatively quickly because they are fully synthetic — entirely designed in the laboratory — and do not require host material such as eggs or bacteria for their growth traditionally used to make vaccines.