Tracking Kashmir: What happened while you were sleeping
Omar and Mehbooba under house arrest, Section 144 in Srinagar, restrictions in other areas.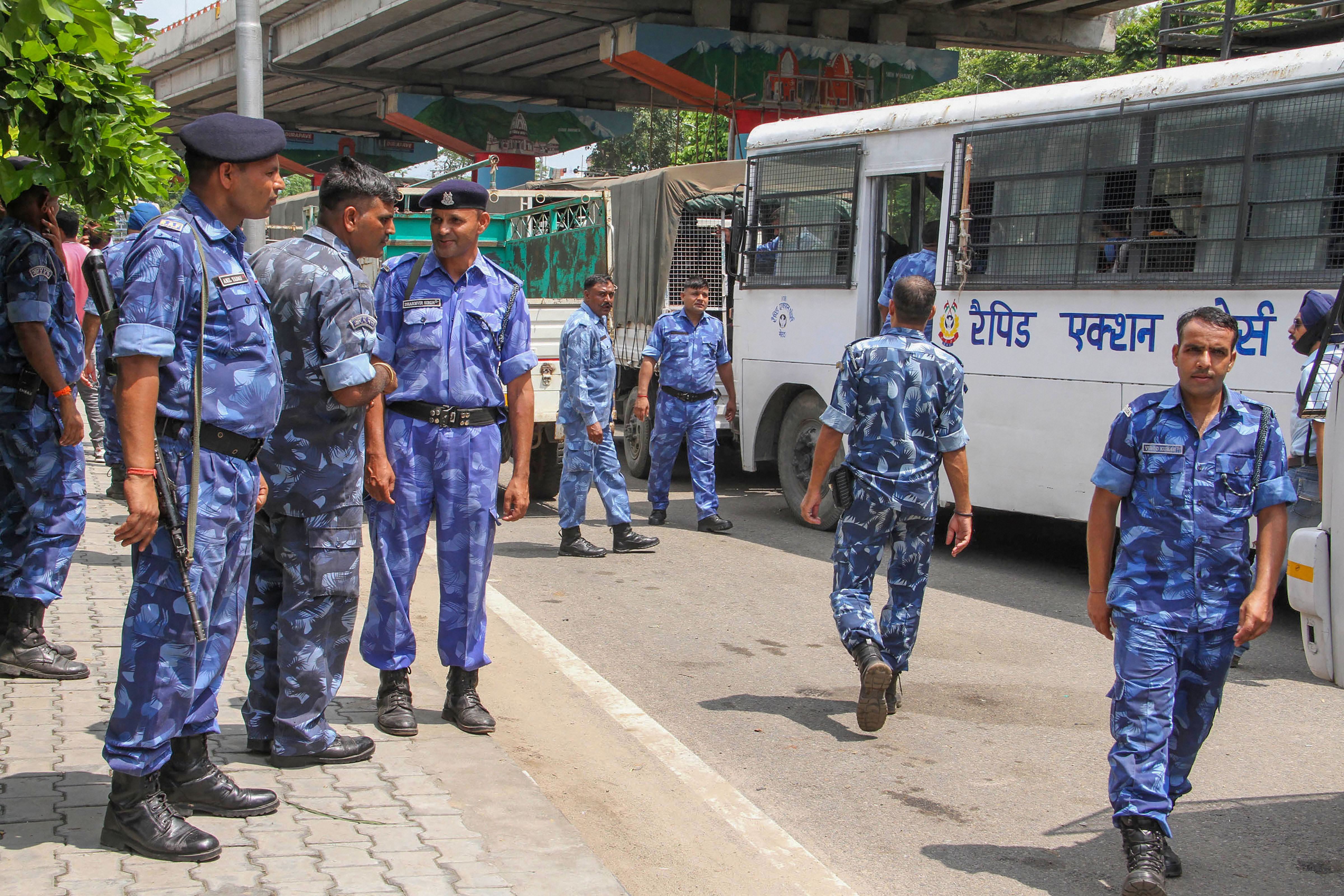 Rapid Action Force personnel in Jammu.
PTI
---
Srinagar
|
Published 05.08.19, 04:30 AM
|
---
A raft of house arrests and restrictions have been put in place since Sunday night. On Monday morning, Prime Minister Narendra Modi is expected to hold a cabinet meeting, which is generally scheduled on Tuesdays. 
Since Sunday night, these are the main developments in Kashmir.
Arrest of leaders

Police officers said former chief ministers Omar Abdullah and Mehbooba Mufti would not be allowed to move out of their homes as curfew would be imposed in Kashmir at the crack of dawn amid heightened a terror threat and a supposed flare-up of hostilities with Pakistan along the Line of Control (LoC). 
Congress leader Usman Majid and CPM MLA M.Y. Tarigami claimed they were arrested on Sunday night as Kashmir. No official confirmation was available but no denial either.
Omar, who is from the National Conference, tweeted: 'I believe I'm being placed under house arrest from midnight tonight & the process has already started for other mainstream leaders. No way of knowing if this is true but if it is then I'll see all of you on the other side of whatever is in store.'

He wrote: 'To the people of Kashmir, we don't know what is in store for us but I am a firm believer that what ever Almighty Allah has planned it is always for the better, we may not see it now but we must never doubt his ways. Good luck to everyone, stay safe & above all PLEASE STAY CALM.' 
Congress leader Shashi Tharoor responded to Tharoor's tweet, writing:  'You are not alone @OmarAbdullah. Every Indian democrat will stand with the decent mainstream leaders in Kashmir as you face up to whatever the government has in store for our country. Parliament is still in session & our voices will not be stilled.'

He asked: 'What is going on in J&K? Why would leaders be arrested overnight while having done no wrong? If Kashmiris are our citizens &their leaders our partners, surely the mainstream ones must be kept on board while we act against terrorists & separatists? If we alienate them, who's left?' 
Mehbooba tweeted: 'Hearing reports about internet being snapped soon, including cellular coverage. Curfew passes being issued too. God knows what awaits us tomorrow. It's going to be a long night.
'In such difficult times, I'd like to assure our people that come what may, we are in this together & will fight it out. Nothing should break our resolve to strive for what's rightfully ours.'
Mehbooba also wrote: 'How ironic that elected representatives like us who fought for peace are under house arrest. The world watches as people & their voices are being muzzled in J&K. The same Kashmir that chose a secular democratic India is facing oppression of unimaginable magnitude. Wake up India.'
To place two former Chief Ministers under house arrest is unprecedented and unacceptable. Would it happen in any other state of India? Is this how we build trust among the Kashmiris?https://t.co/NP3peezdCG

— Ramachandra Guha (@Ram_Guha) August 5, 2019
Restrictions

Security has been stepped up at vital installations and in sensitive areas. Mobile connectivity and internet services have been suspended.
Officials said restrictions on movement of people under Section 144 would come into force in Srinagar from Sunday mdnight and there would be movement restrictions in other parts of the Kashmir Valley at the crack of dawn too.
There will be a complete bar on holding any public meeting or rallies during the period of operation of the restrictions.

The authorities have imposed night curfew in Kishtwar and Rajouri districts and the Banihal area of Ramban district.

Additional paramilitary forces, which arrived in Kashmir in the past few days, have been deployed across Srinagar and in other vulnerable areas, the officials said.
Riot control vehicles have also been kept on standby in some areas.
Schools and colleges
The Jammu district administration has asked authorities of schools and colleges to remain closed on Monday as precaution, officials said.
'All schools, colleges and academic institutions, both private and government, are advised to remain closed as a measure of caution,' said the letter of the deputy commissioner of Jammu, Sushma Chauhan, on Sunday night.