Threatened by monkeys, Agra hires monkeys
People in at least a dozen colonies have hired the bigger simians for anything between Rs 200 and Rs 300 a day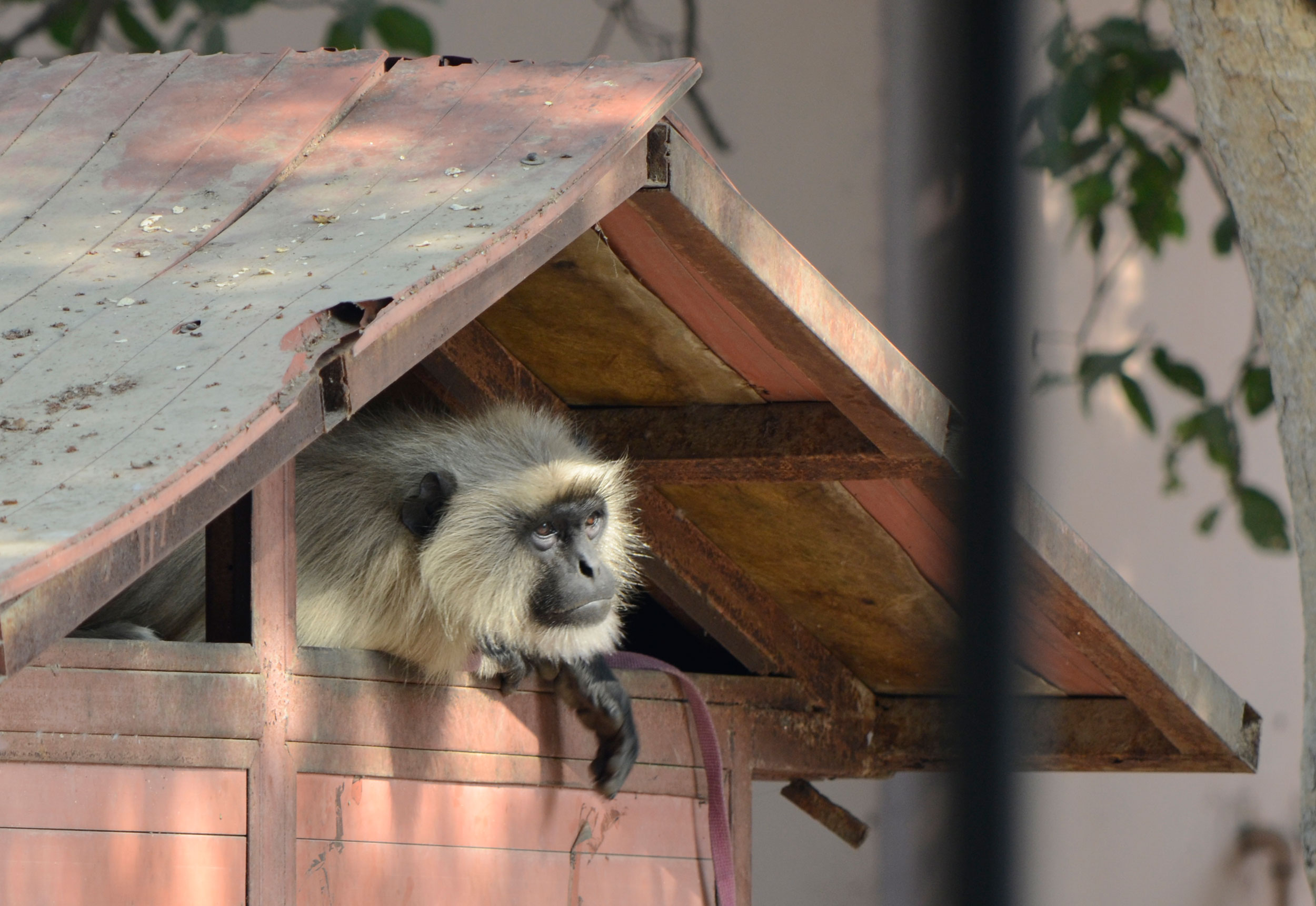 ---
|
Lucknow
|
Published 15.11.18, 09:14 PM
---
Residents of Agra have been hiring tamed langurs to protect their women and children following a sudden rise in monkey attacks that have already claimed two lives this week.
Of the 50 colonies in the city of the Taj Mahal, people in at least a dozen have already hired the bigger simians for anything between Rs 200 and Rs 300 a day.
The amount includes the hiring charge and food for the langur and its keeper.
The precaution, however, failed to save a 58-year-old woman who died on Wednesday after being attacked by monkeys.
Bhuran Devi, a resident of the city's Kagaraul area, was on her way to a local market in the evening when the monkeys suddenly attacked her. She was rushed to hospital where she died of excessive bleeding.
Earlier, on November 12, monkeys had swooped on a house in Kachara Thok colony in Runkata on the city's outskirts and snatched Neha Devi's 12-day-old son, Arush, from her lap as she breastfed him.
The baby's uncle, Dhirendra Kumar, said the monkeys then leapt to a neighbouring rooftop where they bit the baby's head. The infant died.
"The same group of monkeys attacked a 13-year-old girl after a few minutes," Kumar added.
Last month, monkeys had attacked a 10-year-old, who is still under treatment. Two foreign tourists were attacked in September.
Around a fortnight back, the city's residents decided enough was enough. And that was when the langurs — which are bigger than common monkeys in size and have a louder voice — came into the picture.
The residents, however, avoided coming on record. But when assured that they wouldn't be named, they said they decided to hire langurs when the local administration, police and forest officials expressed their inability to do anything against the monkeys, which are protected animals.
"We are told that hiring langurs too is prohibited under the Wildlife Act. Even we consider them sacred because they are called Hanuman (the monkey god) but need their help to scare the monkeys off," said a resident of Rawatpara in the Taj city, 350km west of Lucknow.
While langurs are also protected animals under the Wildlife Protection Act, 1972, they can't be owned, traded, bought, sold or hired out under the Indian Penal Code.
"There are at least 12 colonies, including Subhas Park, Kamla Nagar and Rawatpara, where we have deployed langurs. Their keepers tie them with a chain and patrol colonies on their bicycles, with the langurs riding pillion," the Rawatpara resident said.
A forest officer in Lucknow said the department had chosen to ignore such transgressions because "monkeys are a real menace in many cities of the state, including Agra, Ayodhya, Vrindavan and Chitrakoot".
"There are over 25,000 monkeys in Agra city and much more in Ayodhya, Vrindavan and Chitrakoot," the officer added.
Arun Prakash, municipal commissioner of Agra, told reporters: "It is a very serious issue. We would soon hold a meeting with officers of the district administration and the forest department."
Mukesh Jain, a trustee of Satyamev Jayate, a social organisation that had taken up the issue with the government earlier too, said: "Our demand is to shift the monkeys from cities to forest areas. But the government doesn't approve this."
Back in 2010, the Employees State Insurance Corporation, Kanpur, had hired Mangal Singh, a 10-year-old langur from Lucknow, for Rs 10,000 a month to keep monkeys away from the ESIC campus.
In 2009, the railways had hired a trained langur from a zoo to protect passengers from monkeys at Charbagh railway station in Lucknow.
Sometimes, imitation is the best form of attack.
If nothing else, it can make a monkey out of monkeys.
The New Delhi Municipal Corporation (NDMC) has hired 40 young men who can mimic the call of langurs, the natural enemy of the smaller rhesus macaque, to scare away this most common species of monkeys that have been the scourge of Parliament and its adjoining areas.