The story so far: Troops in Kashmir, rumours in the air
Rumours have started circulating that the state could be carved up with Jammu becoming a separate state and Kashmir and Ladakh Union Territories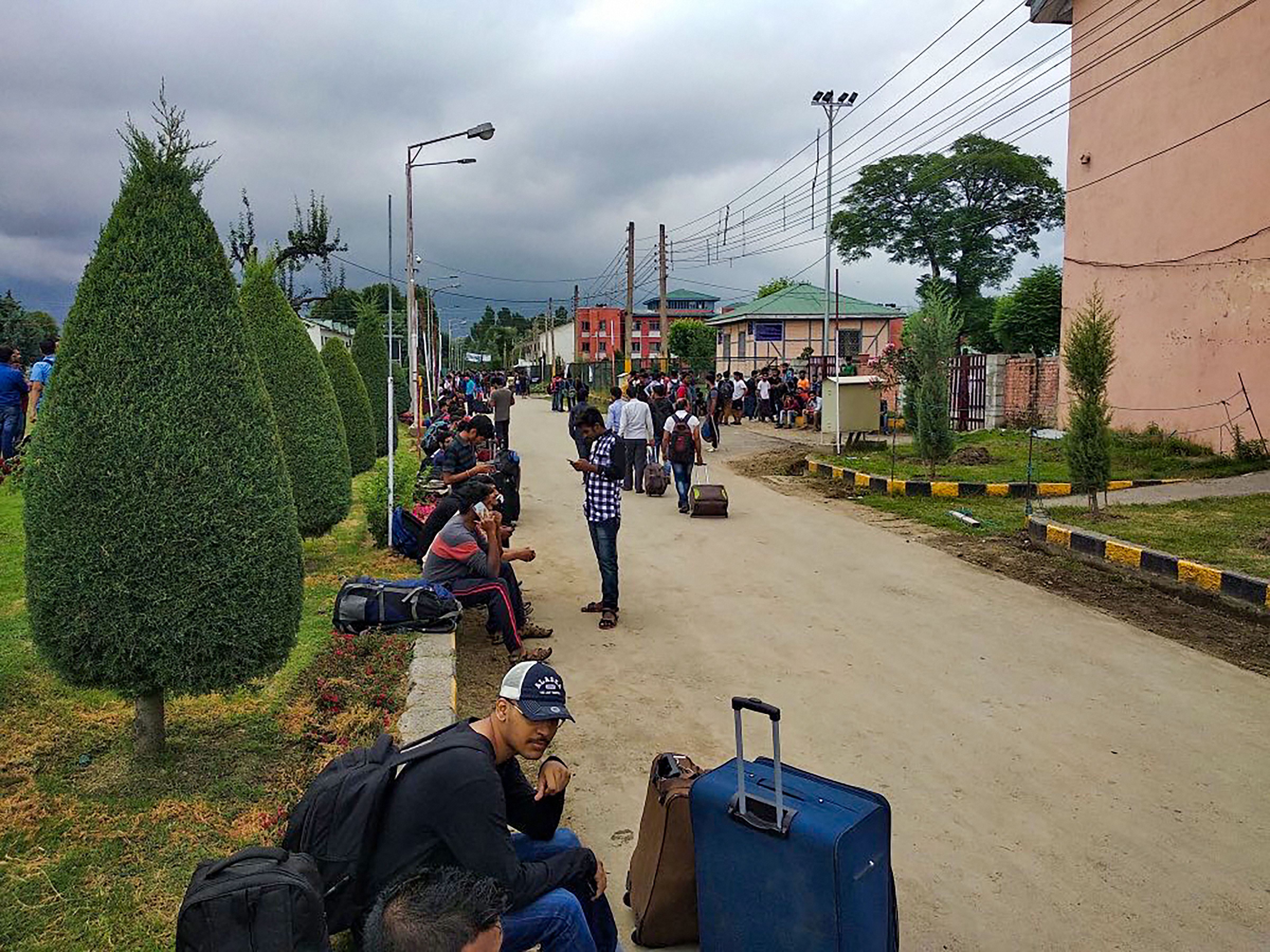 Non- local NIT students on August 3 wait for vehicle as they leave the Valley after the state issued a security advisory for tourists and Amarnath yartis to curtail their stay.
PTI
---
New Delhi
|
Published 04.08.19, 04:54 AM
|
---
August 2
The army, police and the CRPF in a joint news conference said that a huge cache of arms was unearthed along the Amarnath Yatra route. Hours later, a security advisory by the state was released that asked yatra pilgrims to curtail their trek and suggested that tourists leave the Valley. The government put the army and air force on high alert. The directorate-general of civil aviation advised airlines to be ready to operate additional flights from Srinagar. The National Institute of Technology suspended classes. The Srinagar administration denied senidng any ordr to the institute.
July 25
The Union home ministry deployed 10,000 paramilitary personnel in Jammu and Kashmir. The sudden sending of forces sparked panic in the Valley and speculations of abrogation of Article 35A.
Although this unprecedented order would seem to suggest a genuine fear of a massive terror strike directed at Amarnath ji yatris or/and tourists this will do nothing to dampen the sense of fear & foreboding that prevails in the valley at the moment. https://t.co/qF99X0nAx6

— Omar Abdullah (@OmarAbdullah) August 2, 2019
Centre's decision to deploy additional 10,000 troops to the valley has created fear psychosis amongst people. There is no dearth of security forces in Kashmir. J&K is a political problem which won't be solved by military means. GOI needs to rethink & overhaul its policy.

— Mehbooba Mufti (@MehboobaMufti) July 27, 2019
August 3
A scramble began for air tickets began among tourists and pilgrims wanting to leave Kashmir. Fares rocketed to Rs 40,000 for some flights. The UK and Germany issued travel advisories discouraging travel to the state. The administration requested the air force to airlift Amarnath pilgrims out of the Valley. The government also suspended the annual Machail Mata Yatra in Kishtwar district, citing security worries.
Former chief minister Omar Abdullah met governor Satya Pal Malik, but said that he got no clear answers. Omar's party, the National Conference, and the Congress demanded a statement on Kashmir from the Prime Minister in Parliament.
Jammu and Kashmir has seen exceptional administrative and military movement in the last 10 days. Opposition parties say it is unclear why the government has hit the panic button. The Centre has said it anticipated an attack on the Amarnath Yatra.
On the other hand, rumours have started circulating that the state could be carved up with Jammu becoming a separate state and Kashmir and Ladakh Union Territories. THere is also a rumour that Article 35A will be abrogated.
A recap on what has happened so far:
According to this circular. All J&K central govt employees have been asked to store 4 months ration, atleast 7 days of clean drinking water. Pitthu bag ready.

They have been asked to send their visiting relatives back by (28.07.2019, Yesterday). #Article35A pic.twitter.com/cmeHT4cnXA

— Vikrant (@vikrantkumar) July 29, 2019
July 27
A Railway Protection Force (RPF) officer issued orders for precautionary security measures. He asked subordinates to stock dry rations and drinking water. The order suggested that local Kashmiri staff shift their families to the homes of their relatives or to their native places.
July 28
Reports emerged of a big imminent terrorist attack from Pakistan-based groups. National security advisor Ajit Doval reportedly held a meeting of the counter-terrorism grid in Jammu and Kashmir to review the security situation.
July 30
Jammu and Kashmir governor Satya Pal Malik claimed everything was normal and asked people not to pay attention to rumours. The state BJP unit hinted at Assembly polls as the chief electoral officer released a notice on a meeting with district officials. The same day heavy shelling started along the LoC.
August 1
News reports of 25,000 more troops being deployed in Kashmir emerged. Home ministry denied such a development.