Tears that drowned temple thugs
Camerapeson Shajila Ali Fathima recounts how a BJP mob threatened to kill her if her video footage was shown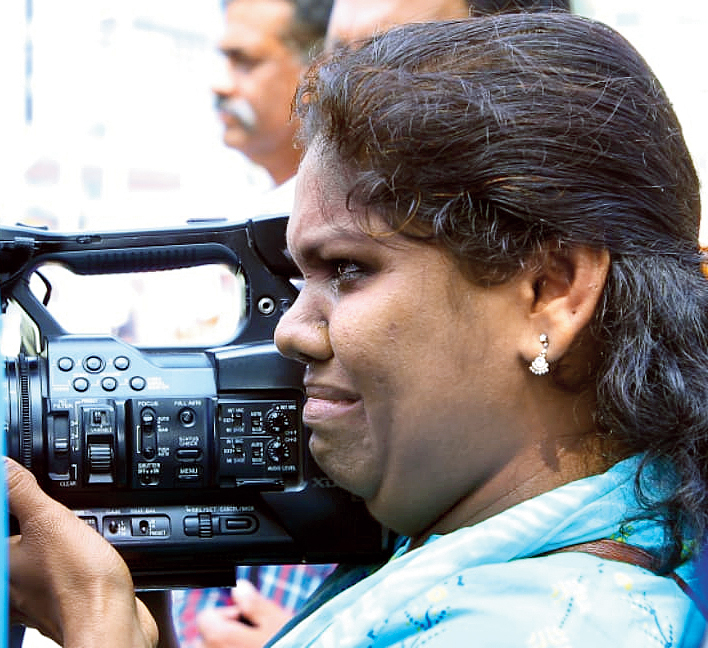 A teary-eyed Shajila covering the vandalism at Sabarimala.
Picture credit: MP Unnikrishnan/Mathrubhumi
---
Bangalore
|
Published 04.01.19, 10:30 PM
|
---
Shajila Ali Fathima, the cameraperson whose tears of agony on being attacked by Sabarimala vandals and resolve to complete her assignment in the face of a murderous BJP mob has moved the nation, vividly recalls several male voices baying for her blood if the visuals were broadcast.
"Like the other camerapersons, I was busy filming BJP workers ripping (possibly CPM) banners when they turned on us," the 34-year-old Shajila who works for the popular news channel Kairali TV, told The Telegraph while recounting the horror in Thiruvananthapuram on Thursday.
The BJP workers had gathered outside the secretariat to enforce the shutdown organised by a Sangh parivar outfit to protest the entry of two women of childbearing age into the Sabarimala temple.
"I could hear several voices screaming at me, that I would be killed if the footage I had captured went on air. But I continued to film what was happening in front of me. Then several men began attacking every cameraperson around," Shajila said over phone.
Shajila was among the many journalists who had rushed to the BJP protest site outside the state secretariat when they got information about an oncoming protest march of the party.
"I have been a cameraperson for almost five years, but I had never witnessed what I saw in the next 30 minutes," she said.
"It's as if they had pre-planned the attack on journalists since there were six to eight men around each one of us. When someone tried to snatch my camera, I held on with all my strength, but in the process sprained my neck," Shajila said. Then camera stopped working. "That was when emotion overtook my resolve. I restarted the camera with some difficulty and began shooting again. By then I was crying," she said.
That was when a photographer of a Malayalam newspaper clicked the picture of a teary-eyed Shajila holding her video camera to her eye and capturing the violence. The picture has since been shared widely on social media.
"I did feel a bit ashamed that I was crying while on duty. But somehow I couldn't control my… tears," she said.
Advised to wear a cervical collar and rest for five days, Shajila wants to get back to work at the earliest.
The journalists at the spot have filed a joint complaint with police, who are yet to make an arrest.
Sangh parivar activists had assaulted about 100 media personnel over Wednesday and Thursday.
The Kozhikode and Thiruvananthapuram district units of the Kerala Union of Working Journalists had boycotted media conferences of BJP state president P.S. Sreedharan Pillai and general secretary K. Surendran on Thursday. The boycott has since been lifted after the duo apologised.