Team Thackeray asks Supreme Court to nullify appointments of Eknath Shinde's Sena in parliament
A delegation of 12 rebel MPs met the Speaker on July 19 naming the new Chief Whip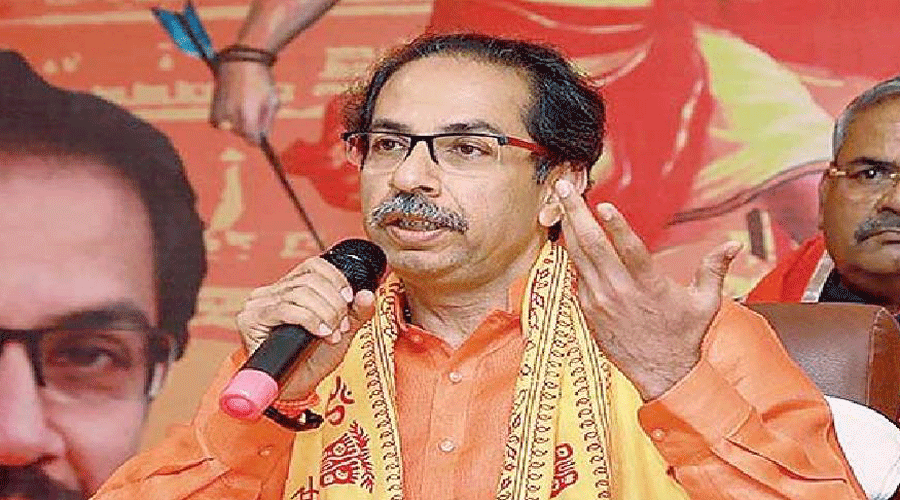 Uddhav Thackeray
File Picture
---
Published 27.07.22, 08:51 PM
|
---
The Shiv Sena faction under former Maharashtra CM Uddhav Thackeray has filed another petition in the Supreme Court against Lok Sabha Speaker Om Birla on the removal of their MPs from Lok Sabha posts, reports ndtv.com.  
As per the petition reinstatement and cancellation of the appointments made from the Eknath Shinde faction have been made including that of Rahul Shewale as leader of Shiv Sena in the Lok Sabha.
The Uddhav team has also asked for the exit of Bhavana Gawali as the party's Chief Whip. 
The petition added "the Speaker did not maintain the basic rules of natural justice and call for an explanation from the Sena Parliamentary Party or the petitioners despite specific requests.
A delegation of 12 rebel MPs met the Speaker on July 19 naming the new Chief Whip and the Leader of the party in the Lok Sabha.  
Earlier, Shiv Sena president and former Maharashtra chief minister Thackeray on Wednesday said the Maha Vikas Aghadi (MVA) alliance experiment led by him was not wrong and people had welcomed it.
In the second part of his interview to Shiv Sena mouthpiece 'Saamana', Thackeray said he wants not just local body polls due in Maharashtra, but also the Assembly elections and claimed the Sena will have its own CM once again for which he will tour the state to rejuvenate the party cadre.
The BJP is giving everything to those who have come from other parties - from the post of chief minister (Sena rebel Eknath Shinde) to leader of opposition (which is currently held by NCP's Ajit Pawar), said Thackeray, who turned 62 on Wednesday.
"Delhi wants to instigate a Shiv Sena versus Shiv Sena fight and divide the Marathi-speaking people. If the present rulers fear the opposition, it is their inefficiency. In a democracy, no party is a permanent winner," he said.
The Shiv Sena had parted ways with the BJP after the 2019 Maharashtra Assembly polls over the issue of sharing the chief ministerial post. The Sena later tied-up with the NCP and Congress as part of the MVA to form government led by Thackeray.
Last month, Sena MLA Eknath Shinde along with 39 other party legislators and some independents revolted against the Sena leadership, leading to the collapse of the Thackeray-led MLA government.
Shinde was sworn in as the chief minister on June 30 and BJP leader Devendra Fadnavis as his deputy.
With PTI inputs