Talks on with China, why not Pak also: Farooq
The 82-year-old leader said 'no progress' was taking place in Jammu and Kashmir after it was made a Union Territory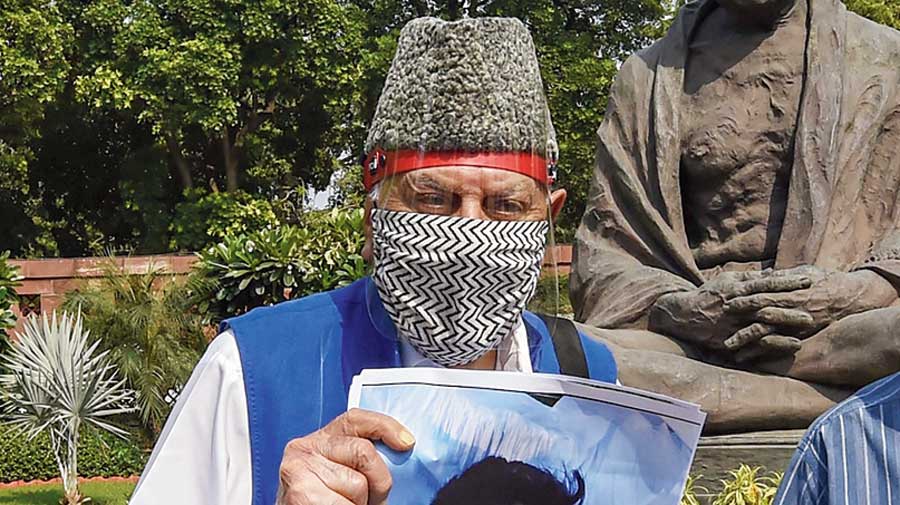 ---
---
National Conference chief Farooq Abdullah on Saturday asked in the Lok Sabha that if the government can talk to China then why not "our (eastern) neighbour", advocating dialogue with Pakistan to end the rising border skirmishes and deaths while speaking in Parliament for the first time since his release from detention.
Farooq, the Srinagar MP and former Jammu and Kashmir chief minister, painted a grim picture of the Valley in the aftermath of the scrapping of the erstwhile state's special status guaranteed under Article 370 and stressed that there was no way out other than holding talks with "our neighbour".
"Border skirmishes have been rising and people are dying. A way has to be found to deal with this," Farooq said in his brief mention during Zero Hour. "Except for talks, there is no way out. As you are talking to China (so that) it withdraws (from India-claimed territories in Ladakh), we should also talk to our (other) neighbour to find a way out to get out of this situation," he added, inviting protests from the BJP members.
The 82-year-old leader, who was released in March after more than seven months in detention following the abrogation of Article 370, wanted to speak more but was not allowed. Farooq's microphone was switched off a little after he advocated talks with Pakistan and the BJP members created a ruckus.
Zero Hour mentions by MPs, however, are required to be brief and the Speaker's discretion is binding on the members.
Thousands of people in Kashmir, including politicians, had been arrested or detained, often under the stringent Public Safety Act, after the cancellation of the special status on August 5 last year. The Centre enforced an unprecedented clampdown and communications blockade and crushed all dissent with an iron hand.
Former chief ministers Farooq and his son Omar are among those released but some, including People's Democratic Party chief and former chief minister Mehbooba Mufti are still under detention.
Farooq said "no progress" was taking place in Jammu and Kashmir after it was made a Union Territory.
"There has been no progress in Jammu and Kashmir. Our children and shopkeepers have no facility for 4G network," he said, asking how students would study online without a stable Internet connection when schools and other educational institutions were closed due to the pandemic. "How are they going to grow? The rest of the country has every Internet facility and our children are being denied," Farooq added.
The Srinagar MP, however, expressed happiness over the findings of an inquiry by the army into the killings of three men on Shopian. "I am happy the army has admitted that three men in Shopian were killed mistakenly. I hope the government gives a hefty compensation," Farooq said.
The army admitted on Friday that its personnel had exceeded the powers granted under AFSPA while killing the three cousins. The army had called them terrorists but their families had said the trio were residents of Jammu who had travelled to Kashmir in search of work.