First meeting by a major Kashmir-based group's leadership since August 5, 2019
An unannounced ban has stifled political parties' activities across the separatist-mainstream divide in the Valley since the Centre revoked Article 370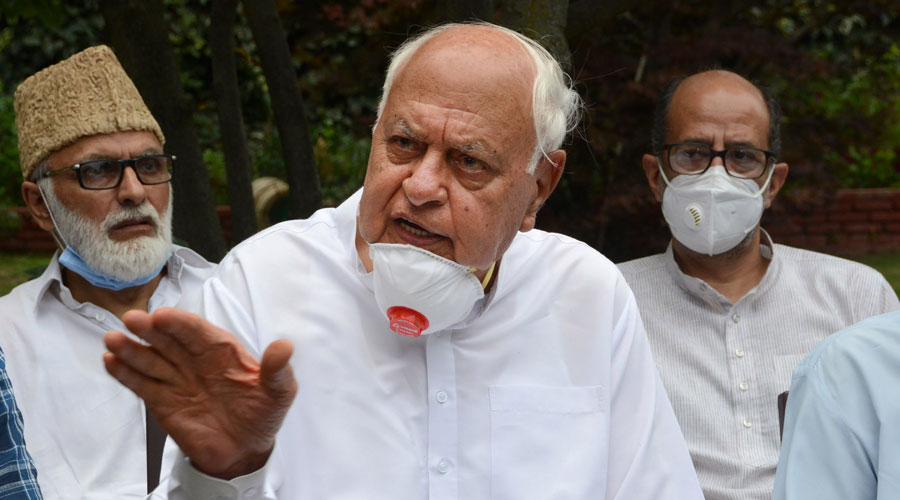 ---
|
Srinagar
|
Published 21.08.20, 03:14 AM
---
The Valley on Thursday witnessed the first meeting by any major Kashmir-based political group's leadership since the scrapping of Article 370 last August, the gap reflecting the long freeze on political and civil rights in Jammu and Kashmir.
Senior National Conference leaders including all the three Lok Sabha members from the Valley — Srinagar MP Farooq Abdullah, Baramulla MP Mohammad Akbar Lone and Anantnag MP Hasnain Masoodi — met in Srinagar late in the afternoon and later addressed a news conference.
An unannounced ban has stifled political parties' activities across the separatist-mainstream divide in the Valley since the Centre revoked Jammu and Kashmir's special status on August 5 last year.
The only exceptions have been meetings by the BJP or small formations sponsored by the Centre that have chosen not to oppose the August 5 changes.
On Thursday, the National Conference had invited four of its leaders — said to be under house arrest but whose freedom the government has vouched for in court — to a meeting at party chief Farooq Abdullah's home.
All four — party general secretary Ali Mohammad Sagar and former ministers Mohammad Shafi, Abdul Rahim Rather and Nasir Sogami — made it to the meeting.
Farooq later told reporters the meeting had been called "merely to see whether our friends can come out".
The party had in July filed a habeas corpus petition in Jammu and Kashmir High Court claiming 16 of its leaders, mostly former ministers and MPs, were being illegally kept under house arrest.
In response, the government had last week told the court the 16 were "free to move" and were not under any kind of detention.
"The government would say they are free but they were not free. They could get out of their homes (only) today," Farooq said, thanking the courts and the lawyers for the meeting having taken place.
"I hope it is not going to be just one time…. I want they should be permanently free."
Farooq, the National Conference president, had himself been booked under the Public Safety Act and kept in detention for seven months. Lone and Masoodi had not faced arrest or any unofficial detention. Farooq chose not to speak on political matters, saying the party would show its cards at the appropriate time. He, however, swore commitment to the Gupkar declaration, signed last year by all the major pro-India parties ahead of the August 5 upheaval to oppose any move to scrap the state's special status.
Asked whether the events of August 5 had proved the National Conference's brand of pro-India politics wrong, Farooq said: "We have never been proved wrong. We will never be proved wrong and we will say to our death day what we believe should be done."
Asked about IAS topper turned politician Shah Faesal's decision to quit politics and acquiesce in the scrapping of the special status, Farooq hit out at those who had "switched sides".
"If somebody's faith is weak, Farooq Abdullah is not responsible for that. That is his conscience; he has to answer to his conscience and his God," he said.
National Conference general secretary Sagar later visited the mausoleum of Sufi saint Hazrat Yaqoob in Srinagar.
In response to pictures of the visit uploaded by Sagar's son, former chief minister Omar Abdullah tweeted: "How sad that we have normalised this illegal detention! That we have to be 'allowed' to meet freely in spite of the government claiming in court that none of these leaders are detained is a blot on Indian democracy & rule of law."
Thousands of politicians and activists were arrested or put under house arrest on and after August 5 last year. Many of them have been released but several, including former chief minister Mehbooba Mufti, continue to be in detention or under undeclared house arrest. The government has constantly denied some of these house arrests.