Taj picks up praise from PM Narendra Modi and advice from Twitterati to keep beach clean
While most users had a problem with so much garbage in the vicinity of a star property, a few had plastic on their mind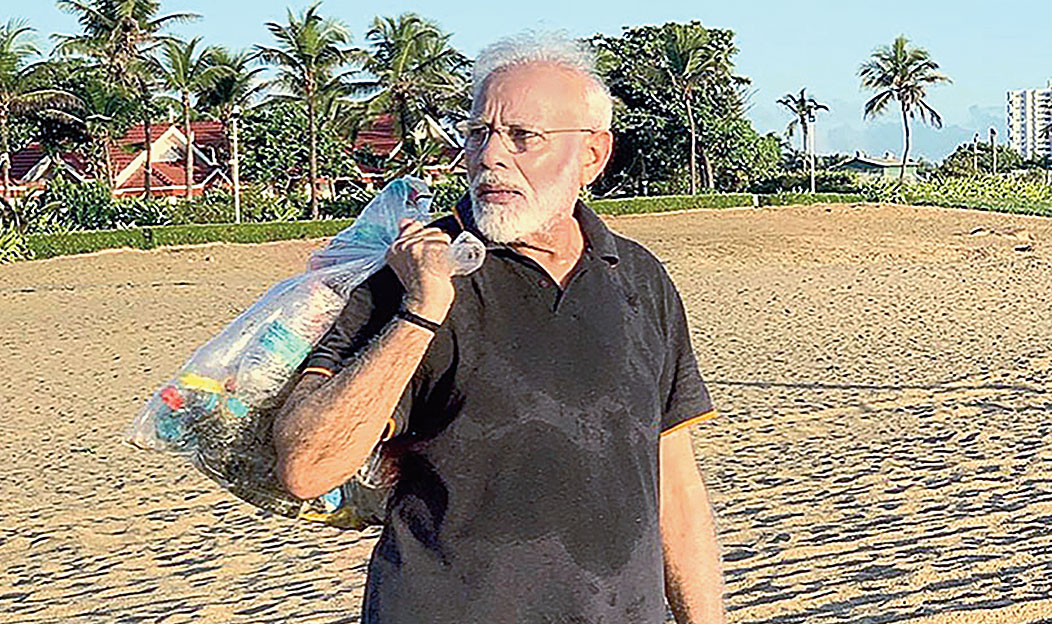 Modi plogging along the coast of Mahabalipuram on Saturday.
(PTI)
---
New Delhi
|
Published 14.10.19, 12:02 AM
|
---
Taj Hotels shared on Twitter a letter of appreciation written by Prime Minister Narendra Modi after his stay at Taj Fisherman's Cove and thanked him for leading the "fight against plastic by example", attaching to its tweets a photograph and a video of Modi plogging on the beach.
"It's our privilege to host Hon'ble PM Modi @taj_cove. Thank you for leading the fight against plastic by example. With the vision of shaping a sustainable future, IHCL is committed to eliminating single-use plastic & cleanliness of our premises," read the first tweet from the handle @TajHotels on Saturday.
This was accompanied by the video that the Prime Minister had shared of himself plogging on "a beach at Mamallapuram" early on Saturday morning.
The second tweet said: "Hon'ble PM #NarendraModi, we're humbled with your kind words of appreciation for Taj's legendary service @taj_cove. #Plogging at the public beach this morning was motivating. As an industry leader, IHCL remains committed to environmental sustainability."
Attached to this was the letter written in Hindi, signed by Modi, about his stay at the hotel as well as a photograph of Modi handing a plastic bag filled with litter to a hotel staff member.
The two tweets appeared to open a floodgate, with one Twitter user after another chiding the star hotel for failing to keep its surroundings clean even when the Prime Minister was visiting. Most either did not notice or chose to ignore the message in Taj Hotels' second tweet: that the beach was "public".
Taj Hotels officials were not available for a comment when The Telegraph sought a response on Sunday night.
One Twitter user, going by the handle @vishnurn83, wrote: "We should downgrade @TajHotels ...very poor housekeeping, if the video of PM cleaning beach is genuine…."
Another, @surajv369, said: "Sad to know that a 5 star hotel does not keep its premises clean and needs tourists who come there to clean it for them. Please keep your hotels clean."
A third, @AbdIrfanm, wrote: "Taj couldn't keep their own beach premises clean without plastic and is thanking PM for doing their job."
A fourth, @Bhaskar8019, had a question: "Does it mean PM (Plastic Management) should come everyday to clean @TajHotels beach?"
Yet another user, @gsyadav71, wrote: "I believed Taj hotels were very particular about cleanliness on their properties. But it was depressing to note that you kept your beach so dirty that Hon'ble PM had to do the cleaning job. Shame on you!"
@CandyManSaga said: "You keep the hotel surroundings so unclean that guests have to clean it?"
@YaRoouhi asked: "Guests need to clean the surroundings as well?"
Several users wondered how dirty the beach would be when ordinary folks visited when it had so much litter during the Prime Minister's stay.
"Never staying at your hotels… ever," wrote @angie_tribeccaa.
While most users had a problem with so much garbage in the vicinity of a star property, a few had plastic on their mind.
One, @AdityaDubey2003, recalled the Prime Minister's Independence Day speech asking everyone to give up single-use plastic and said: "When u claim to be committed to environmental sustainability why do u refuse to commit to 100% ban on #singleuseplastic within fixed time frame. V hv been requesting u to do so for many weeks now but u choose not to respond.If u respect @PMOIndia thn commit now & honor his call."
Such was the intensity of scrutiny on social media that one user pointed out that the letter was written using one ink and signed using another.