Tagore's Puri house wall demolished
The flattening of the dilapidated century-old property triggered demonstrations and an FIR against the authorities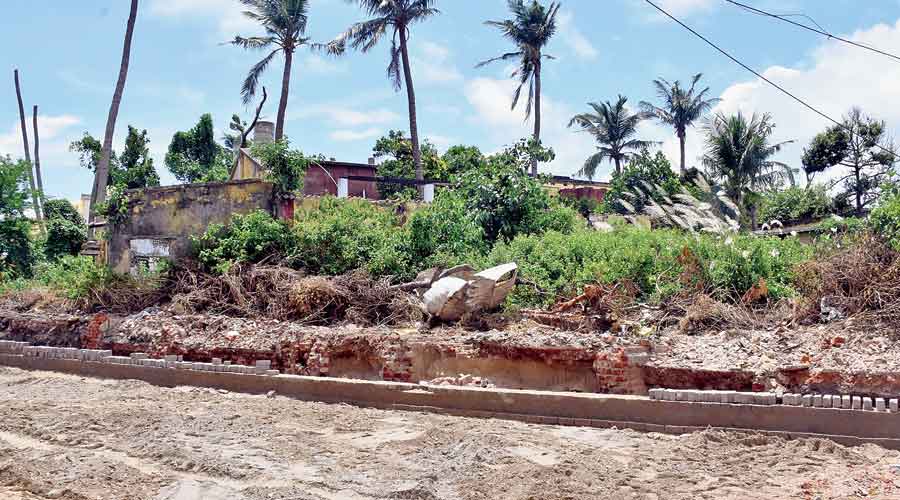 ---
---
The Puri administration has demolished the boundary wall of the house of Nobel laureate Rabindranath Tagore located on Chakratirtha Road near the beach in the temple town bringing back into focus the dilapidated state of the century-old property. The demolition of the wall has triggered demonstrations and an FIR against the authorities.
The Patherpuri house, which Tagore built, is more than 100-years-old. A heritage structure, the property comes under the supervision of Samanta Chandra Sekhar (SCS) College, Puri. The building was used as a hostel for college students in 1945. However, it is almost in ruins and the hostel is not functional.
Hector Mishra, chief of social organisation Voice of Common Man, said, "The boundary was razed to widen an existing road apparently at the behest of some hoteliers on Tuesday. The road will connect with the beach. We protested on Wednesday. We have lodged an FIR against the executive engineer. After taking over the land, they planned to construct another wall. But we protested and asked them to return the land."
Activist-cum-journalist Jagannath Bastia said, "The place was home to the poet who used to love Puri where he had composed some of his famous literary works, including Gitanjali. A portion of the building was earlier used as a hostel for the students of SCS College, Puri. The hostel has been closed for several years. The property is in a dilapidated state. There has been no effort at its restoration. After Cyclone Fani hit the town in May 2019, the building was almost in ruins. Drug addicts frequent the place. But the administration is yet to take steps for its restoration."
The building has been declared unsafe by the public works department. "Four existing roads already connect the area with the beach. Hence there was no need to take the land from Patherpuri house for the expansion of another road. This is being done at the behest of some hoteliers. We, the advocates of Puri, will soon join hands with the ABVP to launch a movement against the administration's decision," former SCS College student and ex-secretary, Puri Bar Association, Sarada Prasad Samal told The Telegraph.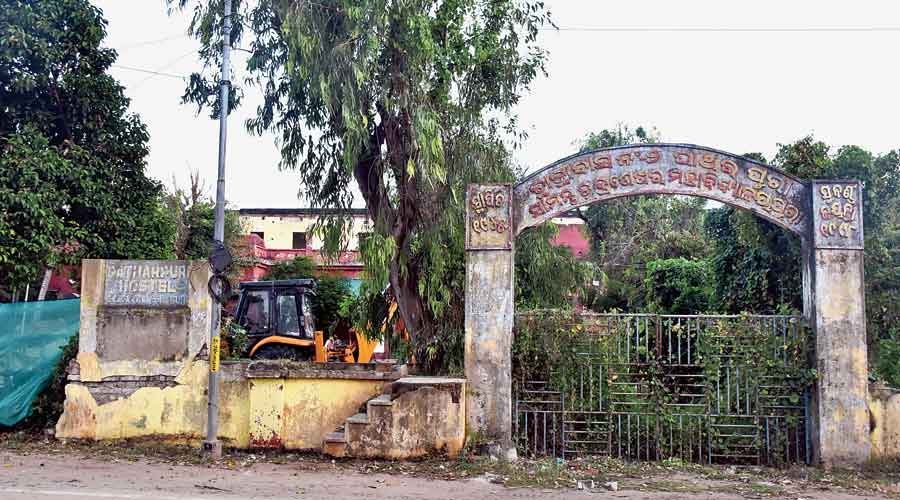 SCS College principal Sujata Mishra said: "The district administration has demolished the wall. What can I do? It's better you ask the district authorities why they demolished the boundary. I have already informed the higher education department about the development. Besides, I have urged the department for renovation of the building. We have enough land to start our junior college there. Many things can be done."
The Indian National Trust for Art and Cultural Heritage (Intach), Odisha chapter, had also written to the Puri district administration to restore the heritage building for the benefit of future generations. "Earlier, the district administration had planned to raze the entire building. But they stopped following protests by us. It's unfortunate that the district administration has demolished the wall of Patherpuri," said Anil Dhir, media coordinator, Intach.
"We had submitted a proposal to repair it for conservation. Since the building is synonymous with Tagore, we have requested the works department through a letter to construct a building which can be made into a museum to preserve the documents and artefacts in Patherpuri. But no progress has been made yet."
Puri sub-collector Bhaba Taran Sahu said: "We have not acquired any part of the Patherpuri hostel. We have just demolished a part of the wall, particularly the corners. It was a broken structure that has been demolished to expand a 10ft by 10ft road. Earlier, the RTO (regional transport officer) had emphasised the need to expand the road to reduce the number of accidents. It's being done for the good of public. Besides, the land belongs to the government. Whenever the administration takes any such step, a section of people oppose it."
On steps being been taken to restore the heritage building, he said: "Many proposals have been submitted in this regard. We are examining the proposals."