Supreme Court to take up Uddhav Thackeray's plea on Speaker
Three other petitions relating to the Maharashtra political crisis is expected to come up for hearing on the same day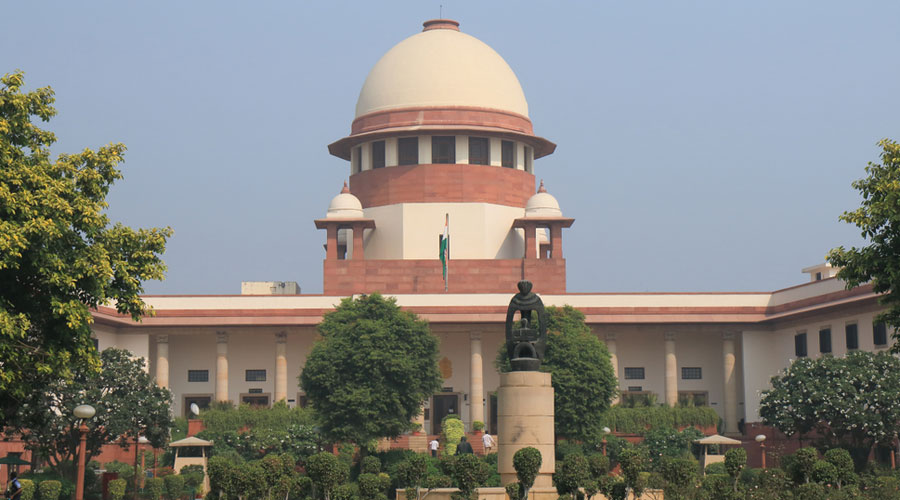 Supreme Court of India
Shutterstock
---
New Delhi
|
Published 05.07.22, 02:30 AM
|
---
The Supreme Court on Monday agreed to hear on July 11 the latest plea by the Uddhav Thackeray faction challenging Maharashtra Assembly Speaker Rahul Narvekar's decision to recognise MLA Bharat Gogawale from the Shinde camp as the new chief whip of the Shiv Sena. 
A vacation bench of Justice Indira Banerjee and Justice J.K. Maheshwari told senior advocate Abhishek Manu Singhvi that the matter would be heard on July 11 when the court reopens after the summer break. 
Singhvi, appearing for Sunil Prabhu who was officiating as the chief whip prior to the political coup staged by Shinde, told the court that the Speaker had acted beyond his jurisdiction by recognising the chief whip appointed by the new government whose validity was already under challenge before the apex court.
"The Speaker has no jurisdiction to recognise the whip. This amounts to changing the status quo of proceedings before this court. The Speaker has taken this decision at the stroke of midnight and elected the whip," the senior counsel complained.
He pointed out that last week the apex court had refused to pass any order on the application filed by the Shinde faction challenging the continuance of Prabhu as the chief whip. 
He argued that despite the change of government, Uddhav continues to be the head of the Shiv Sena, which also has the power to appoint the chief whip.
Three other petitions relating to the Maharashtra political crisis is expected to come up for hearing on the same day. 
A petition has been filed by the Shinde faction questioning the validity of the disqualification notice issued by then deputy Speaker Narhari Zirwal. The Uddhav faction had thereafter filed a petition challenging the decision of governor Bhagat Singh Koshyari to direct Uddhav to prove his majority in the Assembly.
On June 27, Uddhav resigned as the chief minister after the apex court refused to interfere with the floor test.
On July 1, the apex court agreed to take up a fresh application moved by the Uddhav Thackeray faction for suspension of 39 rebel party MLAs, including chief minster Shinde from the Assembly, till the deputy Speaker decides the disqualification petitions filed against them.
Shiv Sena argues that there has been no formal merger of the breakaway faction with the BJP or any other party and as such the defectors should be disqualified under the anti-defection law.