The Supreme Court on Wednesday rejected the Centre's twin arguments and ruled that classified documents accessed by the media on the Rafale fighter jet deal can be admitted as evidence and agreed to review its own order that the government had interpreted as a clean chit.
The blow landed on the BJP on the eve of the first round of elections, when 91 seats will go to the polls, but the government said the court's decision was "at best procedural".
However, the court order has implications far beyond the Rafale deal.
The court upheld the right of The Hindu newspaper to publish documents that the government had described as "stolen". "The right of such publication would seem to be in consonance with the constitutional guarantee of freedom of speech," Chief Justice Ranjan Gogoi said.
The order deals a body blow to a tendency by governments to raise the bogey of the Official Secrets Act whenever unpalatable information leaks.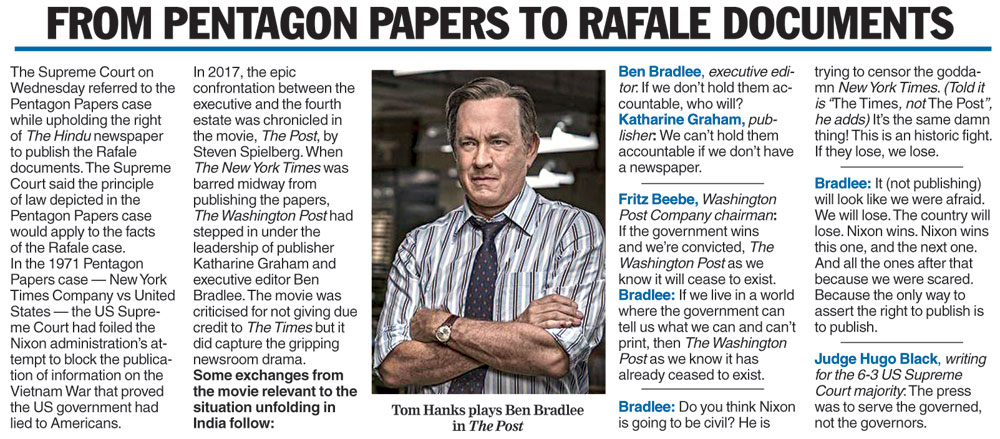 The Telegraph
The top court said it could not come across any provision in the Official Secrets Act that allowed the government "either to restrain publication of documents marked as secret or from placing such documents before a court of law".
"We dismiss the preliminary objections raised by the Union of India questioning the maintainability of the review petition," a three-judge bench headed by Justice Gogoi said in the unanimous judgment that came exactly four years after Prime Minister Narendra Modi struck the revised Rafale deal in Paris.
The court rejected the government's plea that the review petitions filed by former Union ministers Yashwant Sinha and Arun Shourie and lawyer Prashant Bhushan were not maintainable as they were based on "stolen" documents covered under the Official Secrets Act.
The three documents used in the review petitions were published in The Hindu in February and one was also published in The Wire, a news portal.
The apex court said the publication of the documents in The Hindu reminded it of its various judgments upholding the freedom of the press.
The bench said it would fix a date for a detailed hearing of the review petition.
In its December 14 order, the Supreme Court had dismissed petitions by several individuals who had demanded a court-monitored probe into the Rafale deal.
On Wednesday, defence minister Nirmala Sitharaman accused Rahul Gandhi of making statements "verging on contempt of court" for saying that the Supreme Court had made it clear "chowkidarji" had committed a theft.