Supreme Court of India readies for video hearing
The apex court resumed sitting on Monday but with a reduced number of courts and hearings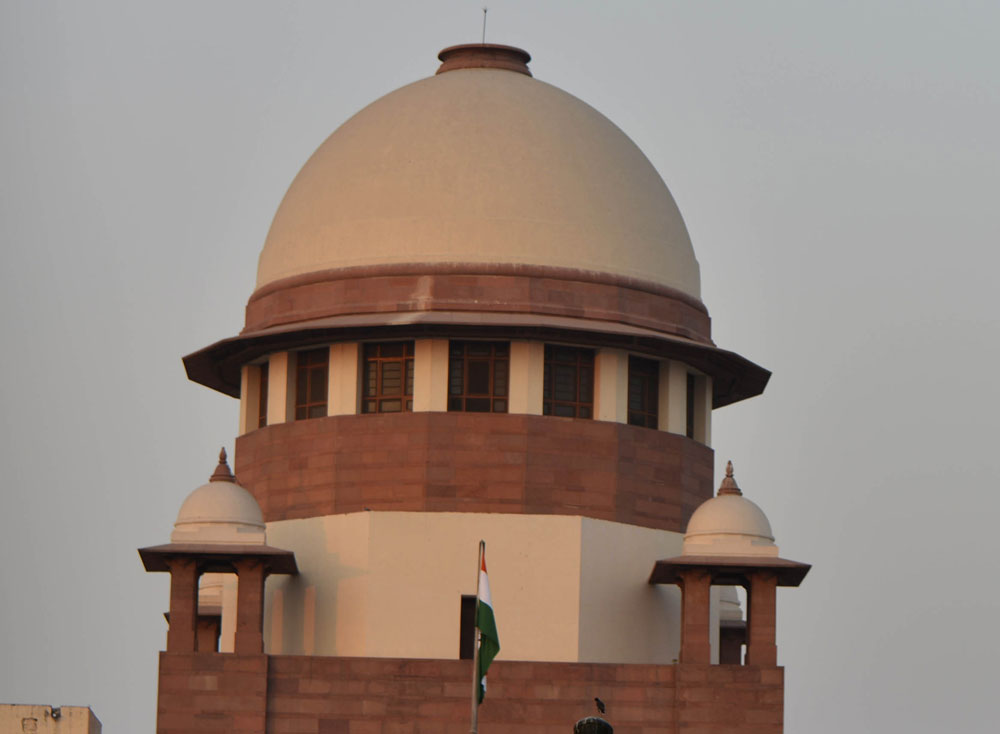 Supreme Court of India
File picture
---
New Delhi
|
Published 16.03.20, 08:56 PM
|
---
The Supreme Court will take up videoconferencing and allow advocates to file petitions through email as a shield against the novel coronavirus, Chief Justice of India S.A. Bobde has told members of the Bar.
The apex court resumed sitting on Monday after a week's Holi recess, but with a reduced number of courts and hearings. Serpentine queues formed before the gates and reception counters, with entry restricted to advocates appearing in urgent matters.
All visitors and staff were subjected to thermal screening and asked to sign a declaration saying they were not suffering from any coronavirus-like symptoms.
Justice Bobde asked the lawyers, media, court staff and litigants to cooperate with the court registry.
On Sunday night, the Chief Justice had held consultations with the Supreme Court Bar Association and the Supreme Court Advocates-on-Record Association. Justices Arun Mishra, U.U. Lalit, D.Y. Chandrachud and L. Nageswara Rao attended the meeting, as did medical experts from AIIMS, private hospitals and the Indian Council of Medical Research.
Justice Bobde told the meeting that there cannot be a complete shutdown of the courts and that the top court would function in a restricted manner to deal with only important and urgent matters. The following decisions were taken:
1. A declaration will be obtained from anyone seeking entry into the court stating:
a. Whether they have travelled overseas, especially to any of the notified countries. If they have, they will not be allowed to enter.
b. Whether they have had a cough or a cold in the past day or two.
c. Whether they are in close contact with any infected person.
2. People with symptoms will be requested to observe self-restraint and not attend court.
3. Posters on respiratory etiquette will be put up on the apex court premises and circulated through social media.
4. People will undergo thermal-scanner screening while entering.
5. Sanitisers will be provided in all courtrooms, corridors, toilets.
6. Volunteers will be deployed in court halls; people will be encouraged to keep a safe distance from one another; lawyers will be requested to leave the premises as soon as their matter concludes.
7. Advocates will be encouraged to participate in e-filing of pleas and videoconferencing of proceedings, which will start soon.
Justice Bobde assured everyone that no adverse orders would be passed and adjournments would be granted leniently.
Justice Chandrachud, the chairman of the e-committee, said "people to people" contacts would be reduced very soon through videoconferencing.
A separate room for the counsel for each party will be made available on the apex court premises.
A lawyer will only have to download a simple application and activate court proceedings through videoconferencing, which can be conducted from his office.
Once the practice of videoconferencing starts, smart TV sets will be provided in the press lounge, Justice Chandrachud said. He said that e-filings can be made at any time of the day.
Of the 15 courts, only 6 assembled on Monday to dispose of various important cases.