Supreme Court Bar Association steps in to offer legal help
DELHI RIOTS: Legal teams offer succour to victims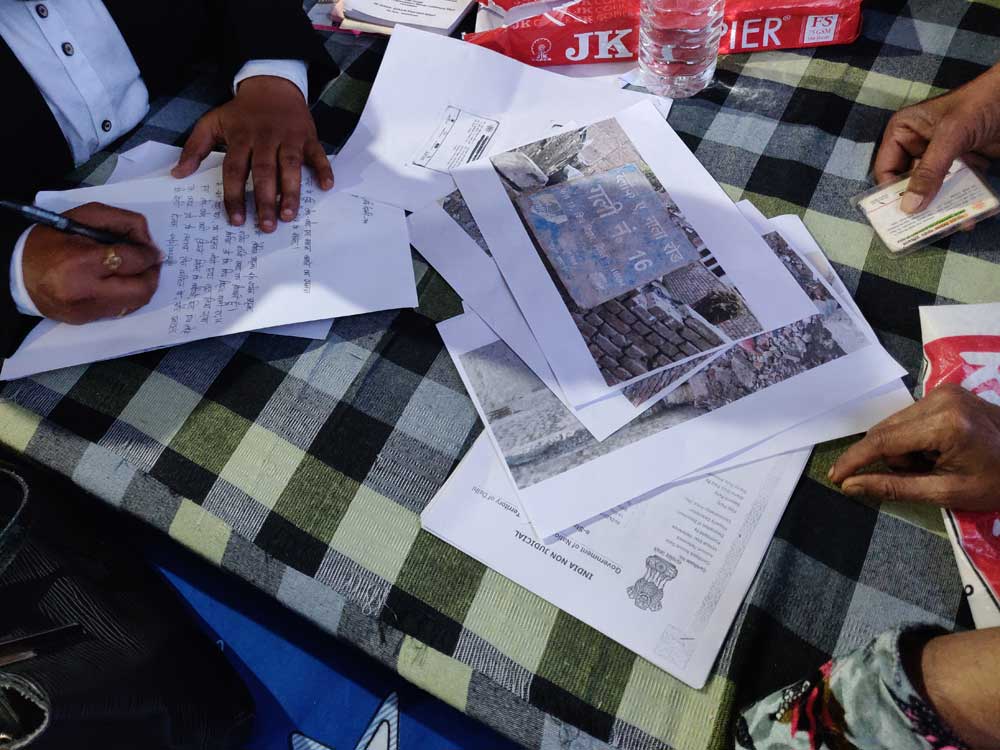 The legal teams at the Chand Bagh and Idgah camps alleged that the police had been refusing to register FIRs
(Furquan Ameen)
---
New Delhi
|
Published 06.03.20, 11:29 AM
|
---
Mohd Hanif Mansoori, a 25-year-old resident of Shiv Vihar in northeast Delhi, feels that last week's violence has set his family back by years.
Then, there are others — whose homes have been gutted — who feel they've been set back by decades.
The Supreme Court Bar Association's (SCBA's) legal camp at the Idgah relief camp in Mustafabad is helping the displaced in violence-hit areas claim relief from the government. This is in addition to the ex gratia compensation of Rs 25,000 announced by the Delhi government.
The SCBA secretary, Ashok Arora, sought co-operation and security from Delhi police for legal camps in Chand Bagh, Shiv Vihar Tiraha, Khazoori Khas, Vijay Park, Mustafabad, Brijpuri and Sherpur. The camps were started on Wednesday.
"We can help them in two ways. We're filling claim forms for them and we are also taking details of what all has been damaged," said Nanita Sharma, advocate on record in the Supreme Court.
"Then there are FIRs. When they go to the police, nothing happens. The police tells them to go away. We're writing their complaints as well, which will be taken to the police stations."
The legal teams at the Chand Bagh and Idgah camps alleged that the police had been refusing to register FIRs. Another team working in the area, Lawyers for Detainees, are also facing similar problems.
Delhi Govt Relief forms require a copy of Police FIR to be attached. The Police are not registering FIRs. Muslim youth who visit the Police Station to register FIRs are arrested as rioteers. This official insensitivity must stop! @AtishiAAP @msisodia @AamAadmiParty

— Jayati Ghosh (@Jayati1609) March 5, 2020
Nilesh Jain of Lawyers for Detainees claimed that the police had refused to register FIRs by individuals. However, he added that the police had started accepting written complaints. The team hasn't received a copy of the FIRs or their numbers.
"The police at the Karawal Nagar police station accepted the complaints and gave us the diary numbers. They told us to go back after two days to get the FIR numbers and its copies," said Jain. "I'm not sure whether they are registering FIRs."
At the Idgah relief camp, most people are from Shiv Vihar which comes under the jurisdiction of the Karawal Nagar police station.
Hanif, who had a house and two shops — a spare-part shop and a mechanic's shop — has claimed Rs 8 lakh as compensation. For this, he had to submit photographs as evidence and documents to prove his identity.
For claims, documents like Aadhaar, voter identity and photo evidence are being sought. But many who ran for their lives in the middle of the night didn't consider taking their documents along.
On the night of February 26, Reshma escaped the violent mob attacking Muslim houses with her husband and children. They couldn't get their documents. Now, they can't claim anything because, as she puts it, "zara sa bhi na bacha; sab phoonk diya (Not even a little is left; they burnt everything)."
Sharma said it was going to be a long process but rehabilitation was the need of the hour.
"Their houses have been gutted and livelihoods destroyed. Someone came the other day and said that his e-rickshaw was burnt, while some women said that jewellery kept aside for a daughter's marriage was robbed," said Sharma.