Srinagar: Bail after four years, journalist jailed under tough law
Today, we received information that he has been booked under the PSA: Aasif Sultan's lawyer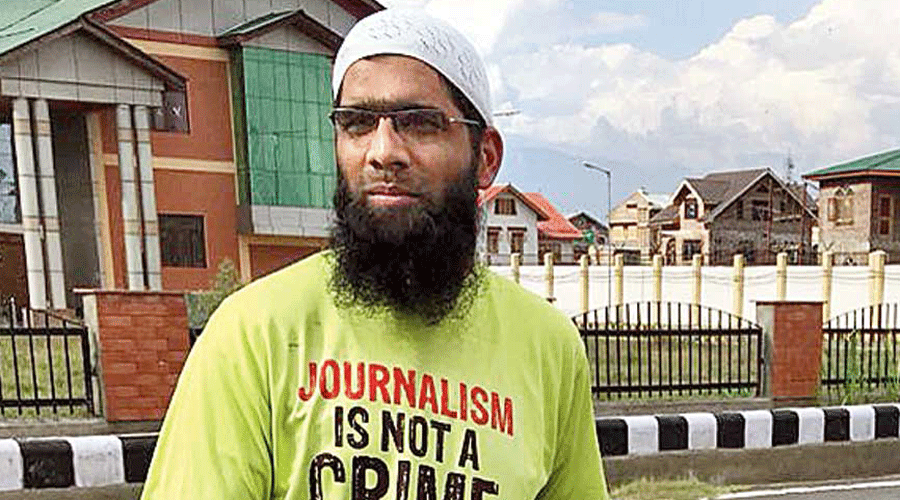 ---
Srinagar
|
Published 11.04.22, 02:57 AM
|
---
Award-winning journalist Aasif Sultan received bail after spending four years in a Srinagar prison, only to be booked under the stringent Public Safety Act and sent to the far-off Kot Bhalwal jail.
A National Investigation Agency (NIA) court on Tuesday ordered that Sultan, accused of sheltering terrorists, be freed on bail. But he was never released and was, instead, detained illegally at a Srinagar police station, Sultan's lawyer Adil Abdullah Pandit told The Telegraph.
"Today, we received information that he has been booked under the PSA," Pandit said. "It's now clear they want to keep him behind bars and the charge of harbouring terrorists was just an excuse."
The PSA allows detention without trial for up to six months, and makes bail difficult to obtain. Pandit said Sultan would be sent to Jammu's Kot Bhalwal jail, 300km from Srinagar, on Monday.
The special NIA judge had said he was granting bail because he had found "no direct evidence nor any substantial evidence on record that would have connected the accused" to the alleged crime.
Sultan had received the John Aubuchon Press Freedom Award from the American National Press Club in 2019 and featured in Time magazine's 10 "most urgent" cases of threats to media freedom around the world in 2020.
The New York-based Committee to Protect Journalists, a non-profit organisation, later ran a full-page ad in The Washington Post to express solidarity with him.
Last year, the Clooney Foundation for Justice, established by Hollywood star George Clooney and his lawyer wife Amal Clooney, announced it would monitor Sultan's trial. But the hearings have been deferred multiple times, with hardly any held since the pandemic broke out.
Sultan, a reporter with the news magazine Kashmir Narrator, is the first Valley journalist to be booked under the anti-terror Unlawful Activities Prevention Act and was arrested in 2018. He is charged with sheltering militants who had killed a policeman, an accusation his family and lawyers deny.
His only child, daughter Areeba, born a few months before his arrest, has been participating in the family's tireless campaign for his release.
Sultan's family, magazine and lawyer insist he was arrested for his professional work, saying his ordeal began after he wrote an article, "The Rise of Burhan", for the magazine in 2018.
Hizbul Mujahideen commander Burhan Wani was killed by the security forces in July 2016. The police had earlier accused Sultan of glorifying militancy in his writings.
Sultan is the third Valley journalist detained under the PSA since January this year, after news portal editor Fahad Shah and his trainee reporter Sajad Gul.
A Press Council of India fact-finding committee recently revealed that a staggering 49 journalists had been arrested in the Valley since 2016. It said the government was slowly choking the media in the Valley through "extensive curbs".