Spraying, fumigation at public places harmful: Government
Centre tells SC that streets and pavements need not be disinfected since they are not reservoirs of the coronavirus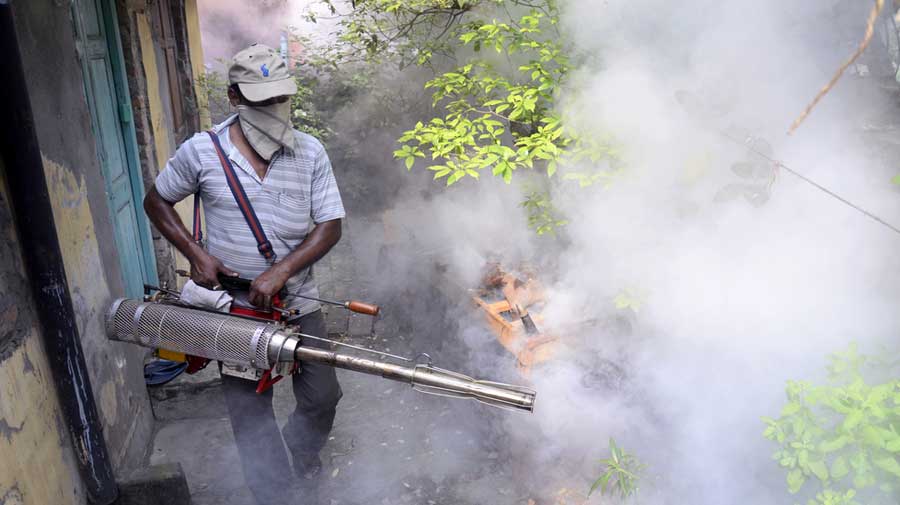 ---
---
The Centre on Monday told the Supreme Court that fumigating or spraying disinfectants at public places is harmful to human health and that streets and pavements need not be disinfected since they are not reservoirs of the coronavirus.
It added that it had never issued any advisory, guidelines or standard operating procedures for people being sprayed with disinfectants — something media reports have said was perpetrated on returning migrants at some places in the early days of the lockdown.
The Union health and family welfare ministry, however, argued in its affidavit that since health is a state subject, it's for the states and Union Territories to enforce a ban on public spraying or fumigation.
It was not discussed whether spraying or fogging for mosquito control is harmful too and should come under the ban.
The bench of Justices Ashok Bhushan, R. Subhash Reddy and M.R. Shah had asked the government why it had not issued a notification cautioning people about the harmful effects of fumigation.
Solicitor-general Tushar Mehta, appearing for the ministry, said the notification would be issued in a day or two but the responsibility to enforce it should lie with the states and Union Territories.
The court was dealing with a public interest plea moved by a law student, Gursimran Singh Narula, seeking a directive to the Centre to ban the "usage, installation, production, advertisement of disinfection tunnels involving spraying or fumigation of chemical disinfectants for the purpose of disinfecting human beings".
Narula had argued that such disinfection measures exposed people to severe health hazards including skin diseases, gastrointestinal ailments and even the loss of sight.
Agreeing with the petitioner, the Centre said: "Spraying or fumigation on outdoor spaces such as streets or marketplaces is also not recommended to kill the Covid-19 virus or other pathogens because disinfectants (are) inactivated by dirt and debris and it is not feasible to manually clean and remove all organic matter from such spaces."
It added: "Moreover, spraying porous surfaces such as sidewalks and unpaved walkways would be even less effective. Furthermore, streets and sidewalks are not considered to be reservoirs of infection for Covid-19.... In addition, spraying disinfectants even outdoors can be harmful for human health."
The ministry said that following media reports about the widespread use of spraying and fumigation across the country, it had held meetings with experts on April 8 and June 9. The meetings had resolved that:
Spraying humans with disinfectants is not recommended and is physically and physiologically harmful.
Such chemicals are harmful to the skin and the mucous membrane of the respiratory tract if inhaled.
External spraying of a disinfectant does not kill a virus that has already entered a human's body.
Spraying infected people with disinfectants does not diminish their ability to spread the virus through droplets or physical contact.
"It was also observed that in indoor spaces routine application of disinfectants to environmental surfaces by spraying or fogging is not recommended for Covid-19 as the disinfectants may not be effective in removing organic material and may miss surfaces shielded by object, folded fabrics or surfaces with intricate designs," the ministry said.
"If disinfectants are to be applied this should be done with a cloth or wipe that has been soaked in disinfectants."
The ministry added that it had not issued any letter or advisory on the use of ultraviolet rays to disinfect people as part of Covid-19 management.