Sonia faces revival challenge
CWC adopted a resolution expressing gratitude to Rahul for his exemplary leadership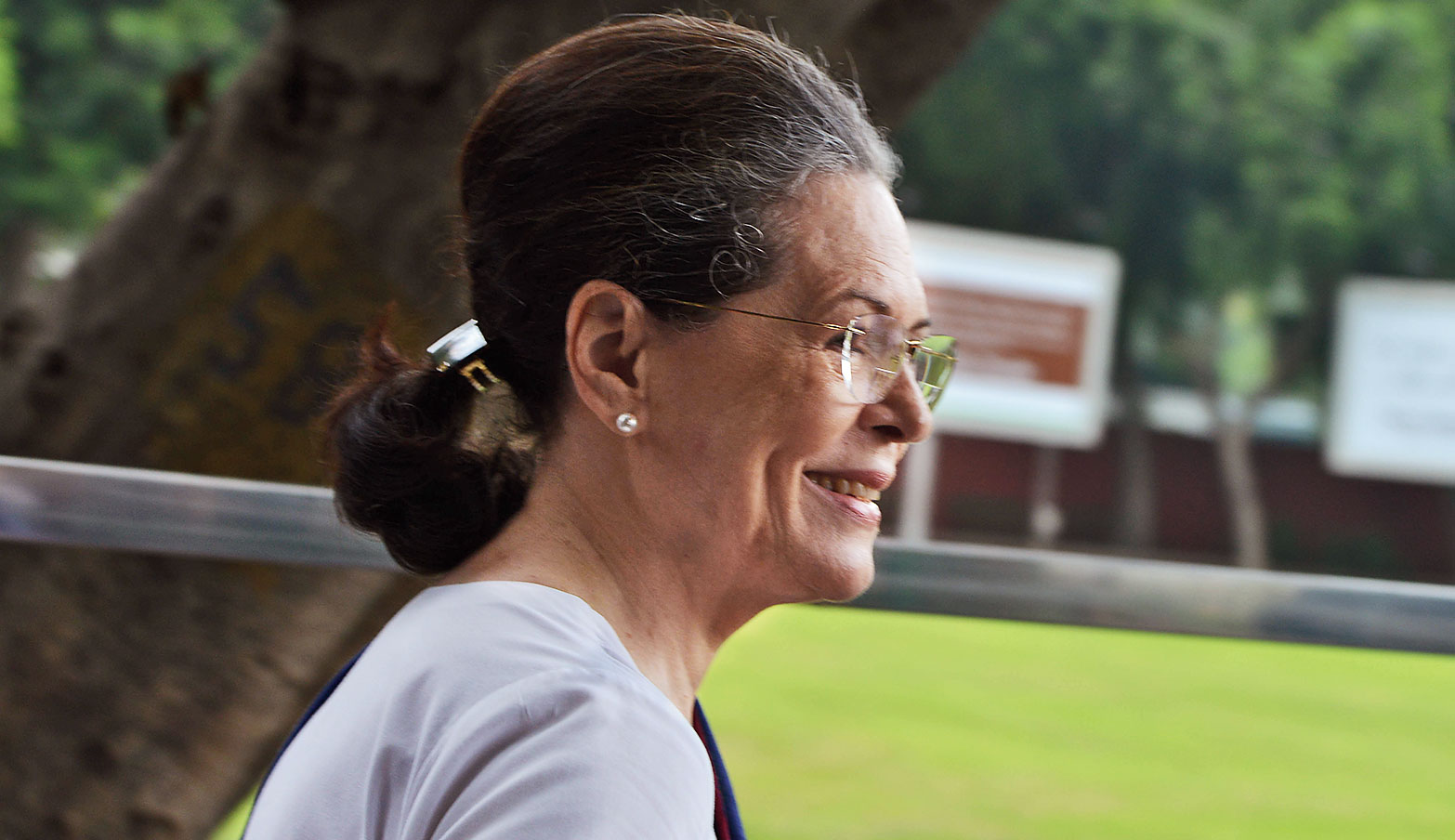 Sonia Gandhi at the CWC meeting on Saturday.
Picture by Prem Singh
---
New Delhi
|
Published 10.08.19, 08:52 PM
|
---
Sonia Gandhi, who had resurrected the Congress after successive defeats and sewn up a grand coalition to oust the extremely popular Atal Bihari Vajpayee in 2004, now faces another stiff challenge.
She will be leading the party into a series of key Assembly elections over the next few months, trying to rejuvenate it after the demoralising defeat in the general election.
Although Rahul had earlier insisted that no member from his family would be party president, the Congress Working Committee (CWC) overruled him because of the gravity of the situation and the advantages Sonia brings.
A restructuring of the organisation can now be undertaken without any conflicts under her guidance — such a task could have created unforeseen problems for any other president.
Under Sonia, even Rahul's supremacy in the party is not going to be challenged in any way. It is now likely that Congress leaders would refuse to accept any other president in the near future and insist on Rahul's return as and when possible.
Sonia may therefore continue to head the party for a while.
The CWC adopted a resolution expressing gratitude to Rahul for his exemplary leadership.
"The CWC places on record its profound sense of appreciation and gratitude for the exceptional leadership provided by Rahul Gandhi as Congress president," it said.
"He led the party with unbounded drive, fierce determination and dedication. He campaigned in the Assembly and national elections with indefatigable energy."
The resolution added: "He stood up fearlessly on issues of day-to-day concern to kisans, khet mazdoors, workers, traders and small businesses, youth, women, minorities, Dalits and Adivasis and the weaker sections of our society.
"He raised his voice boldly against the growing atmosphere of fear and intimidation in our country. These issues continue to be of significant relevance irrespective of the electoral verdict of May 2019."
It said that Rahul had injected a new sense of aggression and modernity into the party organisation and opened up numerous opportunities for the younger generation.
"He inspired every Congress worker through his never-say-die attitude and earned their admiration and respect. He emerged as a beacon of hope for the very large number of people who cherish the idea of India on which our freedom movement and the Constitution was anchored," it said.
"He came to be seen as a bulwark against the forces of hate, prejudice, bigotry, intolerance and divisiveness. His instinctive moral compass is evident from the manner in which he has taken personal responsibility for the disappointing performance of the party in the 2019 Lok Sabha elections, thereby setting new standards of accountability in public life."
The CWC also applauded "his courage, commitment and conviction in stepping down, which was a deeply personal decision, but is encouraged that his services, inputs and advice will continue to be available to the party".