Silence on letter on Father Stan Swamy's jail torment
The Parkinson's patient had to move court for the use of a straw and a sipper, initially denied to him by the prison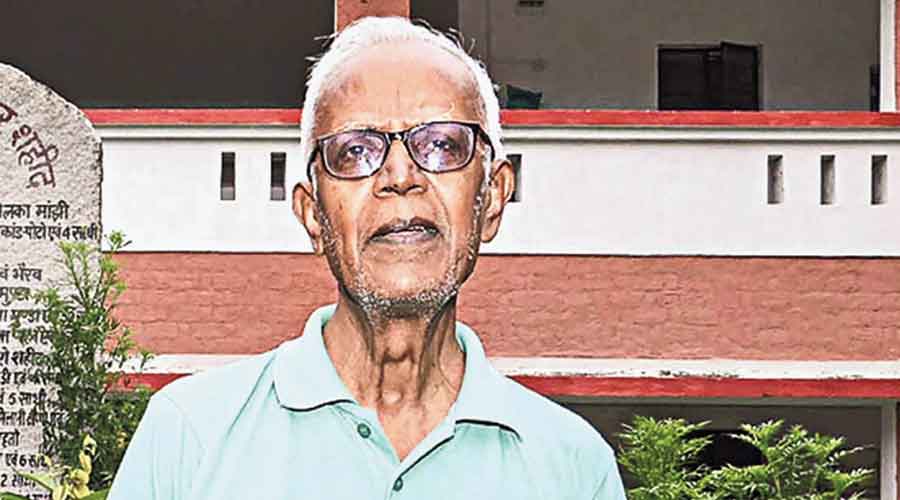 Father Stan Swamy
File picture
---
New Delhi
|
Published 12.10.21, 02:50 AM
|
---
A three-month-old letter by three Elgaar Parishad co-accused alleging "institutional murder" of Father Stan Swamy and accusing then Taloja prison superintendent Kaustubh Kurlekar of mistreating him has yet to evoke any response from the Maharashtra authorities it was sent to.
The letter alleged the 84-year-old Jesuit and tribal rights defender from Jharkhand was strip-searched "in front of the entire staff" when he was brought to the jail, and was kept in isolation so the Parkinson's patient could not receive any help from fellow prisoners.
Father Stan's health had deteriorated during the eight months he spent in Navi Mumbai's Taloja Central Prison, and he died of post-Covid complications in a Mumbai hospital while under judicial custody on July 5.
The Parkinson's patient, unable to drink water from a glass, had had to move court for the use of a straw and a sipper, initially denied to him by the prison, then under the command of Kurlekar.
Kurlekar was transferred just before Father Stan died.
Translated excerpts from the Marathi letter — sent by jailed Pune lawyer Surendra Gadling and balladeers Sagar Gorkhe and Ramesh Gaichor to Maharashtra chief minister Uddhav Thackeray on July 7 — were published by news website Newsclick last week
The letter says: "In our book, he didn't die a natural death. It was a well-planned institutional murder. We are disturbed and sad at father's death. And we have decided to fast for a day as a mark of protest."
It adds: "He desperately needed a helper due to Parkinson's. To ensure he doesn't get any help from his co-inmates, he was kept in isolation. It was Kurlekar's conscious attempt to emasculate him physically and mentally. To keep him away from his co-accused activists, there were three attempts made in four months to transfer him to Arthur Road Prison."
A lawyer associated with the case said copies of the letter had been sent to Maharashtra home minister Dilip Walse Patil, the chief justice of Bombay High Court, the Maharashtra state human rights commission and Kharghar police station under whose authority the jail comes.
"We have received no response so far," Nihalsing Rathod, lawyer for Gorkhe and Gaichor, told The Telegraph.
Thackeray's aide Harshal Pradhan did not respond to queries about the letter from this newspaper, sent on WhatsApp.
Kurlekar, now attached to the IG Prisons office, told this newspaper: "As per provisions in the criminal procedure code and the directions of the honourable High Court, the Taloja prison authority itself has sent a letter for a magisterial inquiry."
A magisterial inquiry is routine when a custody death occurs.
Gaichor had also filed a contempt petition against Kurlekar in the high court in August, after a poem he wrote to his sister was seized under Rules 17 and 20 of the Facilities to Prisoners Rules, which the high court had struck down as unconstitutional in 1992.
Another Elgaar Parishad case co-accused, author Sudhir Dhawale, too had moved a sessions court against the seizure — during Kurlekar's tenure at Taloja — of his letter to colleagues at his publication Vidrohi.
The letter contained a poem on Father Stan in Marathi titled "Pathalgadicha Father" (Father of Pathalgadi) — a reference to a movement to protect scheduled areas from government projects in Jharkhand.
Neither case has been heard so far, a defence lawyer said.
Father Stan had been arrested by the National Investigation Agency (NIA) last year for his alleged links to Maoists, who are accused of fomenting violence at an Ambedkarite pilgrimage near Pune in 2018. Fifteen others — mostly rights activists, lawyers and writers — have also been arrested in the case under the anti-terror Unlawful Activities Prevention Act (UAPA).
The treatment Father Stan faced in jail had prompted Congress leader P. Chidambaram - who had as Union home minister widened the scope of the UAPA — to slam the Maharashtra government in which his party is a partner.
"Are the administrators of the jail department and especially the DG, Prisons so bereft of human compassion that they cannot provide straws to the old and ailing prisoner?" Chidambaram had tweeted.
The state government has since ignored pleas from civil society to recommend — to high-powered committees mandated by the Supreme Court to decongest prisons during the pandemic — the release of the Elgaar prisoners, most of them elderly and ailing, on interim bail.
Despite appeals from internationally renowned activists and human rights defenders every few weeks in the past three years, the NIA has consistently opposed bail pleas in the case.
Father Stan's last public act before dying was to legally challenge Section 43D(5) of the UAPA as unconstitutional as it creates a de facto ban on the grant of bail, as well as the use of the term "front organisation". The plea lapsed with his death.
Forensic analysis by an American firm has indicated the planting of evidence on the computers of Gadling and Elgaar Parishad co-accused and human rights defender Rona Wilson. Father Stan had made a similar allegation before his arrest.