Temple trust priest tests Covid-19 positive
Nritya Gopal Das has been shifted to Medanta hospital in Gurgaon, where Union home minister Amit Shah too is being treated for the novel coronavirus infection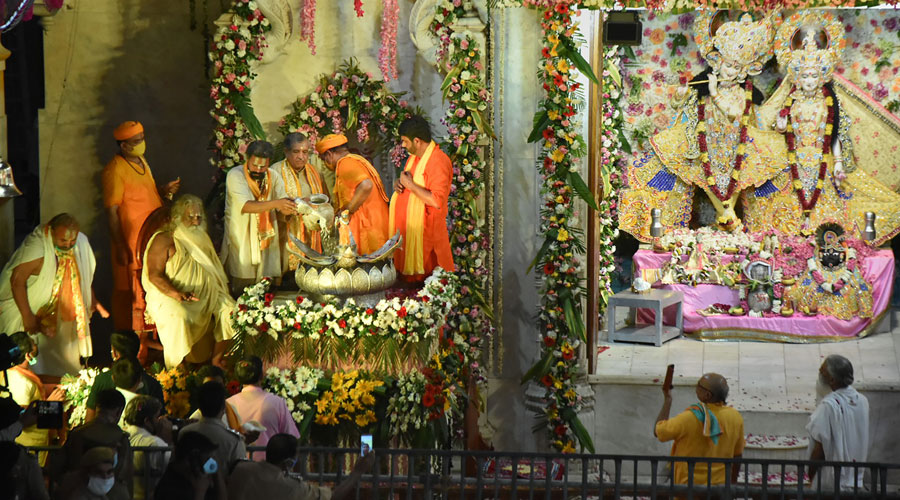 ---
|
Lucknow
|
Published 14.08.20, 02:37 AM
---
Nritya Gopal Das, the chief of the trust set up to build the Ram temple, tested positive for Covid-19 on Thursday, eight days after he had shared the dais with Prime Minister Narendra Modi at the bhoomi pujan in Ayodhya.
The 82-year-old chairman of the Shree Ram Janmabhoomi Teerth Kshetra Trust had travelled to Mathura to participate in a Krishna Janmashtami programme on Wednesday when he complained of a sore throat, breathlessness and other Covid-19 symptoms at night. On the instructions of Uttar Pradesh chief minister Yogi Adityanath, Nritya Gopal Das has been shifted to Medanta hospital in Gurgaon, where Union home minister Amit Shah too is being treated for the novel coronavirus infection.
At the bhoomi pujan in Ayodhya on August 5, Nritya Gopal Das had been seen in close proximity of Modi at least thrice — once when the Prime Minister had greeted him at the beginning by touching his folded hands, again when Modi was laying the foundation stone of the temple and yet again when the Prime Minister had bent down to speak to a seated Nritya Gopal Das while leaving. On none of these occasions had Nritya Gopal Das been wearing a mask.
Mathura district magistrate Sarvagya Ram Mishra said the process of identifying those who had come in contact with Nritya Gopal Das in the recent past had started.
Other than Modi, who launched a tax drive on Thursday, the others who had been seen near Nritya Gopal Das at the August 5 event included Adityanath, RSS chief Mohan Bhagwat, temple trust general secretary Champat Rai and Uttar Pradesh governor Anandiben Patel.
Sanjeev Yadav, the chief medical officer of Mathura, said Nritya Gopal Das's throat swab sample had been sent for examination on Wednesday night itself and the report came positive on Thursday.
If Nritya Gopal Das developed the sore throat and breathlessness — symptoms of Covid-19 — on Wednesday, experts believe it is unlikely that he was infectious eight days ago. Although the gestation — the period during which a person is infected, but does not show any symptoms — for Covid-19 is up to 14 days, researchers have estimated that infected people can spread it to others only two or three days before their symptoms emerge.
It is unclear when Nritya Gopal Das himself became infected because in rare instances, a person might develop symptoms within two days of becoming infected and on average patients might develop symptoms between 5 and 7 days after becoming infected.
Nritya Gopal Das lives in Ayodhya, where he is the Mahant of the Maniram Chhawani temple. He visits Mathura during Krishna Janmashtami.
Chief minister Adityanath said he had asked administrative officers to make every arrangement for the treatment of Nritya Gopal Das, the oldest surviving Vishwa Hindu Parishad leader who had been among those at the forefront of the Ram Janmabhoomi movement in the 1990s.