Shailaja advocates mandatory premarital counselling
The CPM's Kerala chief whip's recommendation comes as a way of improving mutual understanding and reducing violence against women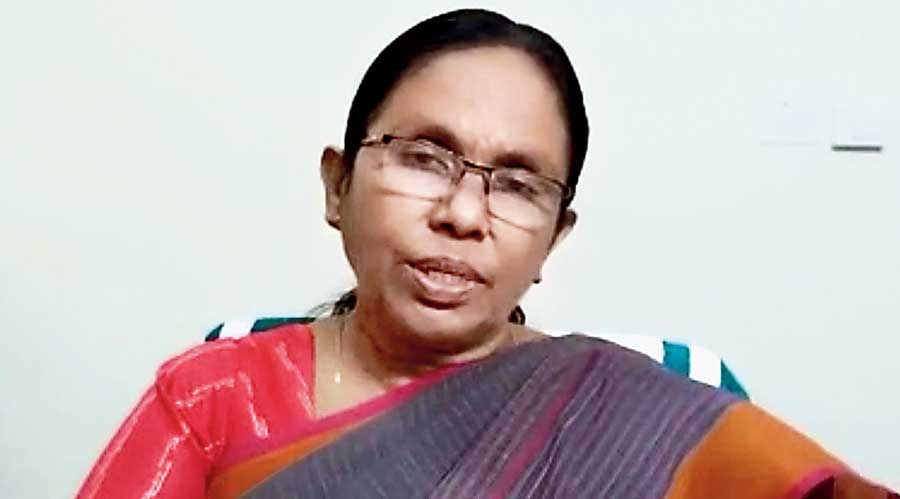 ---
Bangalore
|
Published 02.08.21, 01:23 AM
|
---
The CPM's Kerala chief whip, K.K. Shailaja, on Sunday advocated mandatory premarital counselling for all couples as a way of improving mutual understanding and reducing violence against women.
The former health minister's comments came against the backdrop of reports about a spate in dowry torture in Kerala, which she blamed on the growth of materialism and consumerism.
"Pre-marital counselling is needed for both the man and the woman entering wedlock to make them understand that married life is not entirely based on money or sex but is also a lifelong friendship that needs to be nurtured," Shailaja told an online seminar organised by the Calcutta Malayalee Samajam on "Violence against women: A continuing story".
"In many cases the seed of love can be sown in couples who are getting married by providing them with proper counselling. But that (igniting love) may not be possible in all cases and that's when law enforcement authorities must step in whenever there is violence," she added in her pre-recorded video message.
Shailaja called for a panchayat-organised local council to be formed in each village in Kerala to watch out for, and counsel people against, domestic violence.
"Even small girls should be given the courage to speak up whenever there is a violation of their mind or body," she said.
She suggested that society keep a close watch on whether cases were being registered following complaints of violence against women.
"It's important for us to check if cases are being registered and charges are being framed, and whether they (accused) are being put to trial. Only then we can build a society that respects women," Shailaja said.
Kerala Women's Commission member Shahida Kamal expressed similar views and said the pre-marital counselling that most churches in Kerala had made mandatory for their flock could be a model.
"It's mandatory for Christians to attend pre-marital counselling. We have to introduce a secular pre-marital counselling for couples, irrespective of their religion, and issue a certificate that should be a requirement to get a marriage certificate," she said.
Kamal said the commission had asked the Kerala government to make it compulsory for all public marriage venues — such as community halls and temple halls — to display large billboards reminding people that dowry is illegal.
"At least that should make some, if not all, cringe if they have either given or accepted dowry," she said.
Another recommendation from the commission is to increase the marriageable age from 18 to 21 for women and from 21 to 25 for men. The central government is already considering raising the marriageable age for women to 21.
"Sex education is seen as a key solution to many issues: we see a lot of couples developing marital problems because of misunderstandings about their sex life," Kamal said.
CPI leader Annie Raja said it was a shame that such a seminar had to be held nearly 75 years after Independence, that too to discuss violence against women in a state often considered a model for others.
"A deadly cocktail of capitalist ideology and consumerism is what is happening in our state. While there is a vulgar display of wealth on one side, there is a false sense of pride in most Malayali minds," she said.