Shaheen Bagh resists 'hijack attempt'
Into its 20th day now, several 100 protesters, mostly local women, continued to block the road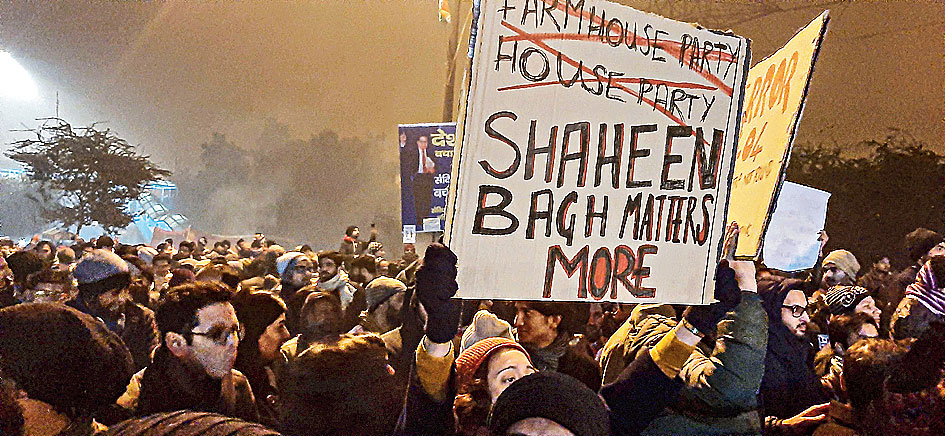 ---
New Delhi
|
Published 02.01.20, 09:09 PM
|
---
A section of the organisers of the Shaheen Bagh protest in east-central Delhi said they had called off the picket on Thursday evening, alleging that political parties were trying to hijack the stage and fearing violence.
Sharjeel Imam, one of the main organisers of the sit-in against CAA-NRC, said in a social media post: "We have called off the Shaheen Bagh road blockades today to avoid impending violence by party goons and to avoid politicisation of the stage by political parties."
However, several hundred protesters, mostly local women, continued to block the road, unprepared to let their effort dissolve in a whimper.
Tarique Anwer tweeted: "Update: the protest at Shaheen Bagh is alive and shall continue as per the locals…. As per the local women who are the pillar of this protest: 'This is not any individual's protest, we shall continue the protest with same enthusiasm."
Sharjeel said that the protest was only switching gear and would adopt new Hong Kong-style "flash mob" tactics. "We request all of you to stop sending any assistance to this stage which has been hijacked by Congressis and cash-hungry gangs who do not care about violence and it's implications for the community," Sharjeel said.
Into its 20th day now, the Shaheen Bagh protest, spearheaded by women, had become a cause célèbre among protesters over the past fortnight. But increasingly, the focus had shifted from local protesters to "celebrity" speakers who had begun to arrive in turns.
A section of the local patrons of the protest had become restive over this and begun to argue that the picket was losing its "exclusive native" quality and turning into a "VIP protest show".