Shaheen Bagh protest: 20-day-old baby marks fight for the future
Rehana has been sitting on dharna for the past 10 days along with over 1,500 protesters — all of them women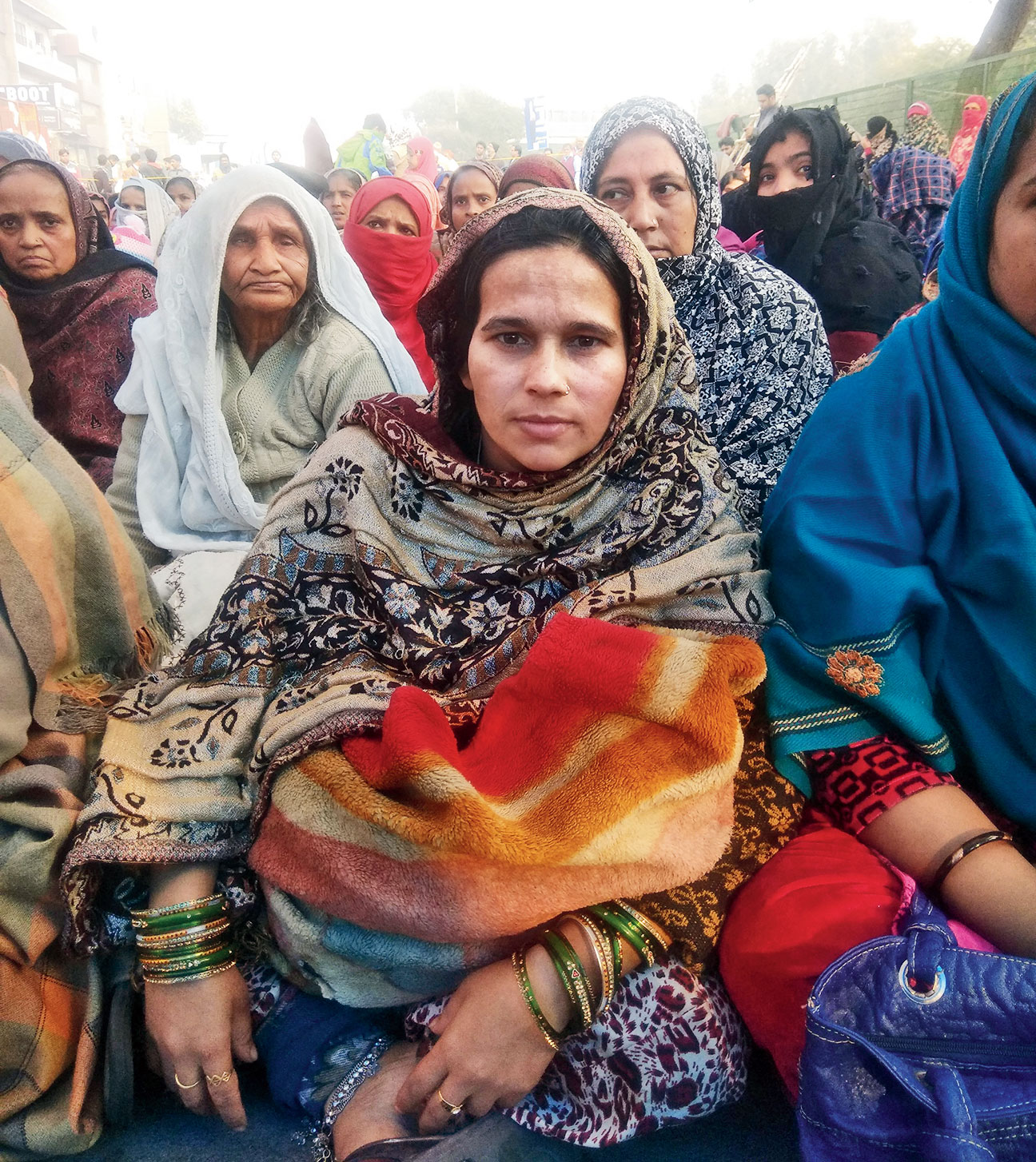 Rehana with the baby.
Picture by Imran Ahmed Siddiqui
---
New Delhi
|
Published 24.12.19, 08:53 PM
|
---
Twenty-day-old Ashiana is the youngest "protester" among the intrepid women who have gathered at Shaheen Bagh, southeast Delhi.
The little girl is too young to understand the mood around her but has become a face of the fight for the future — at least for her mother.
"I fear more for the future of my newly born daughter and her two brothers aged 8 and 10," Rehana Khatoon said as she sat on the road in the biting cold under a shamiana, cradling her baby.
"This government has sinister designs and the citizenship law is only aimed at targeting Muslims. It's a matter of life and death for us."
Rehana has been sitting on dharna for the past 10 days along with over 1,500 protesters — all of them women — demanding that the government repeal the Citizenship (Amendment) Act and abort the plan to roll out the National Register of Citizens as a countrywide exercise.
The homemaker said neither she nor her husband, Mohammed Ujale, a peon in Delhi's municipal corporation, had birth certificates. "Our parents and grandparents were born in India but we don't have any papers to establish that. This makes us a fit case under the government's policies to be sent to detention camps as promised by Union home minister Amit Shah," she said as her fellow protesters raised slogans.
"We are not scared of (Narendra) Modi or Amit Shah and will fight till death for our rights," they chorused.
Rehana said religion was being used as an excuse to divide the country. "We are Indians first, then Muslims, and this is our identity. Neither Modi nor Amit Shah can take this identity away from us."
Women, among them elderly homemakers and students, have been sitting in protest against the amended citizenship law for the past 10 days on NH-24 — that connects Delhi with Noida — in Shaheen Bagh, a locality in Okhla's Jamia Nagar, a predominantly Muslim neighbourhood.
The sit-in began after the brutal police crackdown on Jamia Millia Islamia students on December 15.
Azra Shaheen, a mother of two, said the sit-in had started with a handful of women. Sensing the growing fear among the community, women then started coming out from their homes from nearby localities, the number swelling to nearly 1,500.
Food and water are being provided by a community kitchen run by volunteers, who have also distributed blankets to brave the cold.
"Breaking stereotypes, Muslim women stepped out of their houses to make their presence felt to fight against the government's discriminatory policy. We were strangers when we joined the protest initially but now we have become part of a big family. We are eating, sleeping and protesting together under the open sky," she said.
The male members of their families, she said, are day labourers who have to work to keep the home fires burning.
"After the day's work they take care of the children at home," she said.
At the sit-in the women wave Tricolours, chant slogans of "azadi" and also recite Urdu poems and patriotic songs, including Saare Jahan se Achchha Hindustan hamara, Dil diya hai jaan bhi denge, Aye watan tere liye'.
"The issue is about our identity and we will die here to protect it than retreat," said Rukshana, a Class IX student.
She said the new law was not only anti-Muslim but also anti-poor. "We are protesting to save the Constitution of India and will fight till it is taken back."
Her friends, Anjum and Aqira, said the women in the area were fighting the "dark cold forces of fascism" to save the country.
"How can people of this country be profiled on the basis of their religion and stripped of their citizenship overnight against the tenets of the Indian Constitution. The CAA is in violation of the Constitution's secular principles and the right to equality before the law and non-discriminatory treatment," Aqira said.
Irfan Khursheed, 45, a tailor by profession, said this was the first time he had witnessed such a movement by women in the area to fight for their rights.
"This is an uprising. Women have come out on the road for the well-being of their children, their families and the community as a whole. It is something unprecedented and a defining moment for the community," he said.
His wife Afsana is one of the protesters.
"I have taken over the kitchen and with the help of my two daughters cook food at home while my wife is at the dharna," Irfan said.
Shahnaz Begum, 60, said she was unwell and was down with cold for the past two days but wouldn't budge an inch till the law is withdrawn.
"Ye Hindu aur Muslim ki ladai nahin hai, ye sahi aur galat ki ladai hai (This is not a fight between Hindus and Muslims, it is a fight between right and wrong)," she said.