Shah backs CM on new laws
'Centre giving maximumattention to Jharkhand'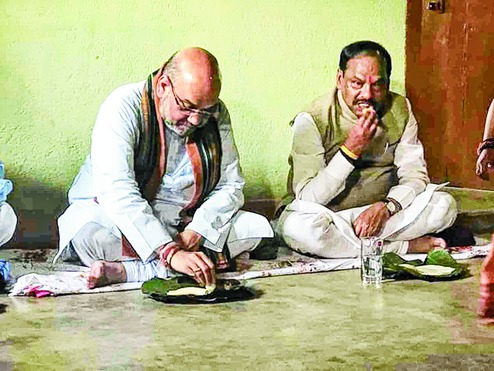 ---
Ranchi
|
Published 17.09.17, 12:00 AM
|
---
Ranchi, Sept. 16: BJP chief Amit Shah heaped praise on the Raghubar Das government today, saying Jharkhand was poised to become a BJP bastion at a time when the chief minister has come in for severe criticism from the Church for the enactment of an anti-conversion law that it believes is creating a divide among tribals.
Shah, who addressed a press conference on the second day of his visit to the state, defended the introduction of Jharkhand Freedom of Religion Act-2017 and Jharkhand Right to Fair Compensation and Transparency in Land Acquisition, Rehabilitation and Resettlement (Amendment) Act-2017, saying laws were changed since the BJP believed in the politics of transformation.
" Mukhyamantri aap nai banate hain, janta banati hai. BJP hamesha transformation ka prayog karti hai aur laws ko amend karti hai. Enhone bhi prayog kiya hai jarurat ke hisaab se. Ab dekha jaega janta ese kaise leti hai. (You don't make a CM, but people do. BJP believes in the politics of transformation and amends laws as per need. He (the CM) has also exercised that right because of certain needs. Let's see how people take it)," he remarked when asked about the twin bills.
On the state government's bid to amend tenancy laws, Shah said he did not view Raj Bhavan's action of sending back the bills as criticism.
"The Jharkhand governor did not reject the amendment bills on tenancy laws. She only asked the state government to reconsider the provisions of the proposed amendments in tune with issues raised in a series of memoranda received by her," he said.
Earlier this week, Catholic Bishops Council of India (CBCI) wrote to the Prime Minister, seeking his intervention to stop the spread of hatred by chief minister Das. This was followed by All Churches Committee Ranchi (ACCR), an umbrella organisation of churches in the state, submitting a memorandum to President Ram Nath Kovind through Raj Bhavan here, also seeking his intervention.
Today, flanked by chief minister Das, Shah presented details to show how the Centre's aid to Jharkhand had increased ever since Prime Minister Narendra Modi took office.
The BJP chief said Jharkhand received Rs 55,253 crore from the Centre during the 13th finance commission period, which shot up to Rs 143,345 crore during the 14th finance commission period, which, in itself proved that the BJP-led government was giving maximum attention to Jharkhand since it was committed to working for the welfare of poor, dalits, tribals, backwards, women and other weaker sections of society.
"During 2016-17, Jharkhand's growth rate was the second highest in the country, next only to Gujarat. For the past two years, it is being ranked one among the top seven states in ease of doing business. Before that Jharkhand was in 29th position," he said and gave out statistics to illustrate his point _ 1.07 crore new bank accounts opened with deposits amounting to Rs 1,992 crore, 1.06 crore LED bulbs distributed leading to power savings worth Rs 550 crore per annum, 7.27 lakh new LPG connections given to BPL women, over 3.5 lakh SC/ST families benefited by government social schemes.
Praising the Modi government at the Centre, Shah said several policy decisions were taken for the welfare of the masses. He claimed inflation (price rise) was at its lowest, the stock market was booming and that the Indian economy was being recognised globally.
After USA, he added, India was the only country to carry out surgical strikes and had also set a unique record of its kind after sending 104 satellites into the space in a single mission.
Later, addressing a gathering of 5,000 people at Garib Kalyan Mela at Harmu ground at 12.30pm, Shah took on Congress vice-president Rahul Gandhi. He said the Modi government had introduced 106 schemes for the welfare of the poor and challenged "Rahul baba" to come out with what his party had done.
Shah handed out benefits of various government schemes to the needy, such as LPG connections, soil health card, kisan credit cards, crop insurance payments and cattle for women. According to a state government communiqué, 46,325 people were handed out benefits worth Rs 340 crore.
After that Shah had lunch at the house of BJP state unit vice-president Samir Oraon, also at Harmu. He was accompanied by chief minister Das, former chief minister Arjun Munda, state BJP chief Laxman Gilua, party general secretary Anil Jain, national secretary and former Chhattisgarh minister Ram Vichar Netam.