Delhi police have charged Kanhaiya Kumar and several other former and current JNU students with sedition, three years after the campus shined an unsparing light on the Narendra Modi government and a few months before the general election.
The chargesheet accused the 10 defendants of raising seditious slogan during a stand-off over an event on February 9, 2016, the third anniversary of the execution of Parliament attack convict Afzal Guru.
The 10 accused include Kanhaiya, now a CPI national council member and a potential Lok Sabha election candidate from Begusarai in Bihar; Anirban Bhattacharya, who works for an NGO; and Umar Khalid, who is associated with an NGO campaigning against hate.
The three young men had emerged as the collective face of dissent in the country three years ago when few, including large sections of mainstream media, were willing to publicly call the Modi government to account. Campuses had filled the void by standing up to the Sangh parivar ecosystem that labelled critics "anti-nationals".
The chargesheet is scheduled to be examined by Chief Metropolitan Magistrate Deepak Sehrawat on Tuesday. He will decide whether it can be admitted.
Umar and Anirban said in a statement that "the government once again wants to deflect attention from its failures by raking up this issue just before elections. They need to bury their failures under these lies".
Kanhaiya told The Telegraph that the chargesheet would "expose the political conspiracy of the Modi government and its misuse of the police to harass students for three years".
All three were scathing on the media, with Umar and Anirban describing them as "cheerleaders who would celebrate lies".
The others charged by a special cell of the police are Mujeeb Gattoo, now a lecturer in Kashmir; Khalid Bhat, a Kashmir student; Umair Gul, a university teacher in Pulwama in Jammu and Kashmir; Basharat Ali, a freelance journalist; Muneeb Gatoo, Aligarh Muslim University student and Mujeeb's brother; Aqueeb Hussain, a dentist; Rayees Rasool, a rights activist.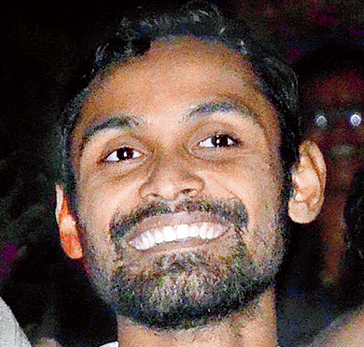 Anirban Bhattacharya The Telegraph file picture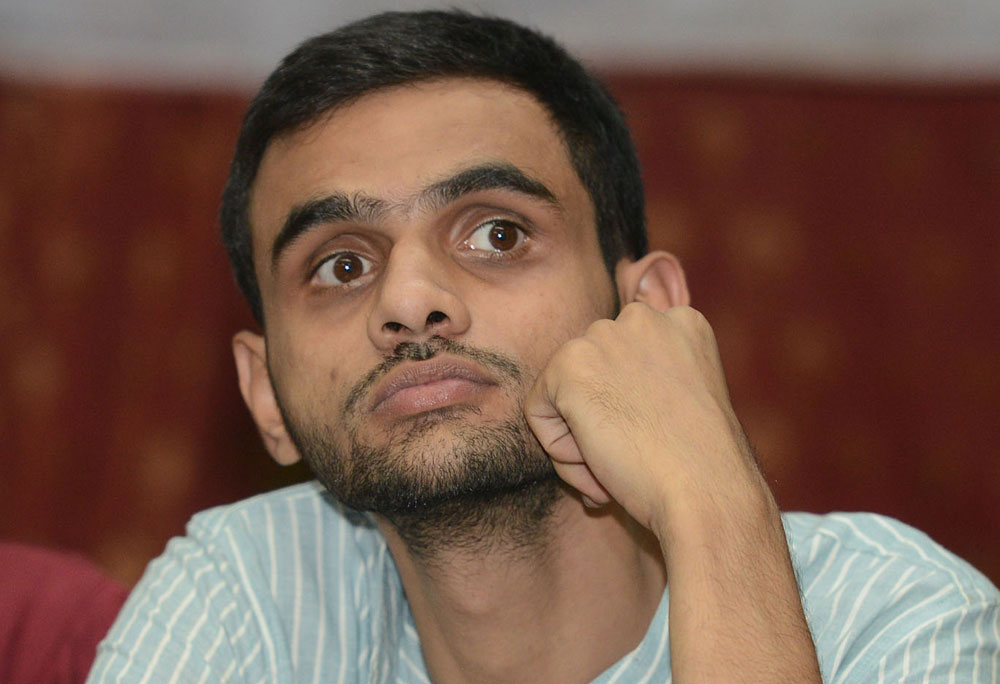 Umar Khalid has additionally been charged with forgery and using a forged document as genuine The Telegraph file picture
The strongest charge of sedition (Section 124A of the Indian Penal Code) carries a maximum punishment of imprisonment for life. The other charges are voluntarily causing hurt, unlawful assembly, unlawful assembly with common object, rioting) and criminal conspiracy. Umar Khalid has additionally been charged with forgery and using a forged document as genuine.
In addition, 36 people have been named in column 12 of the chargesheet, "against whom sufficient evidence has not come on file so far to launch trial".
The 36 include former JNU Students' Union office-bearers Ashutosh Kumar, Rama Naga, Shehla Rashid, Aparajitha (CPI leader D. Raja's daughter) and Banojyotsna Lahiri.
On Monday afternoon, police officers deposited a stainless steel trunk full of documents along with the chargesheet before Metropolitan Magistrate Sumeet Anand at the Patiala House Courts here.
On February 9 three years ago, Umar and Anirban had organised a "poetry reading" session based on The Country Without a Post Office, Agha Shahid Ali's poem. It was the anniversary of the hanging of Guru.
Permission was withdrawn by the JNU administration, and students, including Kanhaiya, staged a protest march amidst clashes with the RSS's Akhil Bharatiya Vidyarthi Parishad (ABVP) which tried to disrupt the event.
In the crackdown that followed, the three student leaders were arrested and Kanhaiya was beaten up inside the courtroom. A BJP legislator and three lawyers were arrested over the assault and immediately granted bail, and the case is not known to have made much progress since then. Last year, the Supreme Court rejected a petition to act against the attackers and the police, which could not prevent the assault.
On Monday, sources said the evidence cited in he chargesheet include at least 10 video clips, including that on seditious sloganeering that were telecast, as well as CCTV footage.
An inquiry by New Delhi district magistrate Sanjay Kumar, soon after the incident, had found that three out seven such TV news videos to be doctored. The inquiry also found that three witnesses in JNU's internal probe had given false statements. These include two guards who testified against Kanhaiya and Umar.
Punishments given by the JNU administration have been stayed by Delhi High Court. The magisterial probe found no proof that seditious slogans were raised by Kanhaiya, Umar and Anirban, and attributed them to "outsiders and possibly Kashmiri students."
Kanhaiya told this newspaper over phone from Begusarai: "I welcome the chargesheet and hope for a speedy trial. This will expose the political conspiracy of the Modi government and its misuse of the police to harass students for three years. The people of Begusarai have already realised the role of certain news channels to create hatred against students who have opposed the destruction of higher education under this government."
The JNU Students' Union said: "We see this submission of the chargesheet after a hiatus of three years as a clear case of vendetta and well-planned instruction from the Prime Minister's Office to whip up a frenzy and browbeat those who ave emerged as critical voices to the Prime Minister and exposed the BJP government's utter failure in running this country just before the Lok Sabha elections due to take place this year. JNUSU stands in solidarity with each and every student who are being accused in this bogus case."
Former JNUSU joint secretary and ABVP leader Saurabh Sharma, who led the campaign against "anti-nationals", called the chargesheet "a tight slap to the Congress and all other political people supporting them like Rahul Gandhi and Kejriwal."
Rahul, along with Congress, CPM and CPI leaders, had visited the campus soon after the arrests. They faced brickbats from suspected ABVP supporters in which former minister Anand Sharma and a police officer were injured. Kejriwal had ordered the magisterial probe, and his government filed a case against TV channels that aired doctored footage of anti-India slogans being raised.
AAP MP Sanjay Singh tweeted: "The Modi police took three years to file a chargesheet in this highly publicised case. The police, which is an expert in trapping Modi's opponents, has filed the chargesheet to please their master Modi before polls. Now Modi ji will clap and proclaim everyone a traitor in his meetings."
Shehla, who led a stir for the release of the three in 2016 said: "The fact that they've put in names of people against whom they admittedly have no evidence shows that they are taking dictation from RSS. Where are the names of the ABVP people who were engaging in violence that day?"
Umar and Anirban said in a statement: "Lying is an art. It's not enough to just lie. One also have to time it well. A sense of timing, of placement, is what makes one a master liar. And of course, one also needs to stage one's own cheerleaders who would celebrate each of one's lies. That is the role of most of the media today under this regime.
"But the people of the country have been dealing with these Sanghi Thugs of Hindustan long enough now. It's been five years, nearly. They know by now that it would be raining lies as it gets closer to the elections: mandir, statues, 10% reservation, 'anti-national'."
The statement by Umar and Anirban added: "If the last four years saw the people of the country grappling with one jumla after the other, the closing months would be seeing the crescendo in the symphony of lies. Even with us, around the 'JNU row' as they call it, it's not that they didn't have their lies ready three years back. But of course, they needed to submit them in the form of a chargesheet in the last hundred days. As the people of this country have prepared their own chargesheet against this anti-people, anti-poor and communal government, the government once again wants to deflect attention from its failures by raking up this issue just before elections. They need to bury their failures under these lies."