Former JNU student leader Kanhaiya Kumar said on Saturday that the BJP regime had made people realise the importance of freedom and rights, accusing the government of invading private spaces like bedrooms and kitchens.
Speaking at an interactive session organised by the All India Professionals Congress, a wing of the party, in Mumbai a day after the Narendra Modi government authorised 10 agencies to intercept, monitor and decrypt information transmitted by or stored in any computer, the CPI leader lauded veteran actor Naseeruddin Shah for speaking up.
Shah had on Thursday voiced concern about what he perceived as growing religious polarisation in the country against the backdrop of the killing of a police officer in Uttar Pradesh's Bulandshahr. He had expressed concern over the well-being of his children, who he said have not been brought up as followers of any particular religion.
Referring to Shah's remarks, Kanhaiya said: "The fear that Naseeruddin Shah is talking about is visible. Had this phase not come in the country people would not have realised the importance of freedom. Now they are scared it could be snatched from them. They have realised the value of freedom."
Kanhaiya, who had been arrested in 2016 on the charge of shouting "anti-national slogans" on the JNU campus and charged with sedition, said: "What the people of Dharavi were afraid of has now reached Bandra. A large number of India's poor has always been scared of losing their rights such as the right to vote. Naseeruddin Shah has expressed the same fear. Good that he has spoken out."
Kanhaiya referred to Friday's surveillance order. "When kitchens, bedrooms, everything comes under scrutiny, people realise the threat they are under.… Once Modi said former PM Manmohan Singh bathed with a raincoat on. Someone who would snoop in a bathroom, will he leave your mobile phones and computers?" he asked.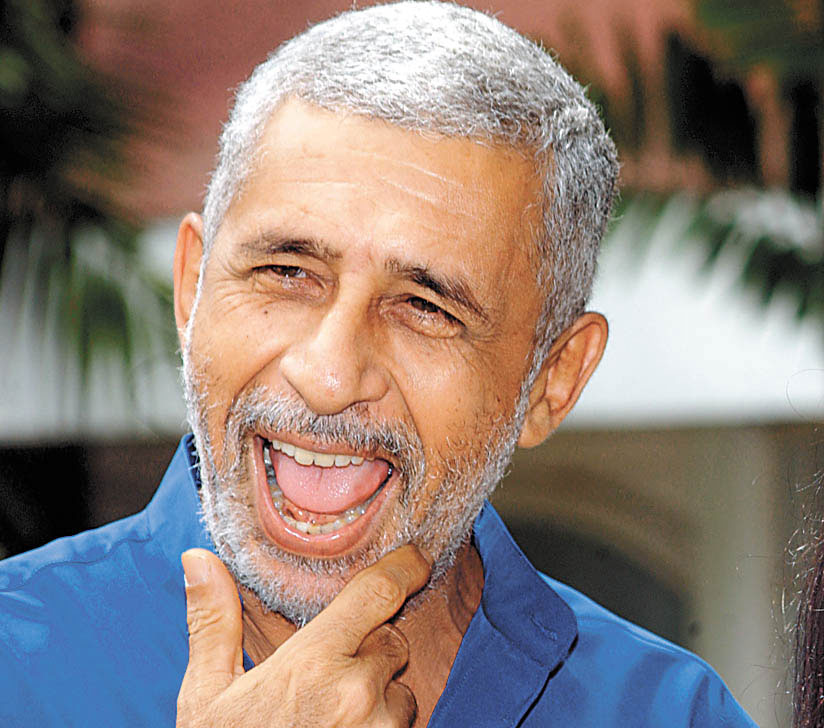 Naseeruddin Shah Telegraph file picture
Kanhaiya pointed out that anybody who speaks against "the anti-people policies of this regime will be branded anti-national".
For the past two days Shah has been targeted mercilessly on social media, with trolls branding him a traitor. A politician has even gone to the extent of booking flight tickets to Pakistan for the actor.
Shah's long-time colleague, actor Anupam Kher, said on Saturday that Shah was not speaking the truth.
"There's so much freedom in the country that you can abuse the army, badmouth the air chief and throw stones at soldiers. How much more freedom do you need in a country? He said what he felt like, it doesn't mean it's the truth," Kher told journalists.
He said people had started realising the importance of diversity. "Diversity is what has held the country together. Schools in Delhi, the health system in Kerala, can these not be brought together to take the country forward?" he asked.
Kanhaiya said the government had lowered the standard to such an extent that anybody would look better. "Many people had problems with the Congress, but now some have started liking Rahul Gandhi," he said.
Kanhaiya alleged that there was an attempt to kill him when he was attacked at the Tees Hazari court by lawyers during his production in connection with the sedition case.
"Their plan was to get me lynched and later say I was an anti-national…. (University of Hyderabad research scholar) Rohith Vemula, (journalist) Gauri Lankesh have died. Had I been killed that day nobody would have asked what happened in JNU," he said.
Ramdev 'sedition'
Yoga practitioner Ramdev, at the inauguration of a "vedic pathshala" in Baruipur on Saturday, was critical of Shah.
"Any actor becomes popular because of the love of the people of India that they receive. Bringing an allegation of religious intolerance against India belittles India's pride. The entire world laughs at us then," he said. "Which country in this world doesn't have violence within? It happens in all countries. But they don't blame their country for it. Bringing allegations of religious intolerance or violence or insecurity is an insult to the country. In a way this is akin to sedition."