Security or Internet access? Take your pick
Internet being abused by terrorists and agent provocateurs by spreading fake news and exhortations: Prasad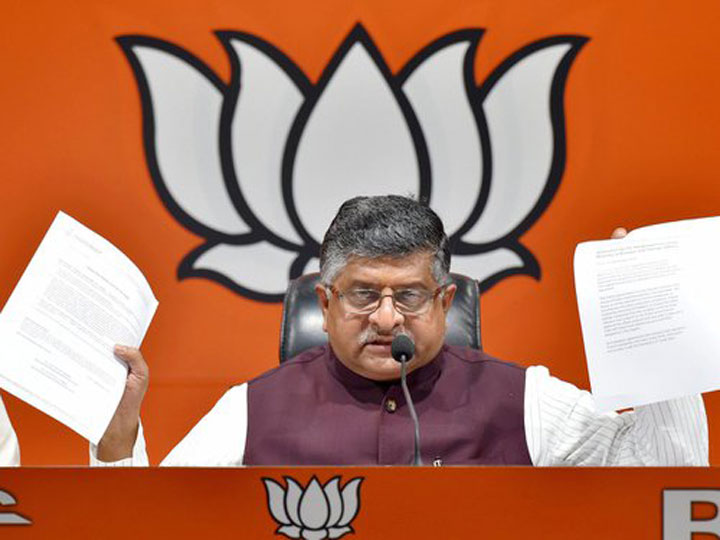 Union minister of law, communications and information technology Ravi Shankar Prasad
File photo
---
New Delhi
|
Published 06.02.20, 09:39 PM
|
---
The Centre has defended the temporary suspension of Internet in various places citing security issues although the clampdown has earned the country the dubious distinction of the Web blackout leader of the democratic world.
Union minister of law, communications and information technology Ravi Shankar Prasad said that the Internet today was being abused by terrorists and agent provocateurs by spreading fake news and exhortations for communal violence.
"While the right of use of the Internet is important, security of the country is equally important. Sir, law and order is a state subject. Can we deny that Internet, a fine creation of human mind, is not being abused by terrorists, by agent provocateurs, by giving fake news, demanding other kind of exhortation for communal violence? Therefore, what the law agency does is that they do it (suspend Internet) periodically across the country," Prasad said.
He was responding to a question by Shiv Sena leader Rajkumar Dhoot who wanted to know the number of times the Internet was blocked in the past one year. Prasad said that he would send the list of the Internet suspensions to Dhoot separately.
In 2019, India had the highest number of Internet shutdowns in the world, according to Access Now, a global non-profit organisation.
Dhoot said the Supreme Court had already described access to Internet as a fundamental right. (The Supreme Court had actually held the right to carry on business on the Internet as constitutionally protected.)
Prasad quoted from the Supreme Court judgment of January 10, 2020. He quoted parts of the judgment to say: "None of the counsels have argued for declaring the right to access the Internet as a fundamental right and, therefore, we are not expressing any view on the same. We are confining ourselves to declaring that the right to freedom of speech and expression under Article 19(1)(a), and the right to carry on any trade or business under 19(1)(g), using the medium of Internet is constitutionally protected.'
The minister added: "The honourable Supreme Court, in paragraph 28, has clearly stated that no lawyer argued that right to Internet is a fundamental right. Therefore, we are not going into that question. This kind of misconception needs to be corrected. What the honourable Supreme Court has stated is that for communication of your ideas and views, the use of Internet will also be held to be a part of your fundamental right of speech and expression. This position has to be considered," Prasad said.
"Abuse of the Internet is there… globally. The whole ISIS (the Islamic State) prospered because of the Internet," Prasad said.
The minister said that the Supreme Court has directed that the rules about temporary suspension must be periodically reviewed. That process is also going on, Prasad said.
In response to a separate question, minister of state for communication and IT Sanjay Dhotre said state governments concerned are empowered to issue orders for temporary suspension of internet services to maintain law and order.