Impact begins to tell on 3 surge states
Covid: Second wave threatens to sink healthcare services
Impact of coronavirus begins to tell on three worst-affected states — Maharashtra, Punjab and Chhattisgarh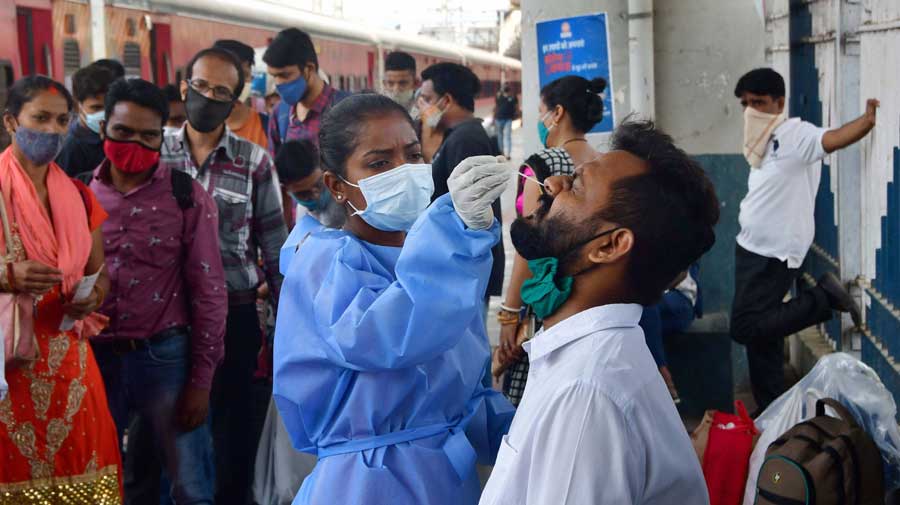 ---
New Delhi
|
Published 12.04.21, 01:11 AM
|
---
India's second Covid-19 wave has begun to overwhelm healthcare services at some places in the hardest-hit states of Maharashtra, Punjab and Chhattisgarh amid reports of shortages of healthcare workers, including critical care specialists, as well as oxygen and ventilators.
Public health teams have reported shortages of healthcare workers in at least eight districts in Maharashtra, three in Punjab and three in Chhattisgarh, oxygen supply concerns in four Maharashtra districts, and a dearth of ambulances in Chhattisgarh.
The Centre has requested two states to send ventilators for Covid-19 patients in Maharashtra and expressed concern that ventilators in Punjab's Rupnagar district are not being used because of shortages of critical care specialists.
Maharashtra is expected to receive 700 ventilators from Gujarat and 421 from Andhra Pradesh within three to four days, Union minister Prakash Javadekar said after a meeting with Maharashtra deputy chief minister Ajit Pawar on Saturday.
The Union health ministry, in letters sent to Maharashtra, Punjab and Chhattisgarh on Saturday, outlined the deficiencies observed by public health teams in the three states.
The teams have reported limited oxygen supplies in Pune, Bhandara, Palghar and Osmanabad in Maharashtra and Raipur in Chhattisgarh, a dearth of ambulances in Durg, Chhattisgarh, shortages of critical care infrastructure in Aurangabad, Maharashtra, inadequate facilities for Covid-19 testing in Balod, Durg and Korba in Chhattisgarh, and malfunctioning ventilators in Latur and Satara in Maharashtra.
They have reported shortages of healthcare workers in Aurangabad, Jalgaon, Jalna, Latur, Nandurbar, Palghar, Satara and Yawatmal in Maharashtra, Durg, Jashpur and Rajnandangaon in Chhattisgarh, and Patiala, Rupnagar and SAS Nagar in Punjab.
Health and critical care specialists had predicted last year that an uncurbed growth of the epidemic would trigger shortages of intensive care unit beds, critical care staff and ventilators and necessitate inter-state transfer of human resources and equipment.
India's count of active patients on Sunday increased by over 61,000 to cross 1.1 million. Maharashtra alone accounted for over 538,000 patients, followed by Chhattisgarh (85,800), Karnataka (61,700), Uttar Pradesh (58,800) and Kerala (40,100).
"It's what we thought would happen without a lockdown — which is the situation we have now," said Ramanan Laxminarayanan, founder and director of the Centre for Disease Dynamics Economics and Policy, a health think tank with headquarters in Washington DC and New Delhi.
The Union health ministry had said on Friday that 0.46 per cent of the active patients nationwide were on ventilator, 2.31 per cent in intensive care units and 4.51 per cent on oxygen support.
Shortages of ventilators and critical care facilities would depend on how fast and where the caseloads increase in the coming days and whether areas with the fastest-rising caseloads have the required infrastructure, a senior critical care specialist said.
India on Sunday recorded over 152,000 new Covid-19 cases with sharp surges in infections in multiple states, including the five most-populated states, threatening to push the epidemic's second wave — already much beyond the previous peak — even higher.
Maharashtra accounted for 36 per cent of the new cases recorded in the previous 24 hours, but the seven-day averages of daily new cases have increased 34-fold in Uttar Pradesh and Bihar, nine-fold in Bengal and six-fold in Madhya Pradesh since mid-March.
"As new cases emerge, the virus gets more opportunities to spread from person to person — especially when people aren't taking precautions," said a community medicine specialist. "The growth we're seeing now suggests that the daily counts could rise to much higher levels than where we are now. I won't be surprised if the daily new cases reach 200,000 within days."
India's seven-day average of the daily new cases spiked from about 69,000 on April 2 to 124,000 on April 10.
The health ministry has been urging the states to implement the standard public health measures of aggressively testing people, isolating positive cases, tracing and quarantining contacts, and ensuring that patients receive appropriate treatment early.
But public health teams have also observed "pandemic fatigue", a trend that some community medicine specialists had warned about last year. The guidelines require health staff to trace 20 to 30 contacts for each positive patient and ask them to quarantine themselves.
Public health specialists say many Covid-19 patients across the country no longer receive knocks on their door from health staff seeking details about their contacts in the three days before they were detected. "The epidemic has become huge — all the focus should be on preventing deaths," one expert said.