Sangh organisations object college naming campus park after Stan
St Aloysius College (Autonomous), a 141-year-old Jesuit institution, had planned an event to have a signboard declaring it the 'Fr Stan Swamy Peace Park'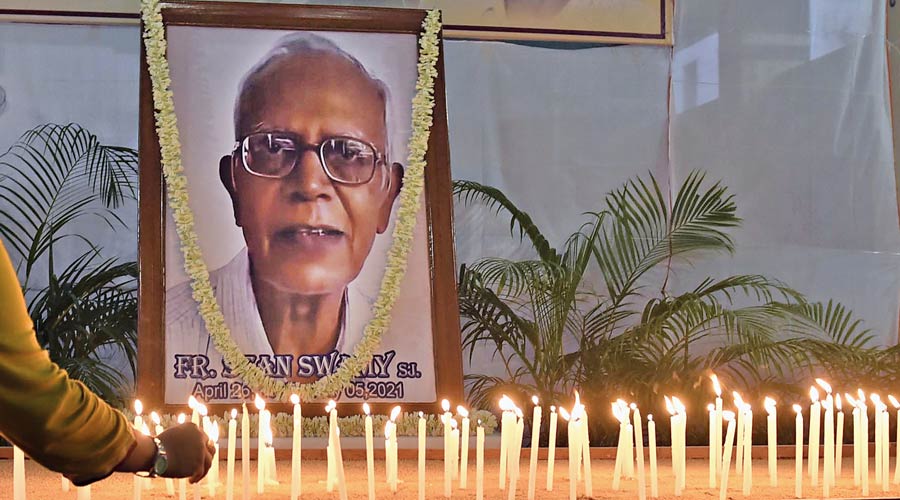 ---
Bangalore
|
Published 11.10.21, 02:01 AM
|
---
A Catholic college in Mangalore has put on hold its plan to name a park on the campus after Father Stan Swamy following objections from Sangh parivar organisations that described the Jesuit and tribal rights defender as "anti-national".
The 141-year-old Jesuit institution, St Aloysius College (Autonomous), had planned an event on Thursday to name the park at its management institute in Kotekar, on Mangalore's outskirts, after the priest from Jharkhand who died in custody.
College sources said the park — the institution's private property — at the St Aloysius Institute of Management and IT was to have a signboard declaring it the "Fr Stan Swamy Peace Park".
But at a news conference on Wednesday, RSS student wing ABVP, the Vishwa Hindu Parishad and the Bajrang Dal objected to the plan.
The outfit said the college management would be solely responsible if it failed to heed their warning and something untoward happened.
The college scrapped the event and said it had been postponed because of President Ram Nath Kovind's visit to the city on Thursday.
On Saturday, the college rector, Father Melwin Pinto, told The Telegraph in an email that no fresh date had been set for the event.
To a question, he said that no police complaint had been lodged since "we have not received any direct threat except for a letter from ABVP to the principal".
On Wednesday, ABVP state joint secretary Manikanta had also sent a letter to Mangalore deputy commissioner K.V. Rajendra, police commissioner N. Shashi Kumar and the college management, protesting the move to name the park after Father Stan.
Father Stan, an 83-year-old Parkinson's patient, had been arrested in the Bhima Koregaon case under the anti-terror law UAPA, accused of Maoist links and put in jail. He died in custody on July 5 after nine months of acute physical suffering in prison.
The rector said "fascist forces" were tarnishing Father Stan's image.
"I have known Fr Stan Swamy personally and am appalled to know that his good name is being tarnished by fascist forces who have absolutely no idea of the colossal work of this man among tribals and marginalised groups," Father Pinto said.
"He was a diehard social activist committed to the Constitution's values and issues of justice. Violence was never a part of his ideology."
A college official had earlier told this newspaper the park was to be opened at an "internal event" on Thursday.
"We had scheduled a small event, but then we faced this issue the previous day, and the President was in town. So we decided to postpone the event," the official, who cannot be named, said.
"But at some stage we shall have to tell people what we plan to do about naming the park, now that it has become a major issue."
About 100 progressive organisations and individuals have expressed support for the college and urged the district administration to act against those resorting to intimidation.
"They have absolutely no right to interfere in the goings-on of the private institution. These organisations have a stated purpose and history (of) violence, communal divisiveness and subscribe to an idea of our country, with scant regard to the Constitution and the rule of law," an open letter said.
It was issued by the People's Union of Civil Liberties, Campaign to Defend Democracy, All India People's Forum, journalist P. Sainath, educationist Anil Sadgopal, rights activist Harsh Mander, Clifton D'Rozario of the All India Lawyers' Association for Justice, and others.
"This blatantly illegal behaviour is a consequence of the free run that is being given to these fascist organisations in coastal Karnataka," the letter said.
"These organisations are imposing social apartheid, interfering in the private affairs of citizens and acting against the constitutional principle of fraternity by engaging in daily acts of violence and intimidation with impunity."