Saeed arrest days before Imran US trip
Hafiz Saeed was arrested in connection with cases mostly related to terror financing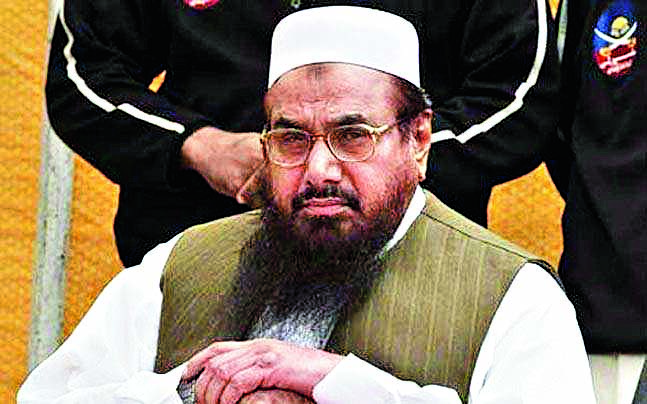 ---
Islamabad
|
Published 17.07.19, 08:18 PM
|
---
Pakistani counter-terrorism officials on Wednesday arrested Hafiz Saeed, the alleged mastermind of the 26/11 Mumbai terror attacks and a UN-designated terrorist, in connection with cases mostly related to terror financing.
The move, which comes days ahead of Prime Minister Imran Khan's maiden visit to the US, is being seen as an attempt by Pakistan to come out of the grey list of the Paris-based watchdog Financial Action Task Force (FATF), which had pulled up the country for failing to meet the second deadline to take all the actions specified to combat money laundering and terror financing to avoid the blacklist in October.
Saeed, the chief of the Jamaat-ud-Dawa that is widely believed to be a front for the terror group Lashkar-e-Toiba that perpetrated the 2008 Mumbai attacks in which 166 people were killed, was travelling to Gujranwala town in central Pakistan from Lahore in the morning to seek pre-arrest bail in terror-funding cases when he was arrested by the counter-terrorism department of Punjab province.
"He will face trial in the anti-terrorism court in Gujranwala," a senior security official told The Telegraph. Saeed, the official said, has been sent to prison on seven days' judicial remand.
He has been shifted to Lahore's high-security Kot Lakhpat jail, where former Prime Minister Nawaz Sharif is serving seven years' imprisonment in a corruption case, an official said.
A spokesperson for Punjab governor Shahbaz Gill said: "The main charge is that he is gathering funds for banned outfits, which is illegal."
Saeed denies any involvement in terrorism and maintains that his network, which includes 300 seminaries and schools, hospitals, a publishing house and ambulance services, has no ties to militant groups.
An Indian government official said merely arresting Saeed was not enough and that he should be put on trial and convicted.
He said the sense in New Delhi was that Pakistan was taking steps such as these before Imran's trip to the US, which has offered a $10-million reward for information leading to Saeed's conviction over the Mumbai attacks.
During the visit that begins on July 21, Imran is scheduled to meet US President Donald Trump.
"We have seen this before," the official said. "After the visit is over, things are usually back to what they were before."
Trump tweeted on Wednesday: "After a ten-year search, the so-called mastermind of the Mumbai Terror attacks has been arrested in Pakistan. Great pressure has been exerted over the last two years to find him!"
However, the former Pakistan ambassador to the US, Husain Haqqani, contested the tweets. "Finding him was never an issue. He operated freely and was highly visible. He has been arrested and released many times over," Haqqani said, adding that Trump should "immediately fire whoever gave him the wrong information".