Fadnavis, Shinde to decide next course of action
Maharashtra: Uddhav resigns after SC allows tomorrow's floor test
Rebel Shiv Sena MLAs led by rebel leader Eknath Shinde on way to Goa from Guwahati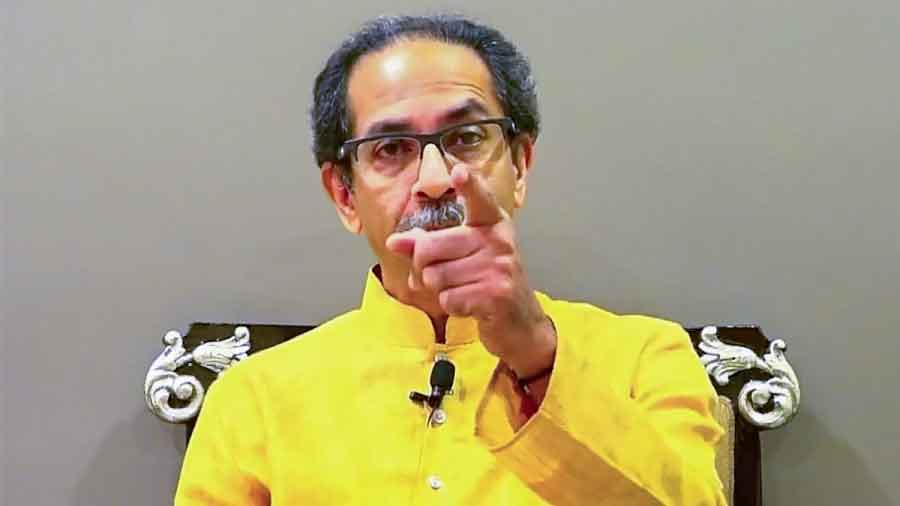 Uddhav Thackeray on Facebook on Wednesday
PTI Picture
---
Mumbai
|
Published 29.06.22, 10:02 PM
|
---
Maharashtra chief minister Uddhav Thackeray resigned on Thursday night, moments after the Supreme Court  refused to stay a floor test for the MVA government ordered by the Governor. 
Delivering an address on Facebook, Uddhav thanked NCP chief Sharad Pawar and Congress leader Sonia Gandhi for their cooperation in running their coalition government in the state. "I will respect the Supreme Court's decision. And it is with a heavy heart that I have decided to resign as chief minister and MLC... This will be a new beginning for the Shiv Sena."
Rebel Shiv Sena MLA Balaji Kinikar receives death threat
BJP leader Devendra Fadnavis and rebel Shiv Sena leader Eknath Shinde will now decide the next course of action, state BJP chief Chandrakant Patil said on Wednesday night
Maharashtra lost graceful chief minister: Sanjay Raut on resignation of Uddhav Thackeray
The Supreme Court's ruling allowing tomorrow's floor test, however, came with a condition. It said that the verdict of the floor test will be subject to its decision on an appeal to disqualify rebel Shiv Sena MLAs on July 11.   Governor Koshyari has asked the Maharashtra Legislature Secretary to hold a floor test of the MVA government at 11 am on Thursday.
Amid widespread speculation that the chief minister would resign, Uddhav Thackeray delivered an address on Facebook. The Supreme Court also allowed jailed minister Nawab Malik and former minister Anil Dehsmukh to vote in tomorrow's floor test. 
Team Thackeray went to the Supreme Court with the argument that Governor Bhagat Singh Koshyari's order was illegal as 16 rebel MLAs had not yet responded on their possible disqualification. The Governor ordered the test of strength a day after BJP leaders met him and told him the Uddhav Thackeray-led coalition had lost its majority.
Congress leader and senior lawyer Abhishek Manu Singhvi represented Team Thackeray, contending that one-day notice was too short, also arguing that the no-trust vote is linked to the disqualification proceedings.
 "The Governor's order to conduct a floor test with supersonic speed amounts to putting the cart before the horse," he said, accusing him of  "short-circuiting" the Supreme Court proceedings.
The rebel camp led by Eknath Shinde claimed to be the real Shiv Sena in the Supreme Court. It said when a government loses majority, there was a risk of it misusing the office of the Speaker for its benefit.
At a cabinet meeting in the evening, the Chief Minister Uddhav Thackeray thanked his ministers for the cooperation they extended in the last two and a half years. "The Chief Minister said 'my own people stabbed me in the back'. It may seem like a farewell but he did not say he was resigning," Shiv Sena leader Arvind Sawant said.
Nearly 40 Shiv Sena MLAs have deserted Uddhav Thackeray and joined Eknath Shinde, who moved from Mumbai, first to Surat in Gujarat and later to Assam's Guwahati, with a group of MLAs that has been expanding by the day.
After a week at a five-star hotel in Guwahati, the MLAs have left for Goa, around 600 km from Mumbai, to participate in the no-trust vote.
"We will reach Mumbai tomorrow. 50 MLAs are with us. We've two-thirds majority. We are not worried about any floor test. We will pass the test and no one can stop us. In a democracy majority matters and we have that," Shinde told reporters in Guwahati, reports PTI.