Rebel Ajit becomes deputy CM
Ajit Pawar's appointment is being seen as a pragmatic move to provide stability to the govt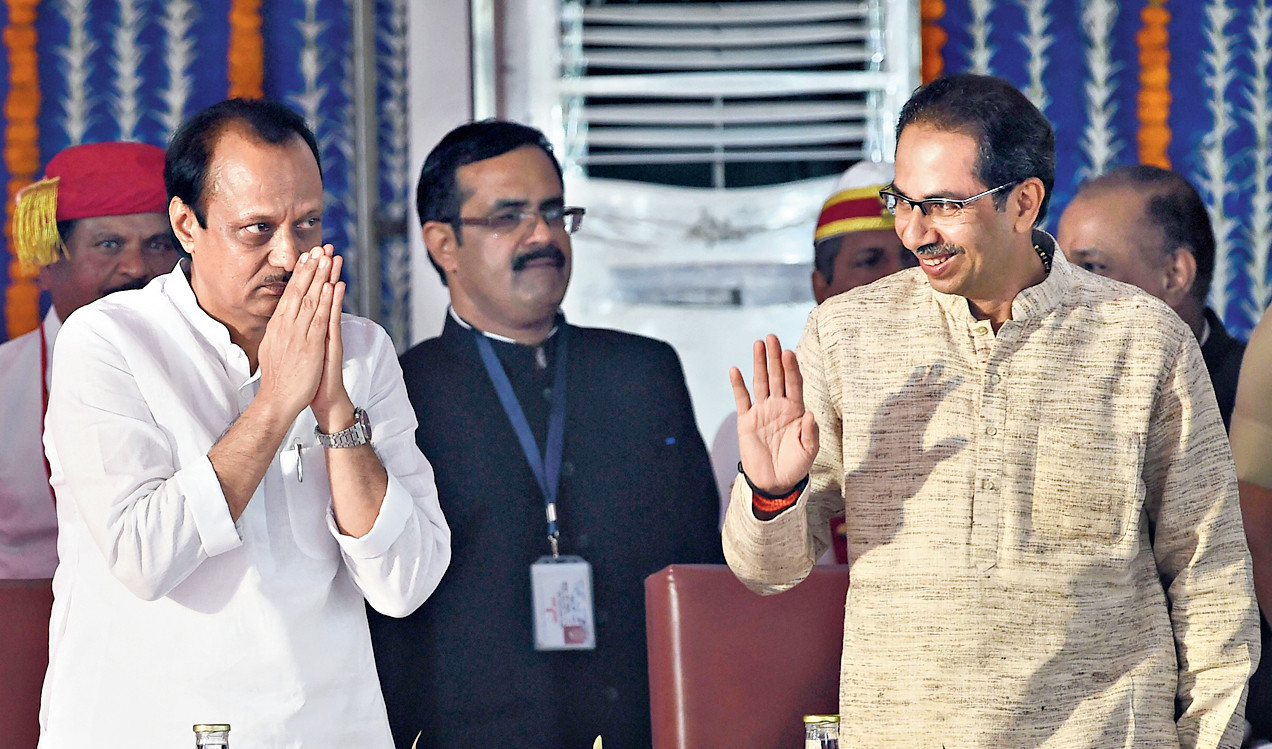 ---
---
Ajit Pawar, whose mysterious revolt had led to a BJP-led government in Maharashtra for 80 hours, returned on Monday as deputy chief minister in the Uddhav Thackeray cabinet, which was expanded with the induction of 36 ministers.
While senior leaders described the expansion of the ministry as "best use of available talent", Ajit's appointment as deputy chief minister is being seen as a pragmatic move to provide stability to the government.
"Ajit Pawar's strength cannot be judged by the failure of his rebellion; he commands enormous clout in the NCP and keeping him out would have been fraught with risks," a senior Congress leader told The Telegraph from Mumbai.
Why Ajit had rebelled and the true dynamics of his equation with uncle and NCP chief Sharad Pawar at a time when the veteran's daughter Supriya Sule is rising have triggered fierce speculation in political circles but nobody doubts his political importance in Maharashtra politics.
While some dismiss Ajit's rebellion as a failed coup, others suspect this was a grand political trick played by the uncle to extract his nephew from the web of corruption cases he was involved in.
Former chief minister Devendra Fadnavis, whose dream of a second term was resurrected by Ajit's rebellious act, gave a clean chit to him in irrigation cases that had helped the BJP in projecting the then Congress-NCP regime as a corrupt government.
Ajit's presence in the cabinet will also bring enormous administrative experience to the government; the seven-term MLA has handled several departments for almost three decades, apart from being deputy chief minister in the past.
While Thackeray himself has no administrative experience, the induction of former chief minister Ashok Chavan from the Congress will also add value to the government.
The chief minister's 29-year-old son, Aaditya Thackeray, who became the first from his family to contest an election, has also been sworn in as a cabinet minister.
The presence of the father and son in the cabinet triggered criticism of dynastic politics, but Aaditya's inclusion is a clear message of hierarchy to the Shiv Sena. It is clear that the young Thackeray is being groomed for a bigger role.
Sources also believe that Aaditya's presence in the government will act as a countervailing force against the dominance of heavyweights like Ajit and Chavan. The Congress and the NCP have several ministers with vast administrative and political experience and the presence of the chief minister's son can act as a balancing factor in the government.
While the Congress has such veterans as Chavan and Balasaheb Thorat, the NCP ministers include bigwigs like Jayant Patil, Chhagan Bhujbal, Dilip Walse Patil, Nawab Malik and Jitendra Ahwad. After a long time, Maharashtra has got four Muslim ministers, including one from the Sena.
The other ministers include Dhananjay Munde, Vijay Waddetiwar, Anil Deshmukh, Hasan Mushrif, Varsha Gaikwad, Rajendra Shingane, Rajesh Tope, Sunil Kedar, Sanjay Rathod, Gulabrao Patil, Amit Deshmukh, Dada Bhuse, Sandippan Bhumre, Balasaheb Patil, Yashomati Thakur, Anil Parab, Uday Samant, K.C. Padvi, Shankar Rao Gadakh, Aslam Shaikh, Abdul Sattar, Satej Patil, Shambhuraj Desai, Bachchu Kadu, Vishwajeet Kadam, Dattatray Bharne, Aditi Tatkare, Sanjay Bansode, Prajakt Tanpure and Rajendra Patil Yedravkar.