RBI's credibility questioned
Nirmala says any suggestion about the credibility of the RBI seems outlandish considering the committee was appointed by RBI themselves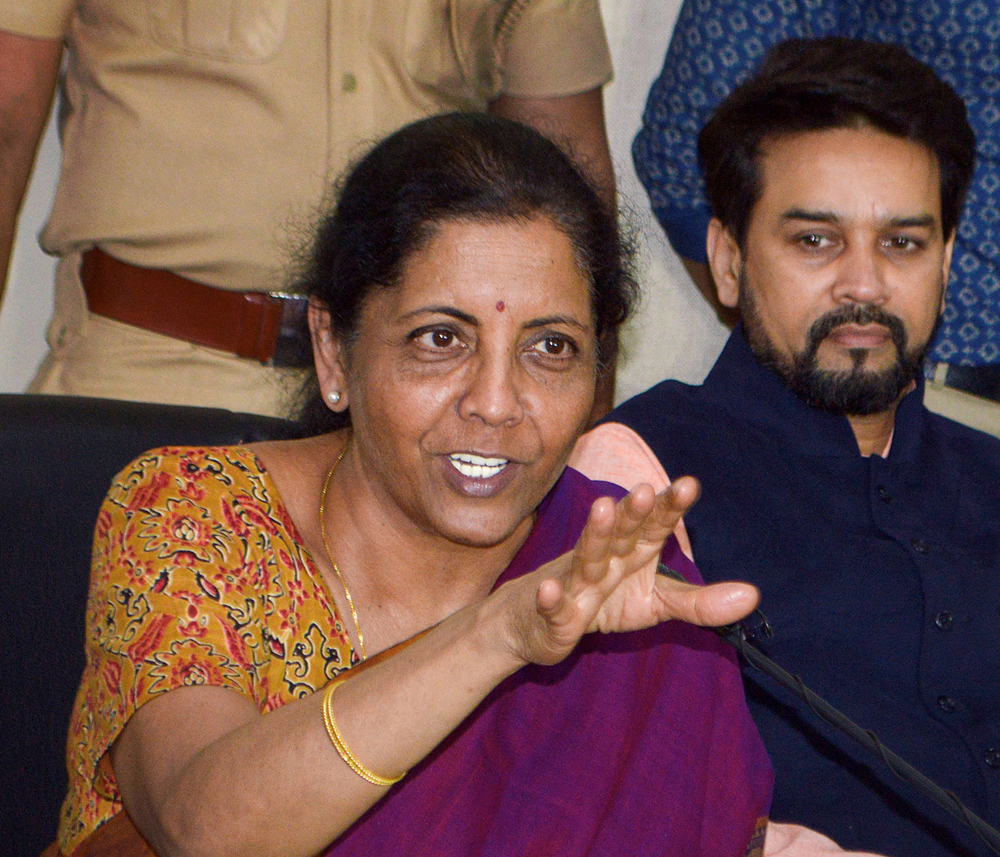 Finance Minister Nirmala Sitharaman along with Minister of State Anurag Thakur addresses a press conference in Pune, Tuesday, August 27, 2019.
(PTI)
---
Mumbai
|
Published 27.08.19, 10:31 PM
|
---
Union finance minister Nirmala Sitharaman has described as "outlandish" any attempt to cast aspersions on the credibility of the RBI amid criticism of the apex bank's decision to transfer funds from its "rainy day" reserves to the Centre.
The minister was responding to questions at a media conference in Pune a day after the RBI decided to transfer a record Rs 1.76 lakh crore to the government. The most controversial component of this amount is the Rs 52,637 crore carved out for the first time from the reserves meant to address contingencies.
Asked about former RBI governor and acclaimed economist Raghuram Rajan's comments in December 2018 on the possibility of the RBI's rating getting affected if the surplus is taken by the government, Sitharaman referred to the Bimal Jalan panel whose recommendations the RBI board accepted on Monday.
Sitharaman said she was "not responding to anyone in particular" but the Jalan panel had eminent experts on it. "It was constituted by the Reserve Bank themselves and not by the government," she added.
She iterated that the panel was set up by the RBI and added: "Any suggestion about the credibility of the RBI, therefore, for me, seems a bit (long pause) outlandish, if I may use that word, considering the committee was appointed by the Reserve Bank themselves."
The Jalan panel was set up by current RBI governor Shaktikanta Das, who had retired as Union economic affairs secretary and was seen as close to the Narendra Modi government.
Economist and MIT professor Abhijit Banerjee had then criticised the government for appointing a retired bureaucrat as RBI governor and warned that the decision left a lot of "frightening" questions about governance issues at key public institutions.