Rajiv Gandhi-era rebel sent to Kerala Raj Bhavan
Khan joined the BJP in 2004, unsuccessfully contested Lok Sabha polls and walked out of the party after 3 years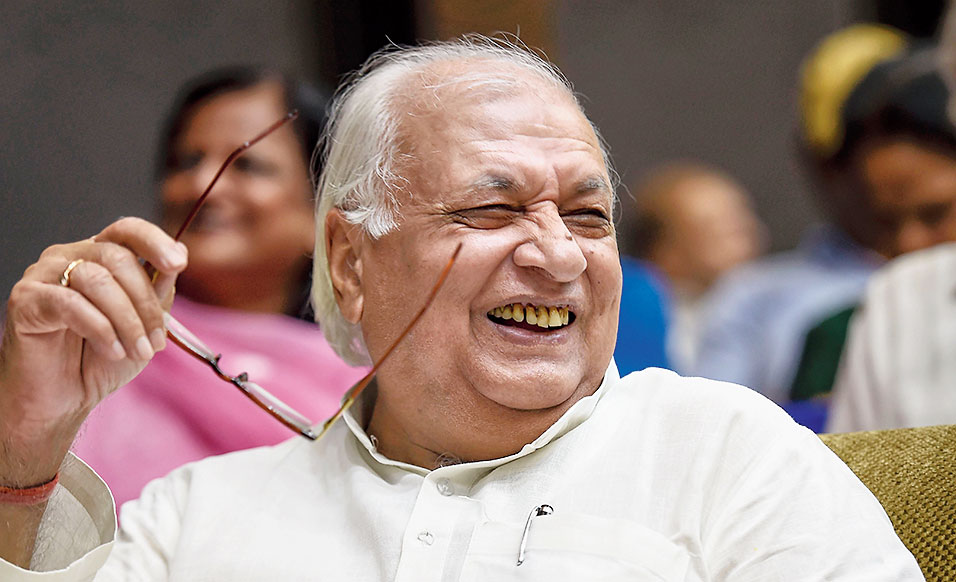 ---
---
Arif Mohammad Khan, who had quit the Rajiv Gandhi ministry over the Shah Bano case and recently hailed the Narendra Modi government's bill to ban instant triple talaq and the scrapping of Jammu and Kashmir's special status, was appointed the governor of Kerala on Sunday, a state the BJP is desperate to make inroads into.
In decisions announced on Sunday, the government also appointed Tamil Nadu BJP chief Tamilsai Soundararajan as the governor of Telangana, and former Union minister Bandaru Dattatraya as the governor of Himachal Pradesh, replacing Kalraj Mishra. Mishra was shifted to Rajasthan as its governor, replacing Kalyan Singh whose term has ended.
Poll-bound Maharashtra also got a new governor — Bhagat Singh Koshiyari, a senior BJP leader from Uttarakhand. He replaced Vidya Sagar Rao, whose five-year term has ended.
Koshiyari, Mishra and Dattatraya, sources said, had been edged out of active politics because of advanced age and were now being rehabilitated in Raj Bhavans.
The appointment of the relatively young Tamilsai, 58, as the first full-fledged governor of Telangana has raised eyebrows in political circles. She has been heading the BJP in Tamil Nadu, where the party is trying to make a mark after the passing of two stalwarts of Dravidian politics — Jayalalithaa and M. Karunanidhi.
Politically, however, Khan's appointment as the governor of Kerala has evinced a lot of interest as BJP leaders lost no time in celebrating the move by hailing him as a "progressive Muslim".
"Congratulations to @amkindia51 on being appointed as Governor. @narendramodi government has given big positive message by giving respect to a religion-neutral, intellectual and one who doesn't treat politics as a career," tweeted BJP MP Rakesh Sinha.
"Arif Mohammad Khan, progressive Muslim face in the Rajiv Gandhi cabinet, who stood up and eventually resigned in protest against his regressive appeasement politics, made Governor of Kerala…," tweeted BJP IT cell chief Amit Malviya.
Khan was in the limelight recently when the bill proposing to make instant triple talaq a criminal offence was passed by Parliament. Khan wholeheartedly supported the bill.
Later, he backed the Centre's decision to scrap Jammu and Kashmir's special status. In the corridors of power, Khan's appointment was seen as a reward for his pro-BJP views on instant triple talaq and Article 370.
During the triple talaq debate in the Lok Sabha, Modi had claimed that a Congress leader, whom he did not name, had once said that it was not the duty of the party to uplift Muslims and "if they want to lie in the gutter let them be". Khan had later attributed the quote to former Prime Minister Narasimha Rao.
Khan's past of revolting against Rajiv too appeared to have played a role in his selection. He had walked out of the Rajiv government in 1986 when it succumbed to pressure from the Muslim clergy and reversed the Supreme Court's verdict granting alimony to a divorced Muslim woman in the Shah Bano case. Over the years, he emerged as an advocate of reforms within the Muslim community.
After quitting the Congress, Khan had stints in the Janata Dal and the BSP. He joined the BJP in 2004, unsuccessfully contested the Lok Sabha polls and then walked out of the party after three years, complaining that he felt ignored. While in the Congress, he had won two Lok Sabha polls in 1980 and 1984.
"I was born in Uttar Pradesh, which is one end of the country, and Kerala is on the other end. This role will help me understand the diversity of the country," Khan said after his appointment.
Gadkari advice
Union minister and senior BJP leader Nitin Gadkari on Sunday told a gathering of politicians that one should stick to an ideology and avoid switching parties "like rats jumping from a sinking ship".