Rajasthan governor returns Assembly session proposal for third time
CM visits Raj Bhawan following snub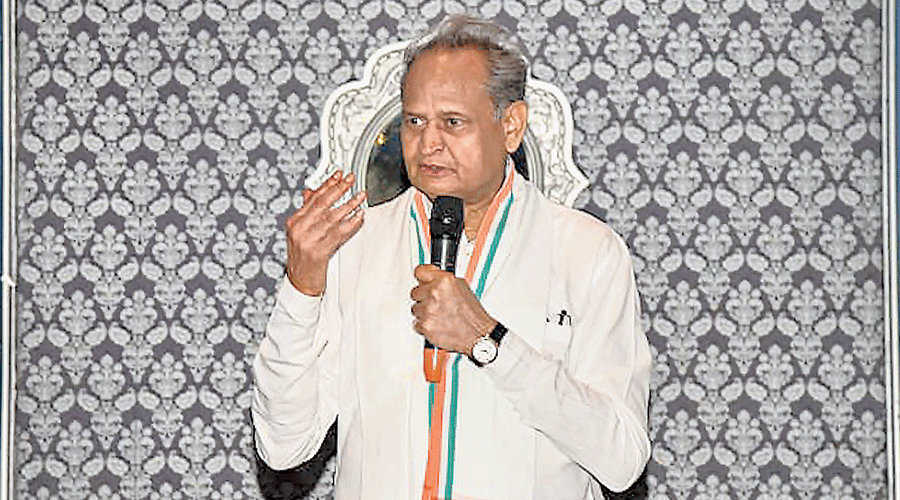 Rajasthan chief minister Ashok Gehlot
PTI
---
Jaipur
|
Published 29.07.20, 03:20 PM
|
---
Rajasthan chief minister Ashok Gehlot on Wednesday met governor Kalraj Mishra after he returned for the third time the state government's proposal to convene an assembly session.

"The love letter has already come. Now, I am only going to have tea with him," Gehlot told party workers at the state Congress office before heading for the Raj Bhawan.

The state cabinet had resent a proposal to the governor on Monday, sticking to the July 31 date for holding a session and refusing to mention that it planned to hold a trust vote.

While returning the earlier version of the proposal the governor had suggested that the session can be called at short notice if the government says seeking a confidence vote is on the agenda.

"You have sent the letter a third time. What do you want? Tell us, so that we work in that manner," Gehlot said in his address at the Pradesh Congress Committee office, where Govind Singh Dotasara formally took over as the new chief of the state unit.

The chief minister told party workers that there is nothing to worry over as the Congress top leadership is with them.

His meeting with the Governor -- the second in recent days -- lasted for about 15 minutes. 
On Tuesdya, the Ashok Gehlot government reiterated its "right" to call the Assembly session by sending for the third time its request to the Raj Bhavan as the Congress ran a "get-well-soon" campaign for the governor Kalraj Mishra, accusing him of using the constitutional office for partisan politics.
The cabinet asked for the session to be called from July 31 and did not state that the government wants to take the vote of confidence.
Congress sources admitted there are not many options available if the governor sticks to his guns and refuses to call the session because moving court might not serve the purpose.
"The idea is to close this chapter by proving majority on the floor of the House. We aren't sure we can achieve that through court proceedings," one senior leader said. "Creating a noise about the  threat to democracy, about the unconstitutional role of the governor is the best option," the leader added.