Rajasthan farmers march to Delhi to protest farm laws
Thousands of peasants on Delhi-Jaipur highway with tractors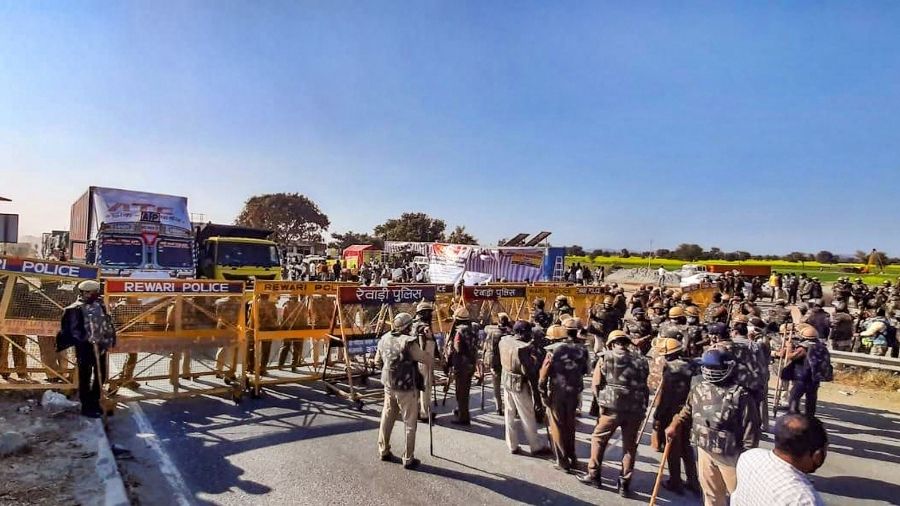 Security personnel stand guard as farmers block Delhi-Jaipur highway on Sunday during their protest against the three central farm laws.
PTI
---
New Delhi
|
Published 13.12.20, 06:03 PM
|
---
After a three-hour shutdown on Sunday, the Delhi-Jaipur highway opened up partially as farmers began their 'Dilli Chalo' march from Rajasthan's Shahjahanpur on tractors, NDTV reported.
The farmers' march began in the morning, with a group of 800-900 of them being led by Swaraj India chief Yogendra Yadav, according to a report by NDTV. While on their way to the national capital, the farmers faced a blockade at the Delhi-Jaipur highway, which was sealed from both sides by police.
Protesters were seen carrying placards and shouting slogans as they slowly made their way to the national capital. Tractors, trailers, and cars carrying banners were also seen as they carried on to their destination.
The police had, in the morning, beefed up security in the national capital's border with Haryana as farmers had announced on Saturday that they would block the Jaipur National Highway-8, which passes through Gurgaon, as part of their protest against the Centre's new agri laws.
According to a senior police official, several measures had been taken to ensure commuters do not face inconvenience.
Delhi Traffic Police had deployed its personnel on Sunday across important border points to ensure commuters do not face difficulties and had been constantly updating people about open and closed routes on its Twitter handle.
Meanwhile, Union ministers Narendra Singh Tomar and Som Parkash met Home Minister Amit Shah during the day amid the protests.
The ministers were accompanied by BJP leaders from Punjab.
Tomar and Parkash met the home minister, an official said. It was not immediately known what transpired in the meeting.
Delhi Chief Minister Arvind Kejriwal announced in a press conference that he will hold one-day fast on Monday in response to the farmers' hunger strike call. He also asked the Centre to shun its "arrogance" and meet the protesters' demands.
Farmer leaders on Saturday had stuck to their demands and announced that their representatives will sit on a hunger strike on December 14. A nation-wide strike has also been called on the same day.
The leaders, addressing a press conference in the Singhu border,had said that they were ready to hold talks with the government but would discuss repealing the laws first. They had also announced Sunday's march in the press conference.
The move came after Prime Minister Narendra Modi, earlier in the day, had said that the new laws would benefit the farmers and the government is committed to their welfare.