Raj Bhavan continues to maintain silence on Hemant Soren
Uneasy calm prevails in political circles in Jharkhand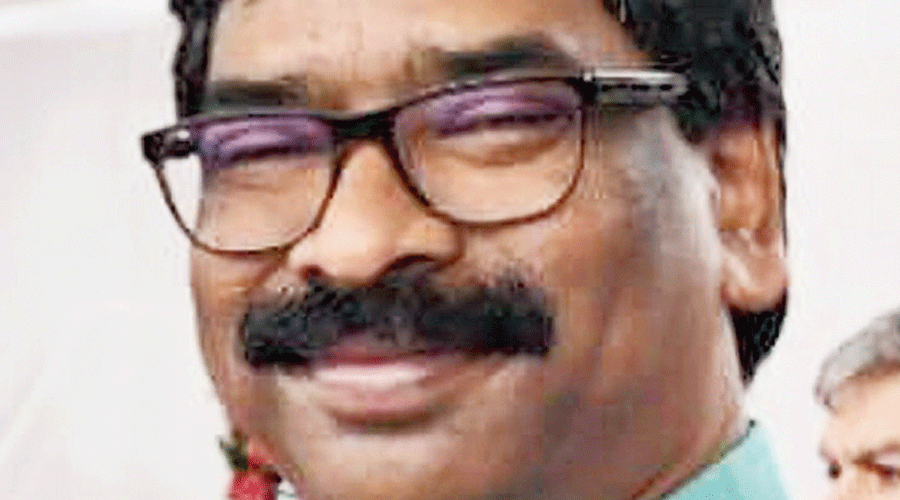 Hemant Soren.
File picture
---
Ranchi
|
Published 29.08.22, 01:12 AM
|
---
An uneasy calm prevailed in political circles on Sunday as Raj Bhavan in Ranchi continued to maintain silence on possible disqualification of chief minister Hemant Soren as an MLA in an office-of-profit case.
It all started on Thursday as soon as the news spread that the Election Commission (EC) reportedly sent its opinion on the issue, in a sealed envelop, that day to Jharkhand governor Ramesh Bais who had sought it.
Though the governor who was away from the state that day and returned on Friday, Raj Bhavan did not communicate anything about the contents of the EC letter till filing of this report. But it was widely believed that the EC opined in favour of Soren's disqualification as an MLA, which, in turns, sparked hectic activities in concerned quarters.
While the Grand Alliance, the ruling dispensation in the state comprising the JMM, the Congress and the RJD and having 49 of the total 81 seats in the Assembly, started meetings among its constituents to keep the flock together, a section of media engaged itself in wild guessing.
To give credence to their theory of "resort politics", a web portal reported on Saturday morning that all the MLAs of the ruling combine were already packed off to Chhattisgarh capital Raipur where a hotel was already kept ready for them while others hinted at their shifting to other locations in friendly states like Bengal, Bihar or Odisha.
But, the MLAs instead assembled at the chief minister's residence soon after and later went on a brief outing at a guest house beside a reservoir in Khunti district where they had lunch followed by boating before returning to Ranchi in the evening.
An electronic channel then predicted they would, instead, be shifted to Netarhat later that evening and kept there until they were called back for a floor test,  if required.
Deepika Pandey Singh, Congress MLA from Mahagama, laughed out loudly when asked about their whereabouts. "But we have not gone anywhere and staying at our respective residences in Ranchi," she said. "The Grand Alliance has the required numbers and also the mandate from the people for running the state for five years and it will do so," she said while discussing the possible consequences if the chief minister is disqualified as an MLA.
The meetings of the ruling combine on Saturday were attended by all but six of the 49 MLAs in its fold, indicating they were united. Those absent had reasons to do so. While three Congress MLAs were held by Bengal police for carrying Rs 49 lakh in cash and had to stay back in Calcutta even after getting bail as per condition given by the court, others had medical grounds to do so.
Not only the politicians, even others believe the Grand Alliance would not face any danger immediately even if Soren is disqualified for extending a mining lease in his name while in office, as the BJP has complained to the governor who, in turn, sought the EC's opinion on it.
"With the numbers in its favour, the ruling combine can immediately claim to form government led by Soren once again and can either parade their MLAs before the governor and prove its strength on the floor of the Assembly," said a scribe, adding things would, however, be different if Soren is also debarred from contesting election for a certain period.
A replacement of Soren would be required in such a case and they have certainly considered that aspect as well, he added.
"Since no one knows what the EC said, there's no use speculating on it," said Congress leader and former spokesperson Alok Dubey when asked, adding the ruling combine was united and will remain so, come what may.