Rain mayhem in Kerala, Maharashtra
35 dead in floods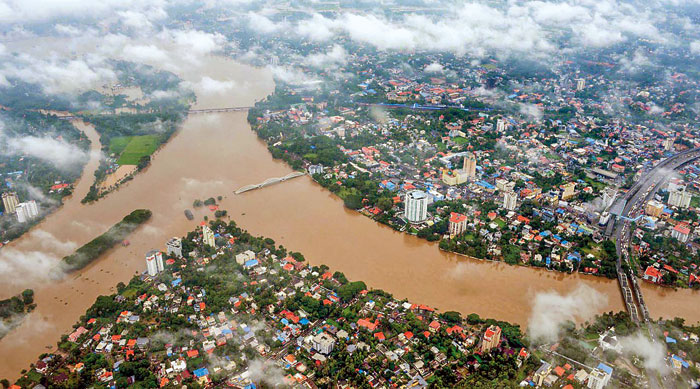 ---
---
At least 35 people have died in rain-triggered floods in Kerala till Friday afternoon, reviving memories of last year's disaster in which over 480 people had lost their lives.
With the authorities beginning to open dams to offset the massive inflow of water into reservoirs, the situation has worsened.
Close to 100 people are missing after a landslide at Nilambur in Malappuram district on Friday afternoon. The people were caught unawares as the landslide swept about 50 houses downhill.
"Between 50 and 100 people are missing after the landslide…. The bodies of two children have been recovered," local MLA P.V. Anwar posted on Facebook.
Rescuers found it difficult to navigate around huge mounds of loose soil.
Wayanad has been the worst affected by the flood, recording 11 deaths till 3pm on Friday. The local MP, Rahul Gandhi of the Congress, said he was monitoring the situation and had spoken to Prime Minister Narendra Modi and chief minister Pinarayi Vijayan and sought their assistance.
According to Vijayan, 64,013 people from 15,748 families have been shifted to relief camps across the state. The 35 deaths have been caused by landslides and drowning.
Cochin International Airport, which was closed for operations till midnight on Thursday because of submerged runways, extended the closure till 3pm on Sunday, disrupting the Id plans of thousands of Indian expatriates in the UAE. Most private companies in the UAE have declared Id holidays from August 10 to 13.
Sustained rainfall and the rise in the water level in the reservoirs on Friday forced the state authorities to open some shutters of 16 big and small dams, including Malampuzha in Palakkad, Boothathankettu in Ernakulam, Kallarkutty in Idukki and Kakkayam in Kozhikode.
Train movement was hit in the northern districts and Alappuzha in the south because of swelling rivers.
A red alert about the possibility of very heavy rain has been issued in nine districts, including Wayanad, Idukki, Malappuram and Kozhikode.
Chief minister Vijayan said the state could witness very heavy rain for another day and then again on August 15.
"The Central Water Commission has informed us of very heavy rain for the next 24 hours," he told reporters during a briefing.
"North Kerala districts could see heavy rain accompanied by winds, and the highest rainfall will be in Wayanad, Malappuram and Kozhikode," Vijayan added.
"Coastal areas need to be more careful of high waves and we have asked fishermen not to venture into the sea," said the chief minister, who was at the helm when Kerala last year experienced its worst floods in a century.
In Wayanad, there have been landslides and massive flooding. The National Disaster Response Force rescued 54 people caught in landslides at Puthumala in Wayanad. Seven people died in the incident.
Rahul tweeted: "The flood situation in my parliamentary constituency, #Wayanad, is grim, I'm monitoring the situation closely & have spoken to the Kerala CM and key Govt officials to expedite relief. I will be reaching out to PM Modi as well to brief him & request Central Govt assistance."
Later, Rahul tweeted from his Wayanad MP Twitter handle: "Spoke to the Prime Minister seeking all possible assistance for the people severely affected by the floods and landslides in the state, especially in Wayanad. The PM has assured to provide any assistance required to mitigate the effects of the disaster."
The Chengalai panchayat area in Sreekantapuram, Kannur district, has also been badly affected with 75 per cent under water.
Incessant rain continued to wreak havoc in neighbouring Karnataka as well, with the shutters of several dams being opened to release excess water. Eleven people have died so far.
The shutters of the Kabini dam in Mysore district was among those opened on Friday as the inflow continued from Wayanad.
Rescue teams have moved 1.24 lakh people to safety in Karnataka. Most of them have been accommodated in about 500 relief camps.
The affected districts are Bagalkot, Bijapur, Raichur, Yadgir, Uttara Kannada, Dakshina Kannada, Haasan, Shimoga, Kodagu and Chikmagalur. Extensive damage to infrastructure was reported in Belgaum, the worst-hit district.