Raids in Jaipur amid Congress turmoil
Aha! Taxmen and ED are here. Where's CBI?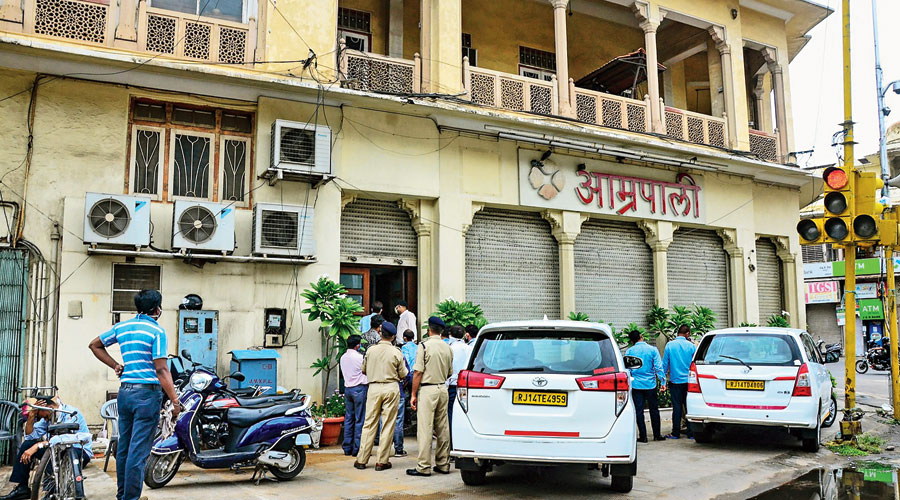 Income tax officials conduct a raid at the office and jewellery showroom of Congress party member Rajiv Arora in Jaipur on Monday.
PTI
---
New Delhi
|
Published 14.07.20, 03:26 AM
|
---
The income tax department and the Enforcement Directorate on Monday morning conducted raids in Jaipur as Rajasthan chief minister Ashok Gehlot was getting ready for a show of strength at his residence.
Rajiv Arora, vice-president of the Congress party's Rajasthan unit, and his party colleague Dharmendra Rathore, who are both close confidants of Gehlot, were raided by the income tax department.
As news of the raids came, Congress spokesperson Randeep Singh Surjewala tweeted: "After all, BJP's lawyers have come on the field. The income tax department has started raids in Jaipur. When will ED arrive?"
Two hours later, he tweeted again: "BJP's second lieutenant has also come on the field. ED has also arrived in Jaipur as I had said. When will the CBI come?"
The ED raided several locations in the state, including a five-star hotel in Jaipur whose main investor was earlier accused by the BJP of aiding money laundering for Gehlot's son Vaibhav.
The Congress has accused the BJP of trying to topple its government in Rajasthan. Chief minister Gehlot held a news conference on Saturday to say the BJP was trying to buy out MLAs by offering Rs 15 crore each. The state police are investigating the Congress complaint.
Since Sunday morning, deputy chief minister Sachin Pilot went incommunicado amid speculation that he was planning to defect to the BJP with his supporters. Pilot's media adviser issued a statement saying Pilot had the support of 30 MLAs and that Gehlot's government was in a minority.
Gehlot called a meeting of MLAs at his residence on Monday morning to prove that he continued to enjoy majority support. The raids coincided with the show of strength.
Opposition parties have long accused the Narendra Modi government of letting loose investigating agencies on their leaders to intimidate or settle scores with them.
Among Congress politicians whom the CBI and the ED have raided or arrested in corruption cases over the past one year are former Union minister P. Chidambaram and Karnataka state Congress president  D.K. Shivakumar. Shivakumar had overseen the herding of 44 Gujarat MLAs in Karnataka to prevent poaching by the BJP ahead of a Rajya Sabha election that Congress leader Ahmed Patel eventually won.
In 2017, the CBI and the ED had conducted raids on properties owned by RJD chief Lalu Prasad's family members, including the then Bihar deputy chief minister Tejashwi Yadav. Tejashwi and his sister Misa Bharti are facing charges of possessing disproportionate assets in the form of benami properties.
The action by the central agencies had also resulted in the collapse of the grand alliance government in Bihar where Nitish Kumar is now heading an NDA government with BJP's Sushil Kumar Modi as deputy chief minister.
Officials in the tax department and the ED did not comment on allegations that the raids were linked to the current political crisis in Rajasthan. Sources said the tax raids were conducted at Jaipur and Kota in Rajasthan and also in Delhi and Mumbai.
"A Rajasthan-based jewellery group is also linked to the tax evasion case. At least 100 sleuths apart from police were part of the action. We had given prior information to senior police officials about the raid," a tax official said.
An official said the raids were conducted in connection with a tax evasion case against a Rajasthan-based hydropower infrastructure company and some linked business groups.