'Modi has destroyed MSMEs, agriculture'
Rahul sounds alarm on jobs, blames Modi
Former Congress president said the PM has destroyed MSMEs and the agriculture sector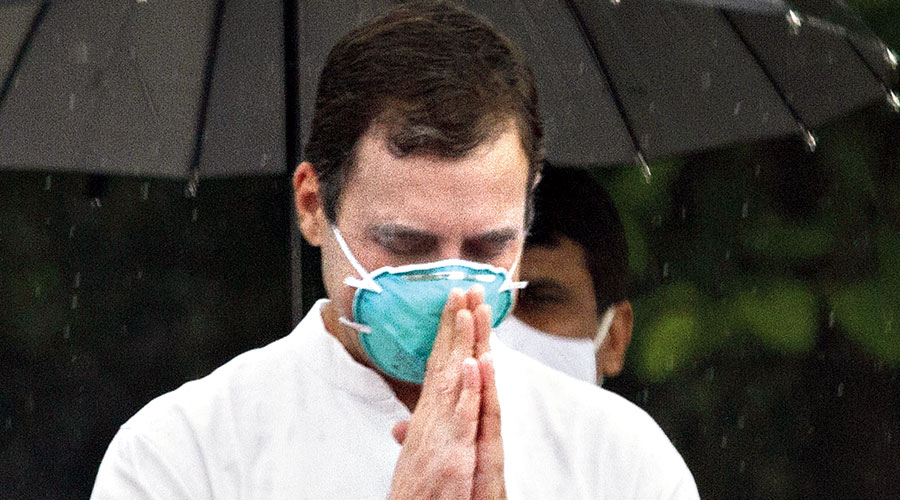 Rahul Gandhi pays tribute to Rajiv Gandhi on his 76th birth anniversary at Vir Bhoomi in New Delhi on Thursday.
(PTI)
---
New Delhi
|
Published 21.08.20, 03:47 AM
|
---
The Congress on Thursday asked Prime Minister Narendra Modi why he had stopped talking about employment generation, and Rahul Gandhi predicted a grim scenario as the "destruction" of the informal sector would make job creation impossible in the near future.
Participating in a party programme organised by the Chhattisgarh unit through videoconference, Rahul said: "Around 90 per cent jobs are created by the informal sector. Who are these people? They are small and medium businessmen, farmers, etc. Narendra Modi has destroyed them. You will see in months that the small and medium enterprises will be ruined. It has already started…. This country won't be able to give employment to its youths."
The former Congress president added: "For the first time in the history of India, our country will not be able to create jobs. Companies will collapse one after another. Don't trust me. Reject my assessment; like the media made fun of me when I said the coronavirus would play havoc with the economy. Wait for six-seven months. It will be visible. The MSMEs and the agriculture sector will not be able to generate jobs because they are themselves in trouble."
The Congress maintains that Modi's demonetisation exercise in November 2016 had delivered a debilitating blow to the informal sector, and then the unplanned and sudden lockdown earlier this year because of the pandemic had devastated the small and medium enterprises. 
The party has made impassioned appeals to the Prime Minister to offer financial aid and salary support to the MSMEs to ensure they remain afloat. Rahul himself has cautioned that small and medium businessmen will not be able to sustain themselves in the aftermath of the months-long lockdown.
The Congress MP had tweeted on Wednesday: "In the last four months, around two crore people have lost their jobs. The future of two crore families is in dark. The truth of destruction of economy and unemployment can't be hidden from the country by spreading fake news and hate on Facebook."
Congress spokesperson Abhishek Manu Singhvi raised the job issue at a media conference on Thursday. "July figures show 1.75 crore salaried jobs were lost. This has become 1.9 crore till the last week of August. These are not migrant labourers who may find livelihood avenues again, but these salaried jobs won't come back. We want to know from the government what is the blueprint for job creation and why does the Prime Minister not talk about creating jobs these days?"