Rahul Gandhi's 'boxer' punch at Modi
I hugged you in Parliament and that expression of love is going to defeat you, the Congress chief told Modi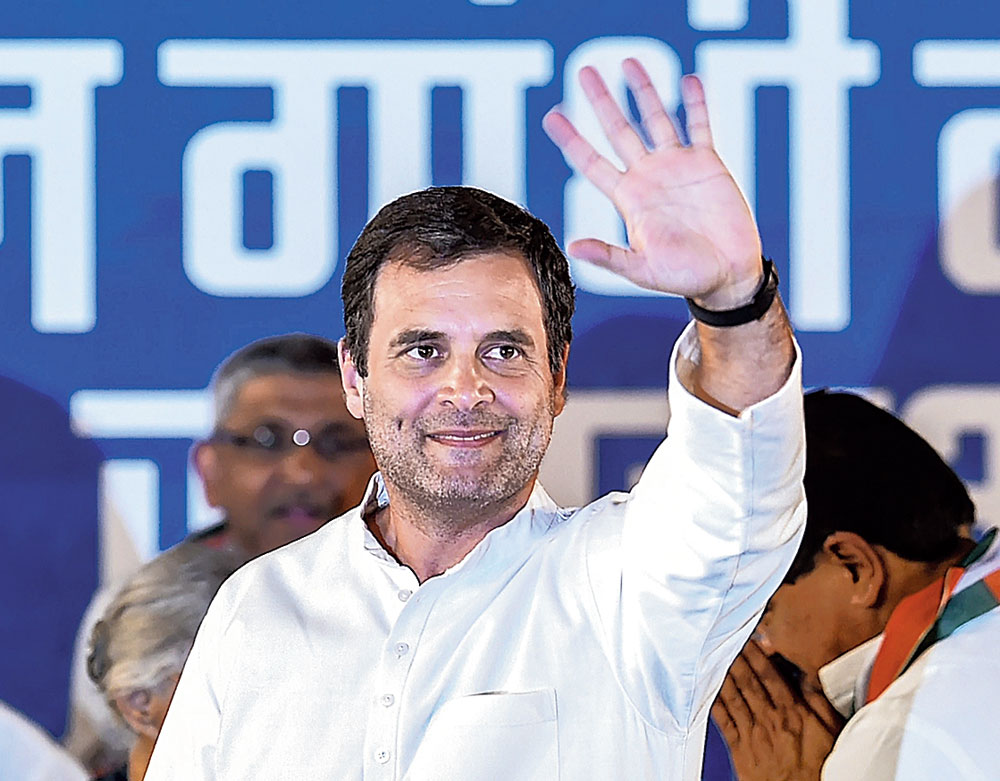 ---
New Delhi
|
Published 07.05.19, 02:06 AM
|
---
Rahul Gandhi on Monday compared Narendra Modi to a wayward "boxer", saying the Prime Minister had punched his coach L.K. Advani and senior colleagues instead of knocking out unemployment, farm distress and corruption.
"India had placed in the ring a new 56-inch boxer to fight unemployment, farm distress and corruption," the Congress chief told a rally in Bhiwani, Haryana.
"But he couldn't understand what he was supposed to do. In the audience was his coach Advani. Modi gave him a blow in the face — bhadak!"
Rahul chose this analogy, aware that Haryana has produced a large number of sportspersons, particularly wrestlers and boxers. "He then looked for (Union ministers) Nitin Gadkari and Arun Jaitley and unko bhi munh par mara ghusa — bhadak (And hit them too in the face)," he added amid peals of laughter.
"The boxer couldn't understand what he has to fight. He then hit the traders and small entrepreneurs with demonetisation and GST. He then gave a blow to the farmers."
Later in the evening, while addressing a public rally in Delhi, Rahul said the hatred in Modi's heart was rising because of fear of defeat.
"He insulted Rajiv Gandhi who sacrificed his life for the country. Modiji, you pour out all the anger and hatred that is in your heart on me, you abuse my father, my mother, my grandparents. But I will not respond with hate. I hugged you in Parliament and that expression of love is going to defeat you," Rahul said.
"Modiji should understand that all religions say hate cannot be tackled with hate. Only love can neutralise hate. You are filled with fear. I cannot do anything about that. You will have to live with it. Your fear generates hate. But I don't hate you."
Rahul referred again to Advani, now sidelined in the BJP, saying: "In India's history, parents and the guru have to be respected. But Modi loves only himself. He threw Advani out of the stage."
The Congress on Monday complained to the Election Commission about Modi's remarks on the late Rajiv Gandhi. "Your father died as corrupt (bhrashtachar) No. 1," Modi had said on Saturday while attacking Rahul.
Sam Pitroda, a close Rajiv aide, expressed outrage at Modi's remark, saying: "It was shocking that a Prime Minister in the land of Mahatma Gandhi could stoop so low."