Forgive him, father
One stoops to conquer, the son offers a hug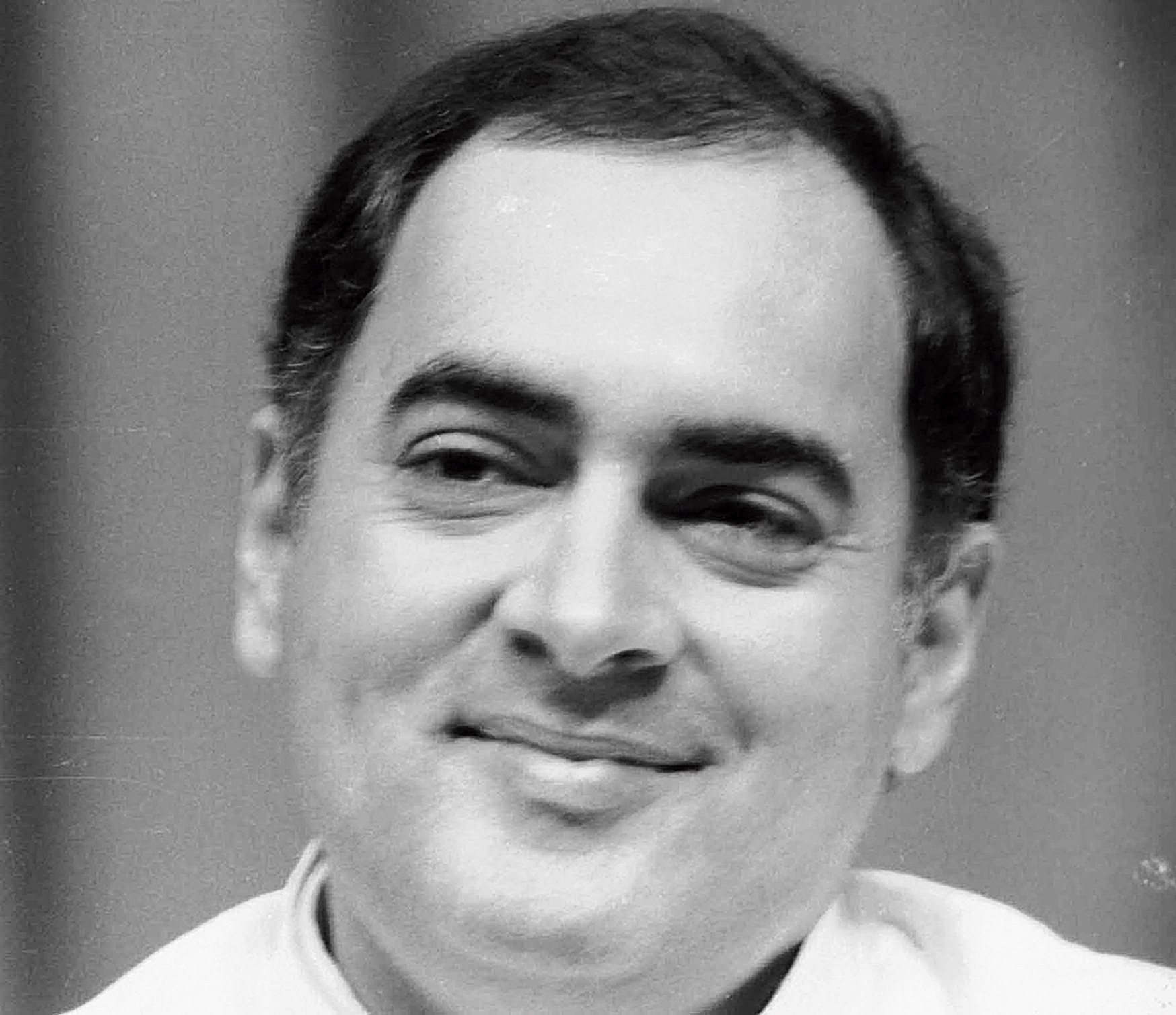 Rajiv Gandhi in 1985 when he was Prime Minister.
The Telegraph picture
---
New Delhi
|
Published 05.05.19, 10:12 PM
|
---
Narendra Modi's remark on the late Rajiv Gandhi has triggered an avalanche of criticism from the Congress, with most senior leaders saying it was unthinkable for a Prime Minister to stoop that low.
The Prime Minister's attack on Rajiv might also be politically unwise as it could create a sympathy factor for the Congress in Amethi and Rae Bareli that vote on Monday in the fifth leg of the Lok Sabha elections.
Delhi High Court has honourably acquitted the late Prime Minister in the Bofors case and the Modi government's attempt to reopen the chapter didn't receive a favourable response either from the Supreme Court, which refused to entertain its plea.
Modi had targeted the late Prime Minister while attacking Congress chief Rahul Gandhi at a public rally in Pratapgarh, Uttar Pradesh, on Saturday. "Your father was termed 'Mr Clean' by his courtiers, but his life ended as 'bhrashtachari No. 1' (corrupt number 1)," Modi had said.
Many BJP leaders have defended the comment saying if a sitting Prime Minister could be called a "chor" (thief), why couldn't a former Prime Minister be described as corrupt.
The Congress's argument is that the Bofors issue had been investigated at various levels and Delhi High Court had restored Rajiv's honour during the Atal Bihari Vajpayee government, which had decided not to appeal the verdict.
...So far as the public servants — Rajiv Gandhi and S.K. Bhatnagar — are concerned, 16 long years of investigation by... the CBI could not unearth a scintilla of evidence against them for having accepted bribe/illegal gratification in awarding the contract in favour of A.B. Bofors...
- Justice J.D. Kapoor Delhi High Court, February 4, 2004
The Rafale controversy, on the other hand, has not been investigated so far but Modi himself and his government have flaunted a non-existent "clean chit" from the Supreme Court.
Unlike other Congress leaders, Rahul reacted gracefully with a mild tweet: "Modi Ji, the battle is over. Your Karma awaits you. Projecting your inner beliefs about yourself onto my father won't protect you. All my love and a huge hug. Rahul."
Rahul's sister, Priyanka Gandhi Vadra, who had been looking after electioneering in Amethi and Rae Bareli, was sharper: "A Prime Minister who dishonours the martyrs by seeking votes in their name yesterday insulted the martyrdom of a noble and pure man. The people of Amethi, for whom Rajiv Gandhi sacrificed his life, will give a befitting reply. Yes, Modi ji, this country never forgives the dhokebaaz," she said.
Congress veteran P. Chidambaram tweeted: "De mortuis nihil nisi bonum (Of the dead, speaking nothing but the good). Has the Prime Minister heard of this ancient wisdom? Does any religion allow anyone to speak ill of the dead? The PM's remarks on former PM Rajiv Gandhi show the extent of his desperation and fear of defeat."
Chidambaram added: "Mr Modi has crossed all limits of propriety and decency by defaming a man (Rajiv Gandhi) who died in 1991. Does Mr Modi read anything at all? Does he know that the charge against Rajiv Gandhi was thrown out by the High Court, Delhi as 'completely baseless'? Does Mr Modi know that a BJP Government decided not to file an appeal to the Supreme Court against the High Court judgment?"
Party treasurer Ahmed Patel said: "India will not forgive such people who have insulted, hurt and abused our martyrs. History is going to record the name of this pseudo nationalist in black ink for all his sins against the nation. Those whose nationalism is pseudo and whose politics is based on dividing people will never understand Rajiv Gandhi and his sacrifice for the nation."
Another veteran, Anand Sharma, said "Modi will be remembered for dragging the political discourse to gutter level".
The "Prime Minister's vulgar language shows his mindset", said spokesperson Randeep Surjewala.
Rajasthan chief minister Ashok Gehlot, another Congress veteran, issued a statement saying Rahul's relentless attack on the Rafale scam had rattled Modi.
"Modi demeaned his own stature by his sickening remark," party general secretary K.C. Venugopal said. "He is spreading untruths fearing the impending defeat and the investigation into the Rafale deal."