Rahul accuses Modi government of being insensitive towards the poor
The Congress on Wednesday posted videos of citizens talking about the hardship caused by the skyrocketing prices of essentials in Diwali season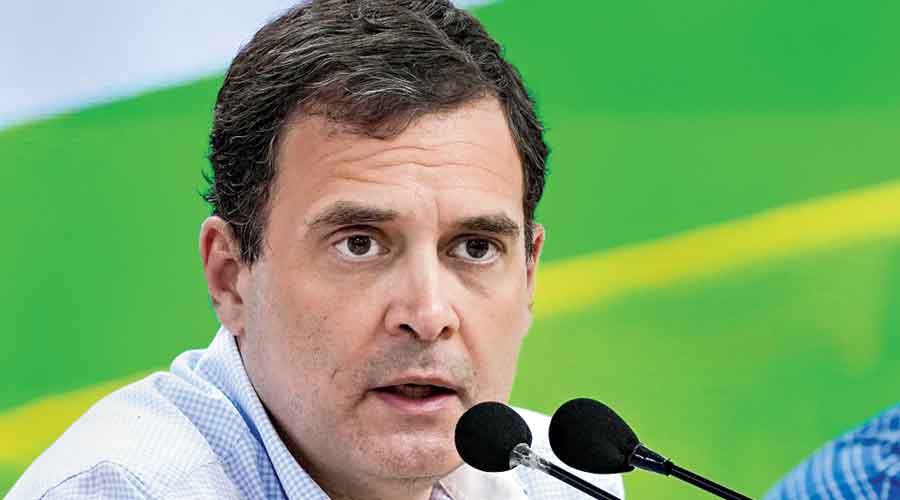 Rahul Gandhi
File picture
---
New Delhi
|
Published 04.11.21, 02:08 AM
|
---
The Congress on Wednesday posted videos of citizens talking about the hardship caused by the skyrocketing prices of essentials in Diwali season, with Rahul Gandhi accusing the Narendra Modi government of insensitivity towards the poor.
"It's Diwali time. Prices are soaring. It is not a joke. Wish Modi government had a sensitive heart for the people," Rahul tweeted.
Fuel prices were cut a few hours after the Congress leader made the comments.
Rahul has been castigating the government over the savage rise in the prices of petroleum products. His latest barb was a warning to people to beware "pickpockets" after the price of a commercial LPG cylinder was hiked by Rs 266 at one go. A 19kg commercial cylinder now costs Rs 2,000.
Rahul has also put out a chart that suggests that more traders and businessmen committed suicide in 2020 than farmers.
"Business people or farmers — all victims of Government of India's bad policies. Repair economy. Save lives," he tweeted.
It's rare for the principal Opposition party to choose Diwali as the time to attack the government. But the Congress has posted several videos to try and establish that the high prices have marred the festive mood.
The videos show people complaining of their inability to buy even essentials like edible oil and vegetables, and shopkeepers ruing their falling profits.
While potatoes are selling at Rs 40 a kg in the big cities, onion prices have crossed Rs 50 and tomato prices are hovering around Rs 80. The prices of common edible oils now range between Rs 220 and Rs 260.
Priyanka Gandhi tweeted: "People are struggling because of high prices in festival time. The BJP government's looter mentality has sent the prices of petrol, diesel, LPG cylinders, edible oils and vegetables out of reach."
She added: "The people will teach the government a lesson if it comes seeking votes after reducing prices just before the election."