Query from Valley: Are we slaves?
Two MPs voice people's 'anger' and 'resentment' during rare media interaction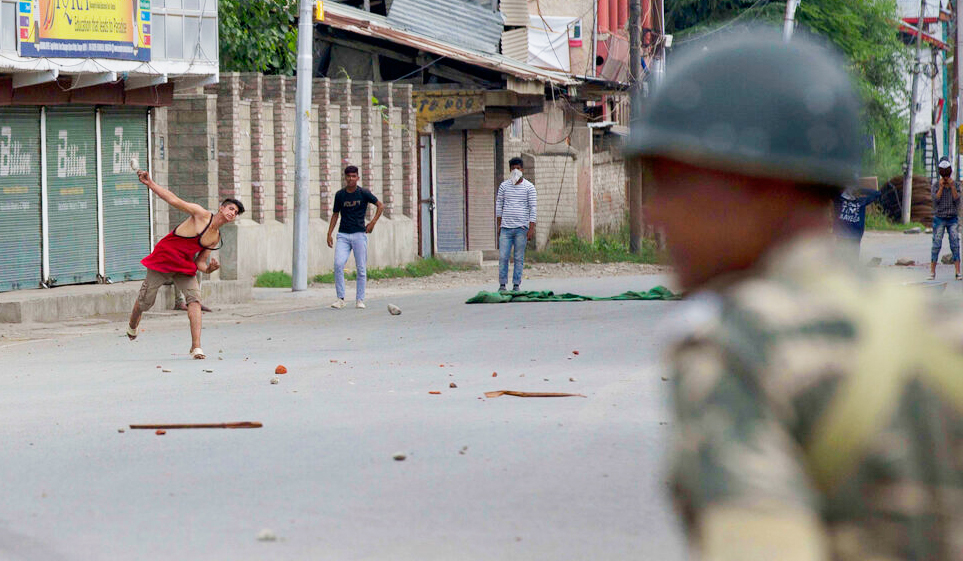 Kashmiri protesters throw stones at Indian paramilitary soldiers during curfew like restrictions in Srinagar, Friday, August 16, 2019.
(AP)
---
Srinagar
|
Published 19.08.19, 11:26 PM
|
---
A media interaction is a luxury few leaders from the Valley's pro-India camp can afford these days, but two of them managed it in a day on Monday.
With most top leaders from the pro-India camp behind bars or under house arrest, two "free birds" — the members of Parliament from Baramulla and Anantnag — got a rare opportunity to speak to the media.
The last time that any top leader from the Valley had spoken to the media was National Conference president Farooq Abdullah, also the Srinagar MP, who is under house arrest at his Gupkar residence.
Farooq had used his back gate to escape the strong security presence outside his house and meet reporters at Sarovar hotel in Srinagar, where the government has set up a media facilitation centre, on August 6. Some police officers are said to have been suspended for the breach.
Baramulla MP Akbar Lone and Anantnag MP Hasnain Masoodi, who are also from the National Conference but have not been arrested, surfaced at their party's Nawa i Subah headquarters where they spoke to some reporters although there was no formal media conference.
Lone warned of huge protests against the Centre's unilateral decision to revoke Article 370 once the restrictions are lifted.
"There is a lot of resentment and anger among people in Kashmir and people will express themselves as and when restrictions are lifted," Lone said. "People want to know what their mistake is. They want to know whether India treats them as slaves and not part of the country."
Masoodi, a former high court judge, said the Centre's decision is illegal.
"Where have Delhi Agreement and other promises made by New Delhi with the state gone? Now you have revoked the special status unconstitutionally," he said. "We have lost our state, constitution, identity and flag and there is lot of apprehension among people".
Pressure is mounting on MPs from the Valley to resign but Masoodi said they would take a call after their leaders are released.
"We will do what will be in the best interests of the people of Kashmir. We will take every step that will be for the benefit of the state. At the moment all the leaders are either jailed or under house detention. As and when they are released, we will sit and take decisions accordingly," he said.
"We will fight against this unilateral decision legally and we have already filed a petition in the Supreme Court. We can't remain silent on what is happening around us."