Many in cyclone-ravaged Puri struggled without water or food even on Sunday, and found themselves short of cash because the ATMs were defunct and mobile payments hamstrung by a disrupted telecommunications system.
"We haven't eaten a morsel of food since the cyclone struck on Friday morning," said Somnath Sahu, a resident of Malatipatpur on Puri's outskirts.
Some people staged a road blockade near the Malatipatpur bus stand, complaining that the administration was yet to give them any food or rations. "The administration is paralysed. No one is coming to listen to our grievances," Sahu said.
Many are complaining of chaos at the government's free kitchens, saying they had to return empty-handed.
Sources in the special relief commissioner's office said they were finding it difficult to even procure "chuda" (flattened rice) from the market to give to the people. A handful of roadside vendors are selling rice and dal at Rs 50 a plate.
Lack of electricity has paralysed drinking-water supply and ATM services along the coast, even in Cuttack and Bhubaneswar. The government's efforts to address the problem with water tankers have proved inadequate.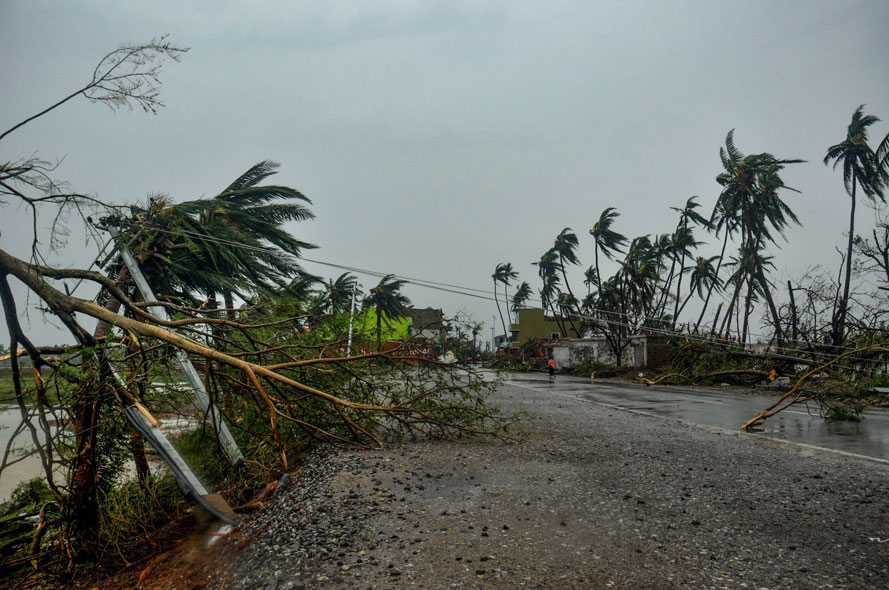 The destruction caused by Cyclone Fani after its landfall, in Puri, Friday, May 3, 2019. (PTI)
In Puri, hotel staff are struggling to get drinking water even for themselves.
"Even though we have generators to work the water pumps, we haven't the petrol or kerosene to operate them," Puri Hotel Owners' Association president Ramkrushna Das Mohapatra said.
The state-wide death toll has so far reached 34, with 21 in Puri, four each in Jajpur and Mayurbhanj, three in Cuttack and two in Kendrapara. A population of 1.07 crore in nine districts is affected.
The Jagannath Temple opened for devotees on Sunday after temple officials cleared the debris. "We did have a good darshan this afternoon," Naresh Burma, a schoolteacher who had come from Chhattisgarh, said.
With mobile towers uprooted and cloudy skies disrupting satellite phone communication, the special relief commissioner is finding it tough to be in touch with the district administrations of Puri, Khordha and Jagastinghpur.
"We are communicating only through ham (amateur) radio," an official said.
Bhubaneswar, which had hosted the men's world cup hockey last year and spent nearly Rs 100 crore on beautification, has had its lush greens and improved roads battered into wreckage.
While petrol pumps in Bhubaneswar have begun operating — and are rationing petrol up to a limit of Rs 200 per customer — hardly any has reopened in Puri.
The National Disaster Response Force managed to open the Bhubaneswar-Puri highway to four-wheelers on Sunday. After two days of closure, the damaged toll gate on the highway too has begun operating.
Political leaders are avoiding their constituencies for fear of popular anger. Prime Minister Narendra Modi is to arrive in Odisha on Monday to the review the situation.