Protocol violation trail in Kanika Kapoor saga
Kanika showed coronavirus-like symptoms at Lucknow airport on March 14: Police and health authorities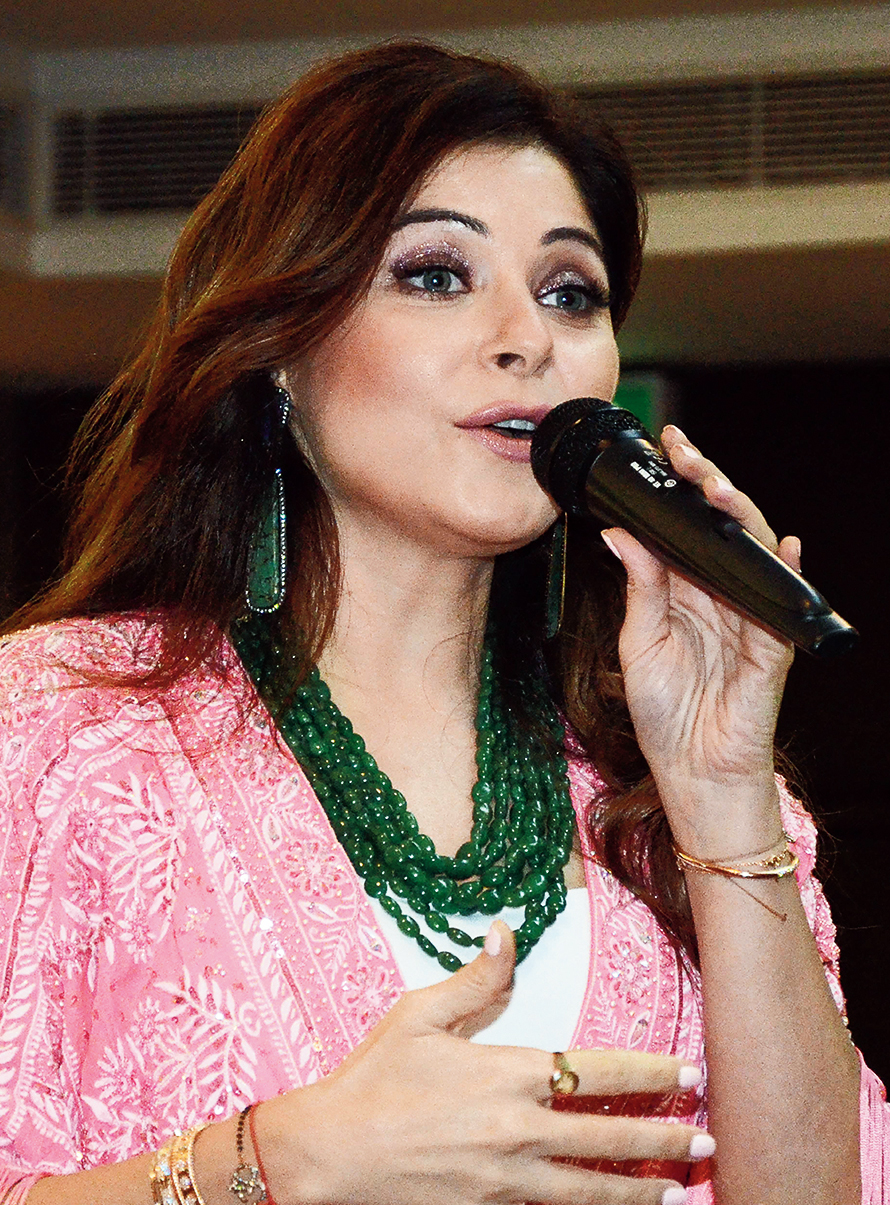 The singer too had in an Instagram post on March 20 said she had had signs of flu only "for the past 4 days"
File picture
---
Lucknow
|
Published 21.03.20, 09:59 PM
|
---
Uttar Pradesh health minister Jai Pratap Singh, who had attended a party with Bollywood singer Kanika Kapoor days before she tested positive for Covid-19, has tested negative for the virus.
Twenty-eight people who came in contact with him have also tested negative, King George Medical University said on Saturday. However, the minister has been advised to stay at home for 14 days.
Police and health authorities have alleged that Kanika showed coronavirus-like symptoms at Lucknow airport on March 14 and was advised home quarantine but continued to travel and attend parties till March 17.
However, the claim has brought the role of health officials under the scanner too since no health-care team visited her for daily check-ups, as the home quarantine protocol demands, government sources confirmed.
"Our department's officers were on duty at the airport when Kanika arrived. We are probing how she was allowed to go out of home," health minister Jai Pratap Singh said.
Rajiv Kapoor, father of Kanika who has political connections within the BJP, however, told reporters no one at the airport had advised her to stay in home quarantine.
The singer too had in an Instagram post on March 20 said she had had signs of flu only "for the past 4 days".
Kanika, 41, had arrived in Mumbai from London on March 10 and later flown to Lucknow. Since then she attended a party at her maternal uncle's home in Kanpur, a city she apparently visited twice, and at least three parties in Lucknow, the police said.
Health officials claim they took her to the King George's Medical University and Hospital on March 19 morning and she tested positive on March 20.
The guests at one of the parties included MP Dushyant Singh and his mother and former Rajasthan chief minister Vasundhara Raje. Dushyant later attended Parliament, a breakfast at Rashtrapati Bhavan and a dinner thrown by an MP in Delhi. Jai Pratap attended a cabinet meeting.
An FIR against Kanika, lodged on March 20 at Lucknow's Sarojini Nagar police station, near the airport, says: "Kanika Kapoor... was found coronavirus positive at Lucknow airport on March 14. She was directed to stay home-quarantined. She violated the protocol and attended several social programmes."
Officers said the FIR was based on a complaint from Narendra Kumar Agrawal, the chief medical officer of Lucknow. Agrawal refused to answer reporters' questions on Saturday.
A senior health department official acknowledged the FIR contained an error, conceding that only a lab test — and not an airport check-up — can establish that someone is "coronavirus positive".
He said that Kanika had been told at the airport on the basis of a thermal scan and certain symptoms that she may have been infected and asked to home-quarantine.
Lucknow police commissioner Sujeet Pandey identified another error: "Kanika had reached Lucknow airport on March 11. It was wrongly mentioned as March 14 in the FIR. We will correct it." Rajiv said the singer had arrived in Lucknow on March 13.
Pandey said the police had identified 40 people in Lucknow who had met her and put them in isolation.
Deputy chief minister Keshav Prasad Maurya had attended an event organised by Kanika's maternal uncle in Kanpur on March 19 to celebrate three years of the Yogi Adityanath government.