Prime Minister Narendra Modi throws Article 370 dare
At Jalgaon, he stressed another favourite theme — India's 'rising stature' in the world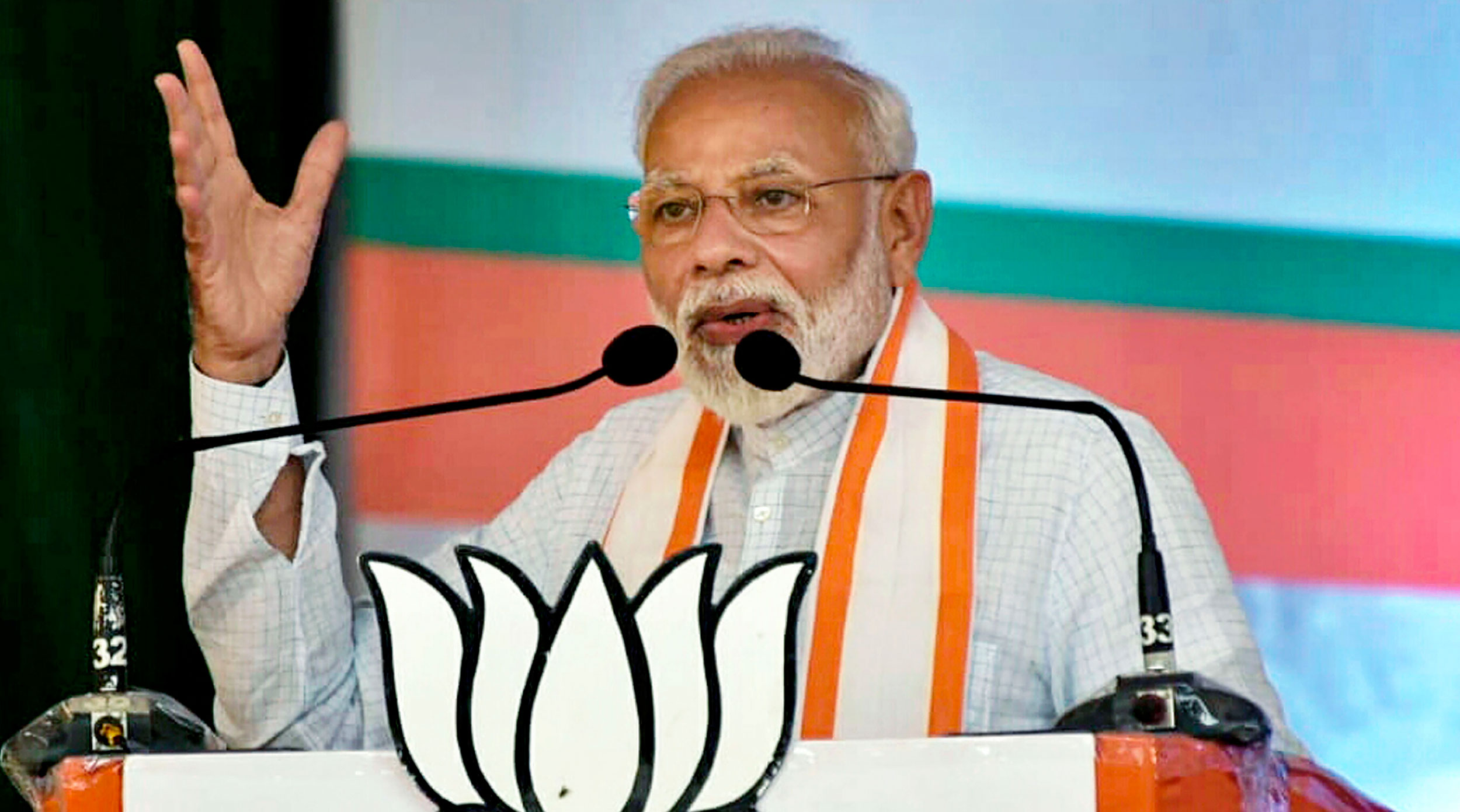 Prime Minister Narendra Modi addresses a public meeting ahead of Maharashtra Assembly election, at Sakoli village of Bhandara, on October 13, 2019.
(PTI)
---
New Delhi
|
Published 13.10.19, 09:56 PM
|
---
Prime Minister Narendra Modi on Sunday challenged the Opposition parties to formally promise that they would, if returned to power, restore the provisions of Article 370 that accorded a special status to Jammu and Kashmir.
"Kaan khol kar sun lein hamare virodhi, agar aapme himmat hai to ghoshnapatr mein elan karen ki 370 aur 35A wapas layenge. Kisi mein dum hai? Dum hai? Warna ghadiyali aansu bahana band karen (Listen my opponents: promise in your manifesto, if
you dare, that you would restore Articles 370 and 35A. Have any of you the guts? If not, stop shedding crocodile tears)," he thundered at an election rally in Jalgaon, Maharashtra.
While Article 370 gave Jammu and Kashmir a degree of autonomy, Article 35A gave its residents certain special privileges over land, government jobs and scholarships. The Modi government got Article 370 amended — removing the state's special status — and Article 35A scrapped in Parliament on August 5.
Although Modi did make passing references to local issues, his speech signalled that the BJP was looking to contest this round of Assembly elections on the planks of Kashmir and the purported rise in India's global stature.
Modi portrayed August 5 as a milestone when the government adopted a measure that others had not dared think about. He repeatedly interacted with the audience, which lustily cheered him.
"Jo 370 wapas lane ki koshish karega woh bach payega (Will anybody who tries to bring back Article 370 in its original form survive)?" he asked.
The crowd shouted "No", indicating popular support for the government's muscular measures on Kashmir.
No party has hinted at any plan to restore the special provisions on Kashmir.
The Congress had opposed the scrapping of Jammu and Kashmir's special status on the ground that the concurrence of the state legislature had not been taken.
Since then, the criticism has focused mainly on the 10-week-old lockdown that has restricted people's movement, frozen most telecommunication avenues, and denied many of the ailing proper treatment and medicines.
At Jalgaon, the Prime Minister stressed another favourite theme — India's "rising stature" in the world.
"The new vigour of a new India is now visible on the global stage. Don't you too sense and feel that?" he said as the crowd chanted "Modi, Modi…."