Presidential poll: For Opposition candidate, it's battle of ideology
Sinha, who doesn't have the numbers, appears to be using the opportunity to build a narrative about constitutional scheme under threat in Narendra Modi regime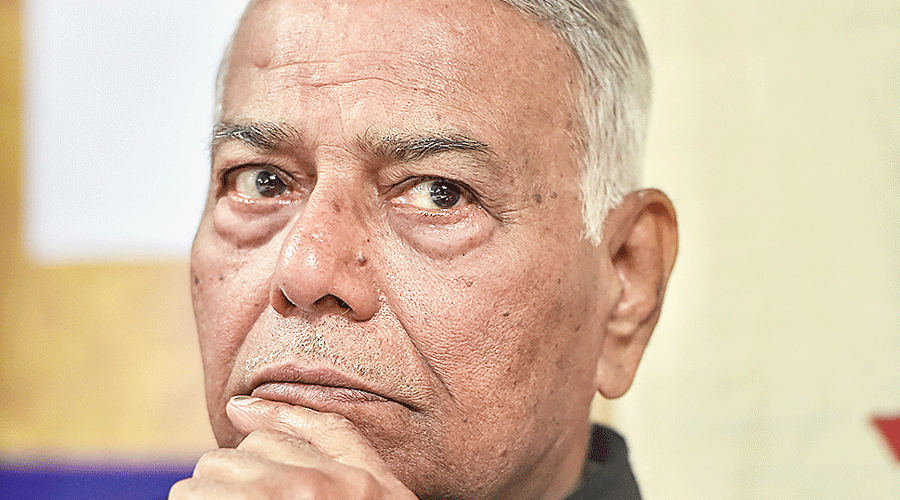 Yashwant Sinha
File Picture
---
New Delhi
|
Published 23.06.22, 01:24 AM
|
---
The joint Opposition candidate for President, Yashwant Sinha, on Wednesday raised concerns about the misuse of democratic institutions against political opponents, apart from attacks on the Constitution and the federal structure, taking the battle to the ideological level rather than a contest between two individuals.
Sinha said in his opening remarks in a media statement: "If elected, I shall conscientiously uphold, without fear or favour, the basic values and guiding ideas of the Indian Constitution. In particular, as the custodian of the Constitution, I shall not allow the independence and integrity of democratic institutions to be weaponised against political opponents, as is happening now."
Sinha, who doesn't have the numbers to cause an upset after the Biju Janata Dal in Odisha and the Janata Dal United in Bihar extended support to BJP candidate Droupadi Murmu, appears to be using the opportunity to build a narrative about the constitutional scheme coming under threat in the Narendra Modi regime. He said: "I shall do my utmost to ensure that the majesty of Indian Parliament will remain safe from attacks by the forces of authoritarianism."
The joint Opposition candidate in the last presidential election, Meira Kumar, had done the same, even as she failed to lure away a single vote from the ruling dispensation in the name of conscience. The joint Opposition is aware of its numerical deficiency and will be content if it succeeds in presenting a comprehensive critique of the government through this contest.
Sinha said: "The ongoing attacks on the federal structure of the Constitution, whereby the government is attempting to rob the state governments of their legitimate rights and powers, will be treated as totally unacceptable. I shall also use the authority of my office to check the menacing power of ill-gotten money that is killing the soul of Indian democracy and making a mockery of people's mandate in elections."
He pointed out that India is going through extremely difficult times and added: "I take this opportunity to emphasise that this is not a contest of individuals. I have great regard for Droupadi Murmu, who has been chosen by the BJP as its candidate. I have had the pleasure of interacting with her when she was the governor of Jharkhand. I wish her well in the election.
"However, this is a battle between two opposing ideologies. Leaders of one ideology are hell bent on throttling the Constitution. They believe India's Rashtrapati should not function with a mind of his/her own and should merely serve as rubber stamp to do the government's bidding. I am proud to belong to the other ideology that is determined to save the Constitution and the Republic."