Presidential poll: Counting on, Droupadi Murmu sure to clinch it
Result is expected by 8 pm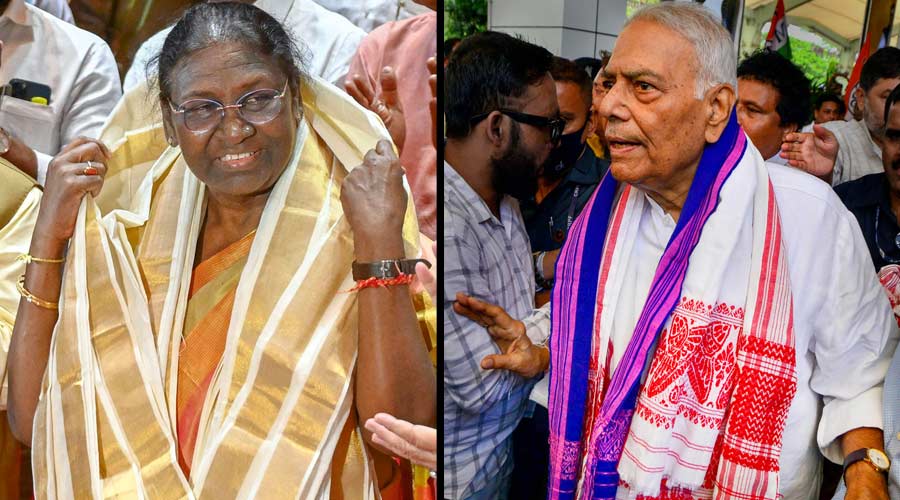 Droupadi Murmu and Yashwant Sinha
File picture
---
Published 21.07.22, 11:32 AM
|
---
Of total votes counted so far, NDA's Droupadi Murmu got 71.79 per cent votes
NDA's Droupadi Murmu gets 809 votes of MLAs in 10 states with total vote value of 1,05,299 after 2nd round of counting: PTI reports
Opposition's Yashwant Sinha gets 329 votes out of 1,138 MLAs in 10 states with vote value of 44,276
Result is expected by 8 pm, reports ndtv.com
Of the 748 valid votes, Murmu got 540 and Yashwant Sinha got 204, reports ndtv.com
Droupadi Murmu leads after first round of voting in presidential election, reports NDTV
Counting of votes for the presidential election began at 1.00am on Thursday with the BJP having already planned elaborate celebrations for the victory of Droupadi Murmu as the 15th President of India.
Murmu, the NDA candidate _ a tribal woman from Odisha and a former Jharkhand Governor -- is sure to defeat Opposition candidate Yashwant Sinha, a former minister in the Atal Behari Vajpayee government. 
As many as 44 parties declared support for Murmu, while Opposition candidate Sinha got the backing of 34 parties, reports ndtv.com.
Prime Minister Narendra Modi is expected to visit Ms Murmu at her temporary lodgings in Teen Murti Marg and congratulate her after the election results are declared, sources have told ndtv.com. 
The Delhi BJP has planned a roadshow after Murmu's victory is announced from the party headquarters to Rajpath. Many senior leaders will be present on the occasion, sources said.
All state units of the BJP have also planned victory processions, which will be taken out after the announcement of results.
The move to field Murmu was calculated effort to split the Opposition and bring support from non-aligned parties like Naveen Patnaik's Biju Janata Dal and  Jaganmohan Reddy's YSR Congress
Residents in Odisha's Rairangpur, the hometown of Murmu, are also ready to celebrate with 20,000 sweets prepared. A tribal dance and victory procession have also been planned.