Pre-poll politics of cyclone tour
'A little push' with an eye on next summer's Bengal elections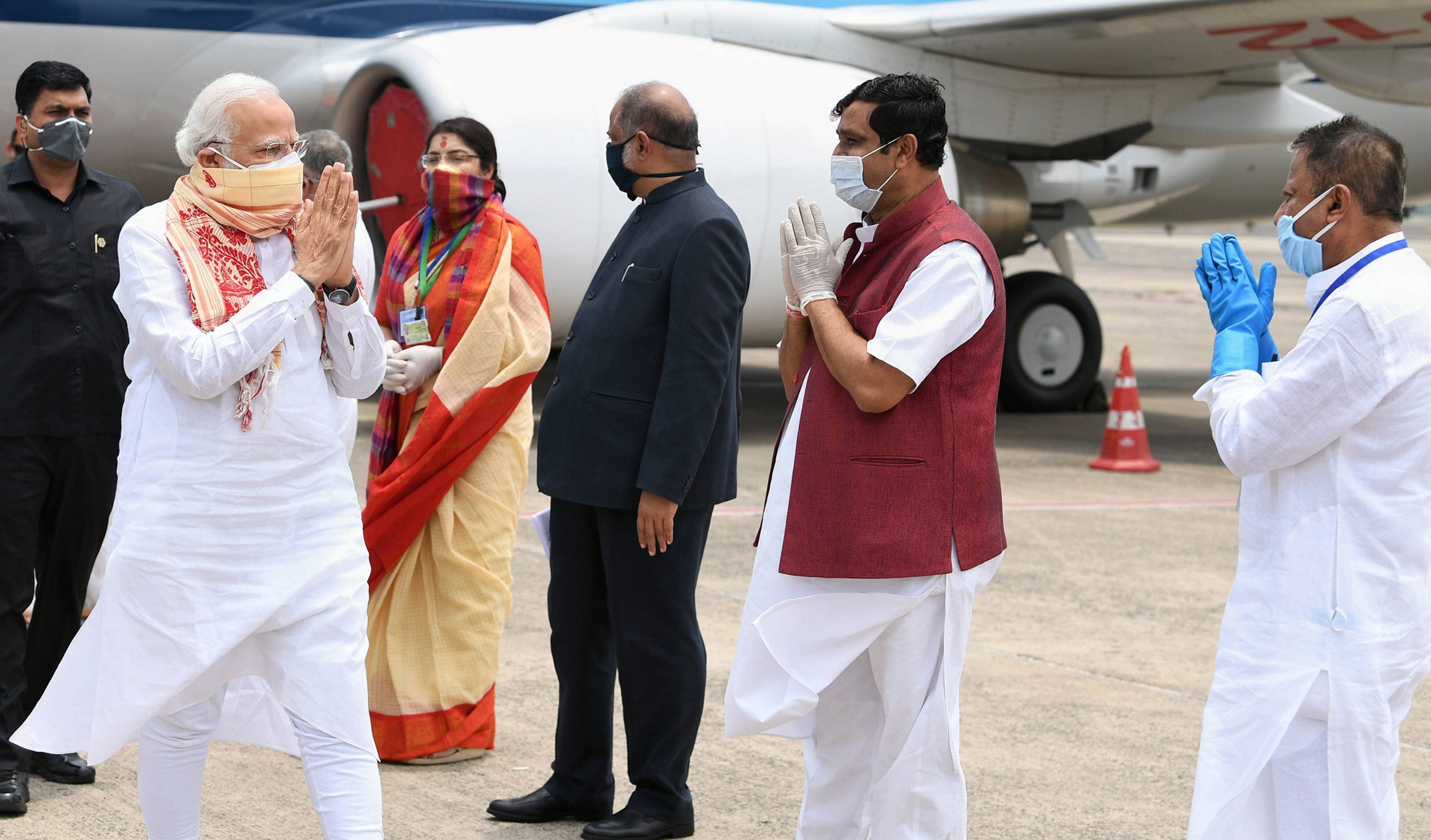 ---
---
Prime Minister Narendra Modi's decision to personally make an aerial survey of Bengal's cyclone-ravaged areas was a message to the state's people in a pre-election year, BJP insiders said on Friday.
Party strategists believe that "a little push" can win them next summer's Bengal elections, and that an outreach to the state's people by their top leader could be crucial in this context.
"Modiji today showed he cares for the people of Bengal," a BJP general secretary said.
"By having chief minister Mamata Banerjee by his side, he tried to tell the people that the Centre wanted to help the state, rising above politics."
He added: "After this, if Mamata accuses the Centre of neglecting Bengal, which she will certainly do sooner or later, our next political strategy will kick in."
Sources said the BJP brass had been engaged in strategy discussions throughout Thursday morning and early afternoon to decide how the government and the party should move on Bengal and what exactly the leaders should say.
They claimed that this exercise had delayed Modi and home minister Amit Shah from commenting on Wednesday's cyclone, prompting many to ask whether the Centre cared for Bengal at all.
Even the duo's near-simultaneous tweets on Thursday afternoon — nearly a day after Cyclone Amphan had made landfall — were a consequence of the discussions, the sources said.
"The top two leaders tweeted around 1pm, underlining their concern and their willingness to extend all help to the people of Bengal in keeping with the strategy," a source said.
No explanation was forthcoming why the country's Prime Minister and home minister could not air concern at a humanitarian disaster without a political strategy session.
That the BJP sees Bengal as a coveted prize is evident from the way Shah had angled for the state using the baits of the National Register of Citizens and Citizenship Amendment Act, party sources said.
"Amitbhai is still actively involved in formulating the party's Bengal strategy," a BJP politician said.
He said that with election strategist Prashant Kishor assisting Mamata, the BJP leadership was being more careful in making its political moves.
BJP leaders who have for weeks been engaged in a concerted attack on Mamata's handling of the Covid-19 crisis showed a degree of restraint during Modi's visit to Bengal.
"W Bengal extends a sincere welcome to PM @narendramodi. This is a tragic time given Covid & Amphan disasters. Given your commitment to the state, we are sure you will do the right thing to mitigate the sufferings of the people, ensuring there is no transmission loss," BJP parliamentarian Swapan Dasgupta tweeted.
Amit Malviya, head of the BJP's information technology cell who doesn't let a day pass without castigating the Bengal government, tweeted that Mamata had been compelled to seek the Centre's help.
"Mamata Banerjee has always prioritised politics over welfare of Bengal's people. In 2019 when cyclone Fani hit Bengal, she didn't let center assist, spoke against the PM," Malviya tweeted. "But now, under pressure, she has no option but to cooperate. Despite Mamata Banerjee, India stands with WB."